M+ in-depth: Damper Control
FritsJurgens explains
What exactly is Damper Control, and what does it do for your door? FritsJurgens talks about the three features that make System M+ unique: Damper Control, 30° Speed Control, and Latch Control. This blog: Damper Control.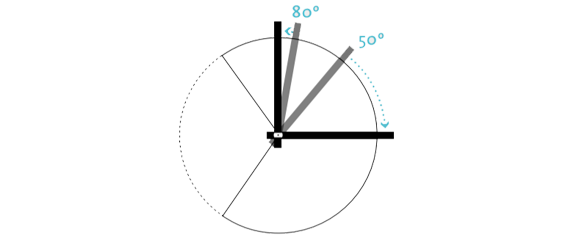 With all the best features being transferred from System M to System M+, Damper Control can be found in both systems.
Damper Control does two things for your pivot door: it protects the adjacent door or wall with a hydraulic backcheck, and it provides soft-close for a smooth closing movement.
Hydraulic backcheck
No matter how strongly you push open a pivot door with Damper Control, the hydraulic backcheck ensures that your adjacent wall or door is always protected. The hydraulics inside System M and System M+ make this feature possible.
The door is slowed down strongly when reaching 80°, but the maximum range of the pivot door opening is slightly adjustable. You can determine if you want your door to be slowed down strongly or less so.
It is good to know that Damper Control is adjustable as a whole. This means that the closing damping and hydraulic backcheck are always adjusted at the same time: more backcheck also means more closing damping. If you want to modify the closing movement only, use 30° Speed Control.
Watch hydraulic backcheck in action:
Soft close
When you choose System M, you won't have the benefits of 30° Speed Control that System M+ offers. However, you will still benefit from the soft-close in Damper Control.
The closing damping — or 'soft close' — that Damper Control creates allows a smooth and fluent motion when the pivot door returns to its closed position. From 50° to 0°, the hydraulics inside System M and System M+ build up pressure slowing the door down without braking. Slamming a door shut will never be the same.
Watch soft close in action: