SYSTEM ONE
The pivot door hinge System One of FritsJurgens is completely mortised in the door:
Compact system
No hold positions or closure function
Can be combined with door frames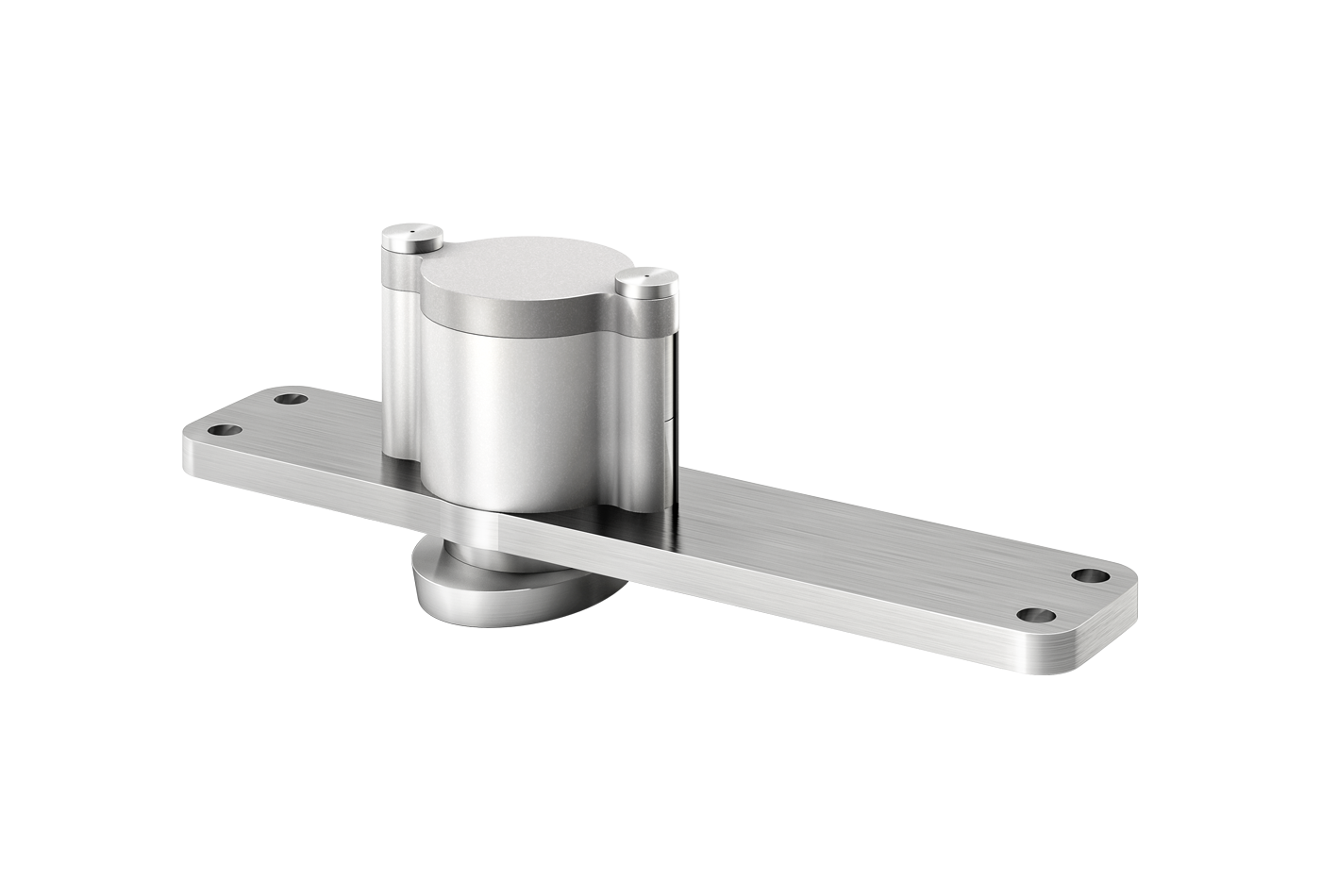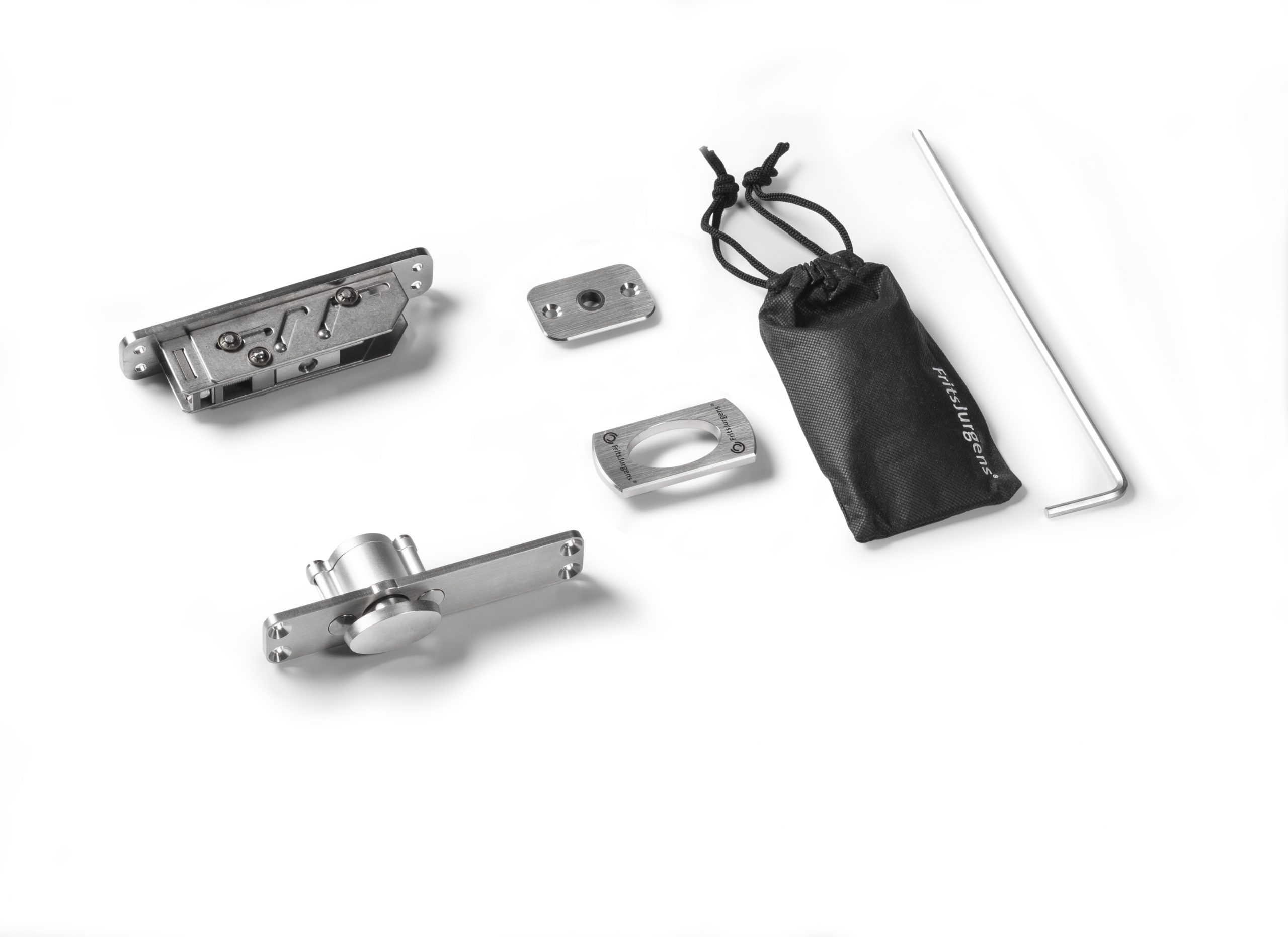 THE MOST COMPACT OF ALL OUR SYSTEMS
The FritsJurgens pivot door systems are outstanding, because it is completely integrated into the door. System One pivot door hinge is the most compact system in our range; the hinge acts as a revolving point.
MOVEMENT
The System One pivot door hinge can be opened to both the left and the right, turns through 360˚ and has no hold positions or closure function. It is possible to combine System One with door frames; in this case the door rotation is 90˚.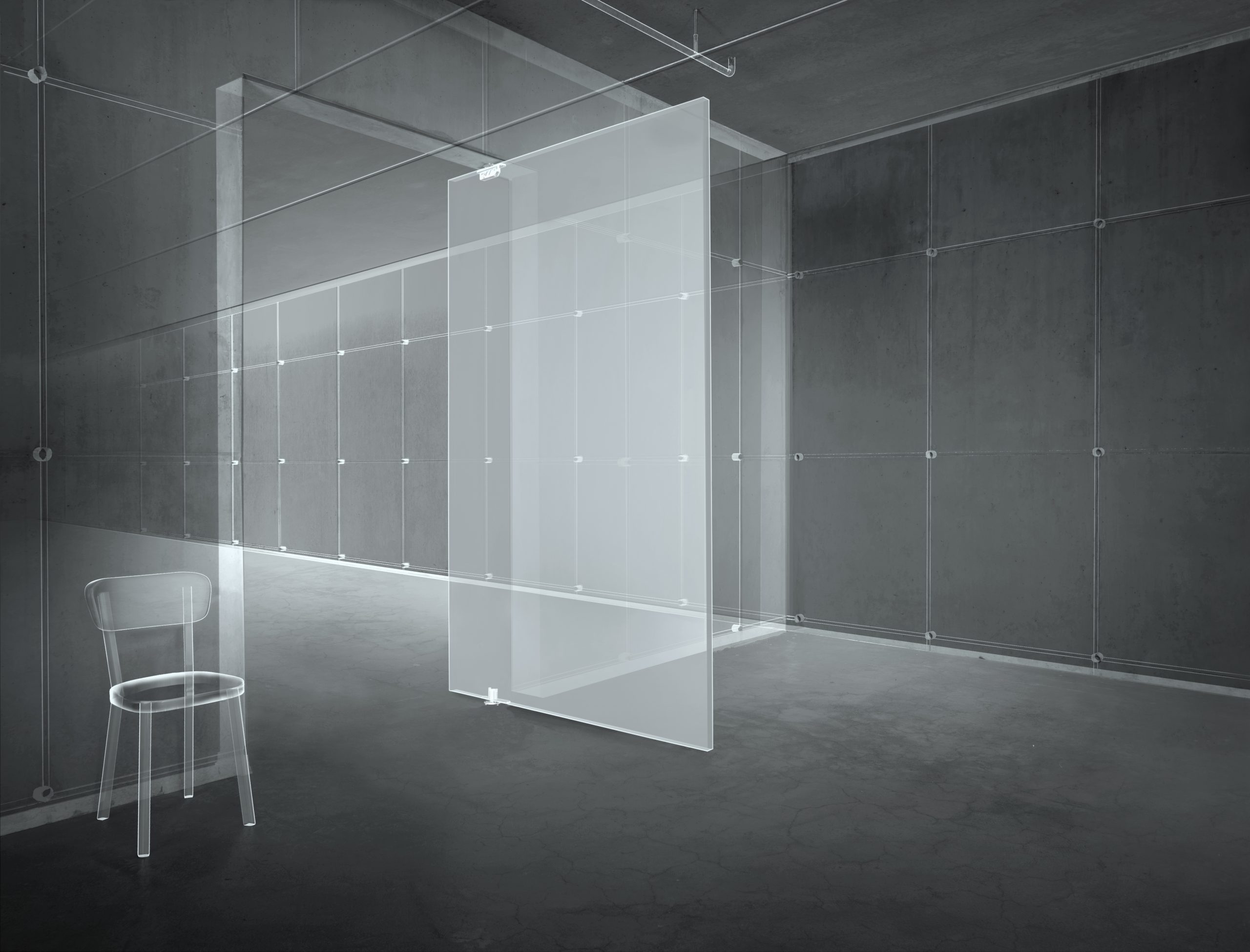 FRITSJURGENS SYSTEM ONE
No structural elements in floor and ceiling
Load-bearing capacity: up to 500 kg
Minimum door thickness: 40mm
Quick and simple to install
Maintenance free
For new and existing situations
Easily adjustable with the door in place
Suitable for timber, steel, framed glass and massive cladded doors
For single and double action doors
For internal and external doors
For commercial and residential environments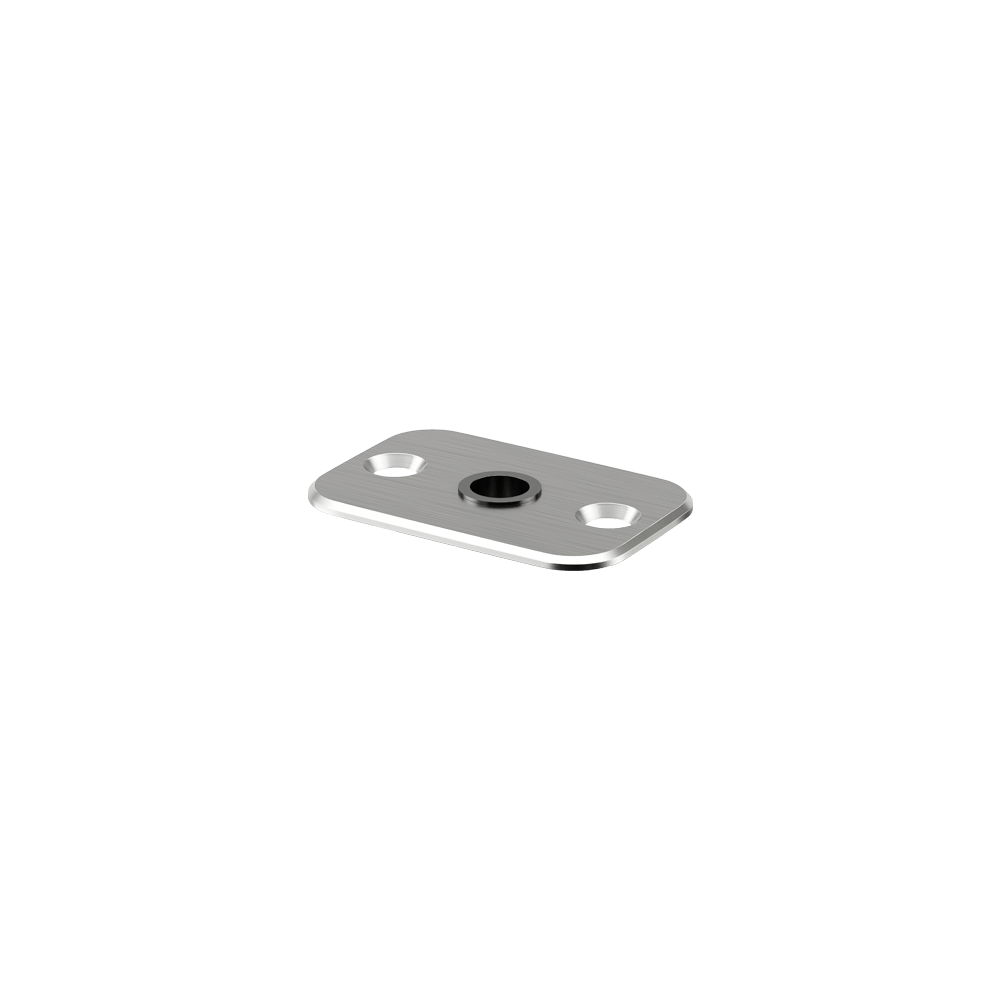 CEILING PLATE
A stainless-steel ceiling plate is fitted in the ceiling. The pin of the top pivot fits seamlessly into the hole in the ceiling plate.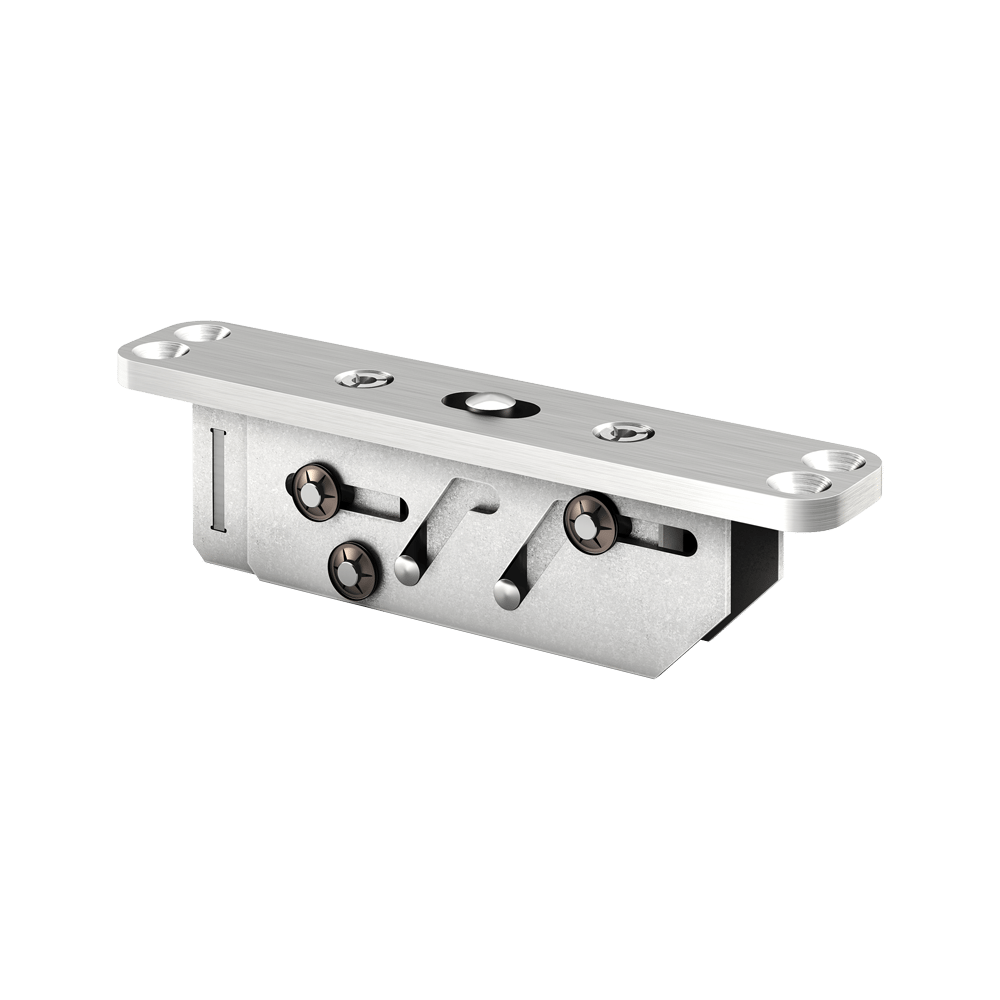 TOP PIVOT
The top pivot is integrated into the top of the door and uses a so-called pin/hole connection. The pin is fixed to the top pivot and drops into the hole in the ceiling plate when this is turned.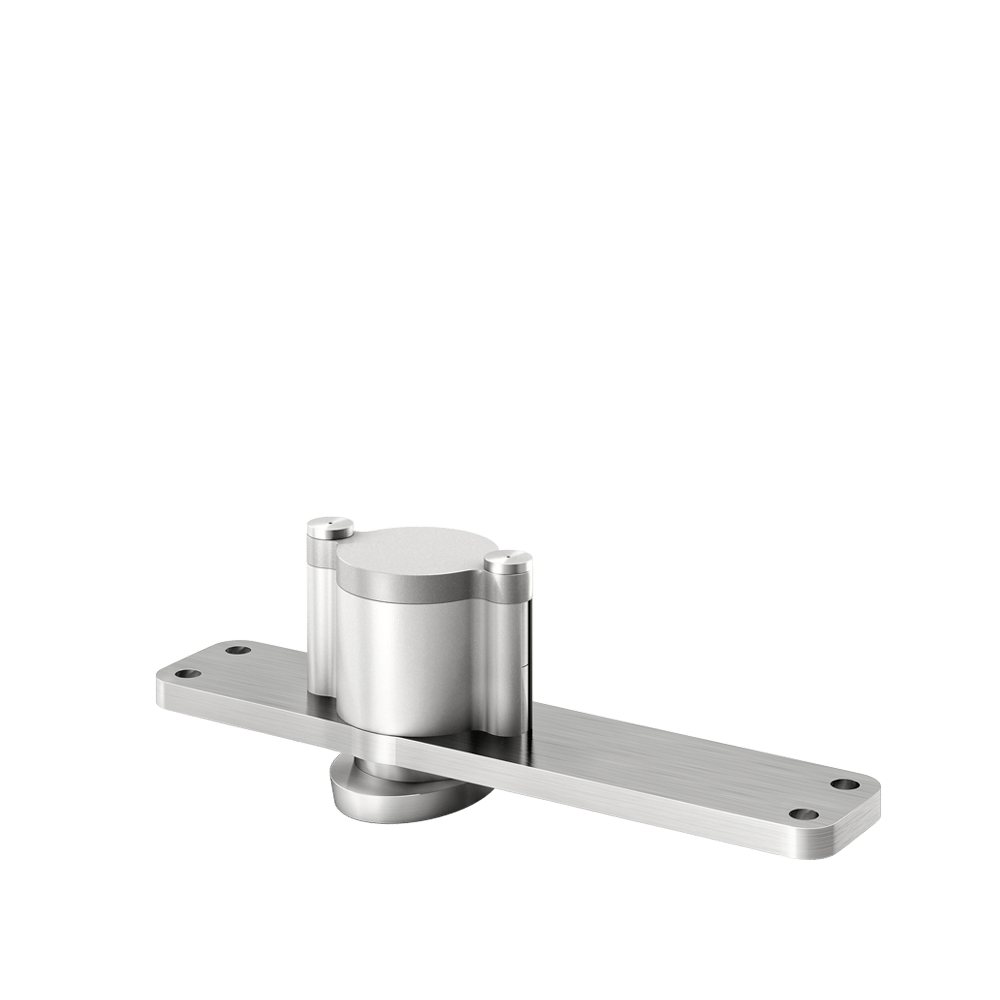 SYSTEM ONE
SystemOne is integrated into the lower part of the door. The oval base of the hinge is inserted into the slot in the floor plate.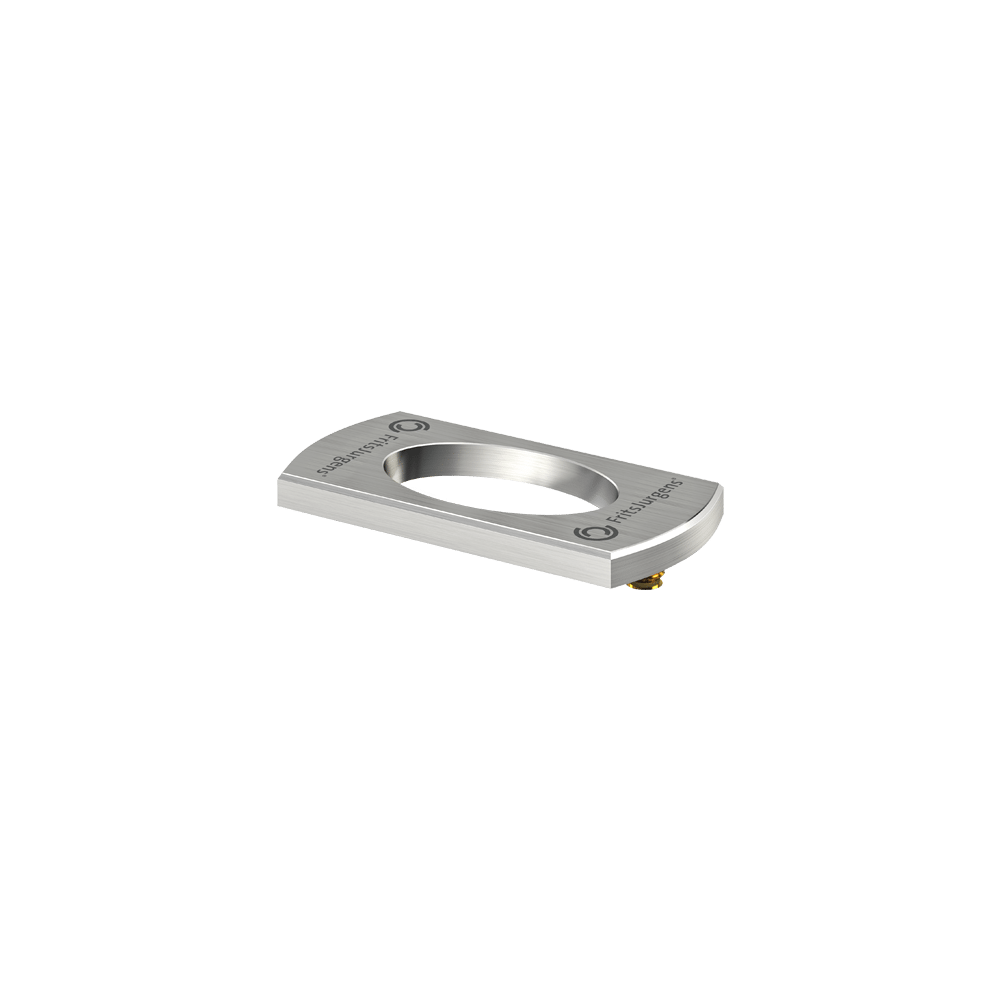 FLOOR PLATE
A stainless-steel floor plate with an oval recess is fitted to the floor. The base of the hinge fits seamlessly into the recess in the floor plate.
Specifications
MAXIMUM BEARING CAPACITY
500kg
MINIMUM DOOR THICKNESS
40 mm
HOLD POSITIONS
None
MINIMUM DIMENSIONS AROUND THE DOOR FOR FITTING
Below:
13 mm
Above:
Minimum 4 mm, maximum 10 mm.
Door/closing side:
CAP CALCULATION
MINIMUM DISTANCE FROM THE PIVOT POINT TO THE SIDE OF THE DOOR
91mm
MAXIMUM DOOR DIMENSIONS
Unrestricted up to a maximum weight of 500 kg (SYSTEM SELECTOR).
SPECIAL DOORS
FritsJurgens SystemOne is suitable for fire-resistant doors, soundproof doors, doors with draught-excluding, windproof and waterproof profiles, and burglar-resistant doors. For more information please contact one of our dealers or partners in your area.
FLOATING FLOORS / SUSPENDED CEILINGS
It is possible to fit a pivot door if the floor plate or ceiling plate is connected to the structural subfloor or ceiling.
PACKAGING
Delivered as a complete set with top pivot, floor plate, ceiling plate and fitting accessories.
GUARANTEE
Two-year manufacturer's guarantee.
WHERE TO BUY?
FritsJurgens has qualified partners in numerous countries. Would you like to purchase pivot door hinges or are you looking for a pivot-door manufacturer? You can find details on our contact page.