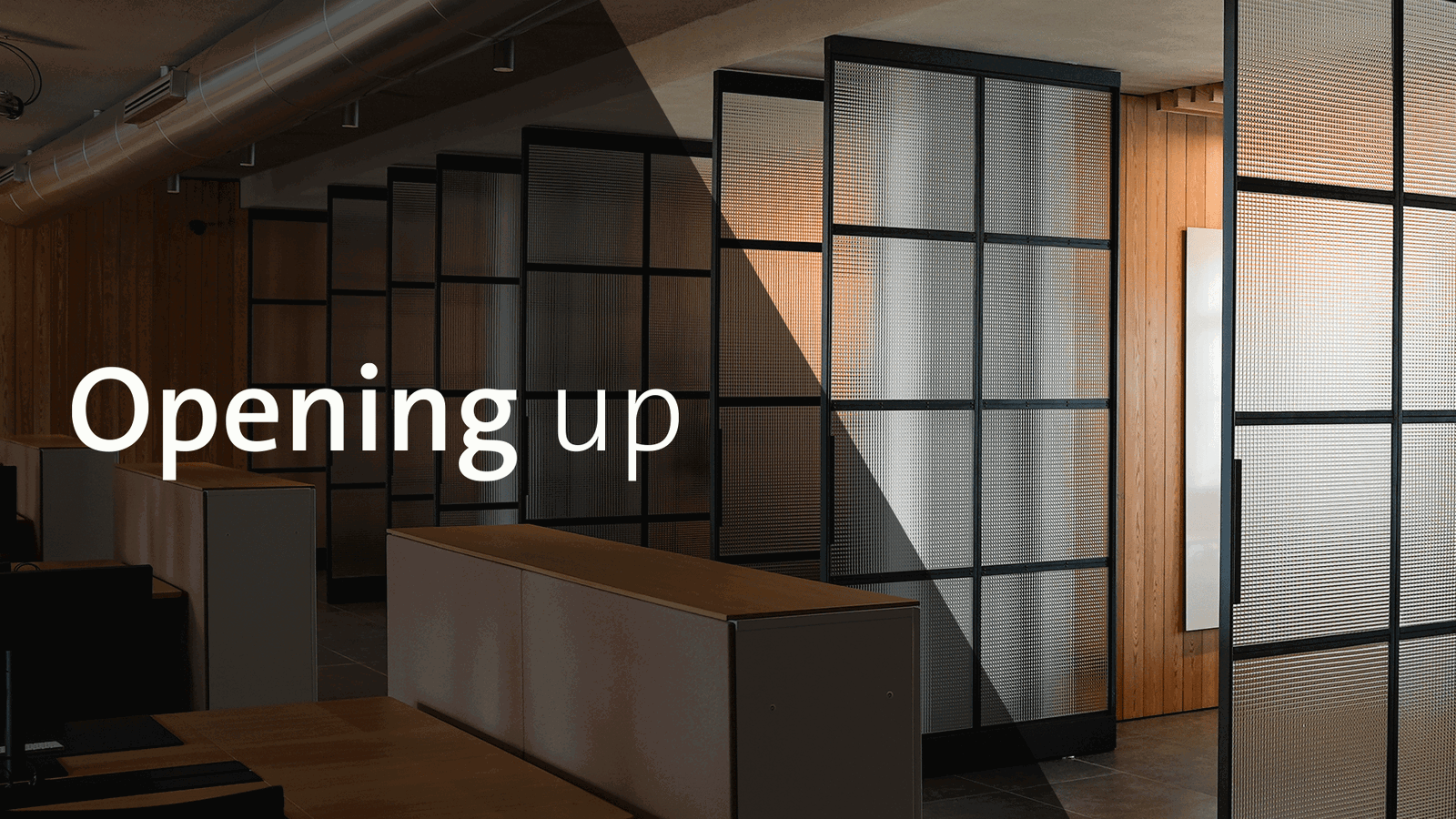 Travel to the world's most captivating pivot door projects in Opening up. Every last Monday of the month, FritsJurgens releases a new episode in which architects, door manufacturers, and pivot door owners talk about their pivot door projects.
Episode 1
Carrot Incentives's sun-drenched office
In this first part of FritsJurgens' triptych Stories of Lisbon's light, we take you to Carrot Incentives' sun-drenched office. The city known for its narrow, steep streets and fado music basks in a characteristic type of daylight: it is reflected by the river Tagus.
Ten steel-and-glass pivot doors control this natural light in Carrot Incentives' workspace from sunrise to sunset, creating a work environment that is pleasant all day long. Watch the interview and discover this first story of FritsJurgens' new video series, Opening up.
Episode 2
Bright and luxurious dwelling in Cascais
Let us take you on an imaginary holiday in part two of Stories of Lisbon's light. Board the train in Lisbon, and you'll find yourself in the center of Cascais about an hour later: a vibrant seaside resort, hidden on the westernmost tip of the European continent.
Glistening in the sun of the Riviera Portuguesa, architect Bruno Novo gave his modern,
minimalist touch to a holiday villa where natural light plays the leading part. Watch the interview and discover the second story of FritsJurgens' new video series, Opening up.
Episode 3
Playing with contrast in a Portuguese family home
Discover a robust and daringly contrasting family home between the seven rolling hills of 'the city of light,' Lisbon. In this final part of FritsJurgens' triptych, Stories of Lisbon's light, we discover how architect Pedro Domingos designed a home where daylight and the river Tagus plays the leading role.
With the residence facing the south, radical architectural choices had to be made to allow the light to flow through the entire residence. Watch the interview and discover the third story of FritsJurgens' new video series, Opening up.
Episode 4
Industry meets design in Empl's handover hall
In episode four of Opening up we take you to the stylish production hall of Austria-based Empl: a manufacturer of fire-fighting trucks and other large vehicles with special functions. Mobile army hospitals, for example, but also commercial temperature-controlled trucks. The handover hall is where the new vehicles are handed over to the clients personally. Of course, this type of special vehicle asks for an interior that is just as special, including pivot doors. Empl's hall has five, including a front door standing more than 4 m tall. Watch the interview with interior designer Marina Flörl of Reinhard Strasser Innenarchitektur and discover all about the vision behind the impressive design.
Episode 5
Unveiling Albert Park House
Episode five of Opening up features Albert Park House and showcases Steel Window Design's fusion of modern elegance and timeless design. This architectural gem captures contemporary living while honoring heritage with meticulous attention to detail. Innovative use of materials highlight the unparalleled quality of Australian craftsmanship. With a focus on sourcing local materials, Steel Window Design ensures the highest level of control over the manufacturing process, while their dedication to using only the highest-quality hardware sets them apart in the market. Discover Albert Park House in FritsJurgens' fifth episode of Opening up.
Episode 6
Hotel Gerl: Unveiling authenticity
In episode six of Opening up, we delve into the world of Hotel Gerl. Situated in Austria, Hotel Gerl beautifully blends authentic hospitality with a keen eye for design. Georg Gerl, together with his wife Brit, shares their vision of the hotel, creating a unique space that seamlessly merges traditional Austrian elements with modern influences from their travels. Through the artful incorporation of pivot doors, Hotel Gerl invites guests to embark on a captivating journey of exploration. These remarkable doors symbolize anticipation, ignite curiosity, and set the stage for unforgettable experiences. Join us as we uncover the distinctive allure of Hotel Gerl and its harmonious fusion of cultures.
Episode 7
The Luxurious Craftsmanship of Door Design Workshop
Episode 7 of Opening up leads us to a calm oasis situated in buzzing Las Vegas. Here, Josh Briere and Brian Durke of Door Design Workshop have come together to exhibit luxury doors and hardware solutions in their impressive showroom. With decades of experience in door design and installation, the duo shares insights into the impact of Nevada's climate extremes on door components, their mission to transform client visions into functional design masterpieces, and their appreciation for high-quality European hinges. Follow the link to the article and dive into a creative hub fully dedicated to doors.
Episode 8
Ultimate Doors and Joinery's Grand Entrance
Be prepared for a grand entrance as we welcome Bill Alam in episode 8 of Opening up, director of the Sydney-based company Ultimate Doors and Joinery. Always seeking ways to go higher and wider, the master of the monumental entranceway shares which hardware he trusts in entirely and which finish he prefers to work with at the moment. Furthermore, he gives valuable insights into his client-centered approach with an emphasis on consultation that offers customers a one-stop solution combining design, manufacturing, and installation.
Discover featured projects