Home
›
Carrot Incentives's sun-drenched office
Carrot Incentives's sun-drenched office
On the banks of the river Tagus you find Lisbon, one of the oldest cities of Europe. The Portuguese capital is known, among other things, for its narrow, steep streets, where you hear the sound of passionate fado music through the night. During the day, the sunlight has free reign, thanks to the city's favorable location on the Atlantic Ocean. These beautiful pictures have inspired many an architect to create a design featuring the sun. In the triptych Stories of Lisbon's light, we put a few of these designs in the spotlight. First: ten pivot doors made of steel and glass in the office of software developer Carrot Incentives.
Architecture by Promontório
Metal frames by Serralharia Sepúlveda
Ten glass steel-framed pivot doors
Ten steel-and-glass pivot doors control the natural light in Carrot Incentives's workspace from sunrise to sunset, creating a work environment that is pleasant all day long. Watch the interview and discover this first story of FritsJurgens new video series, Opening up.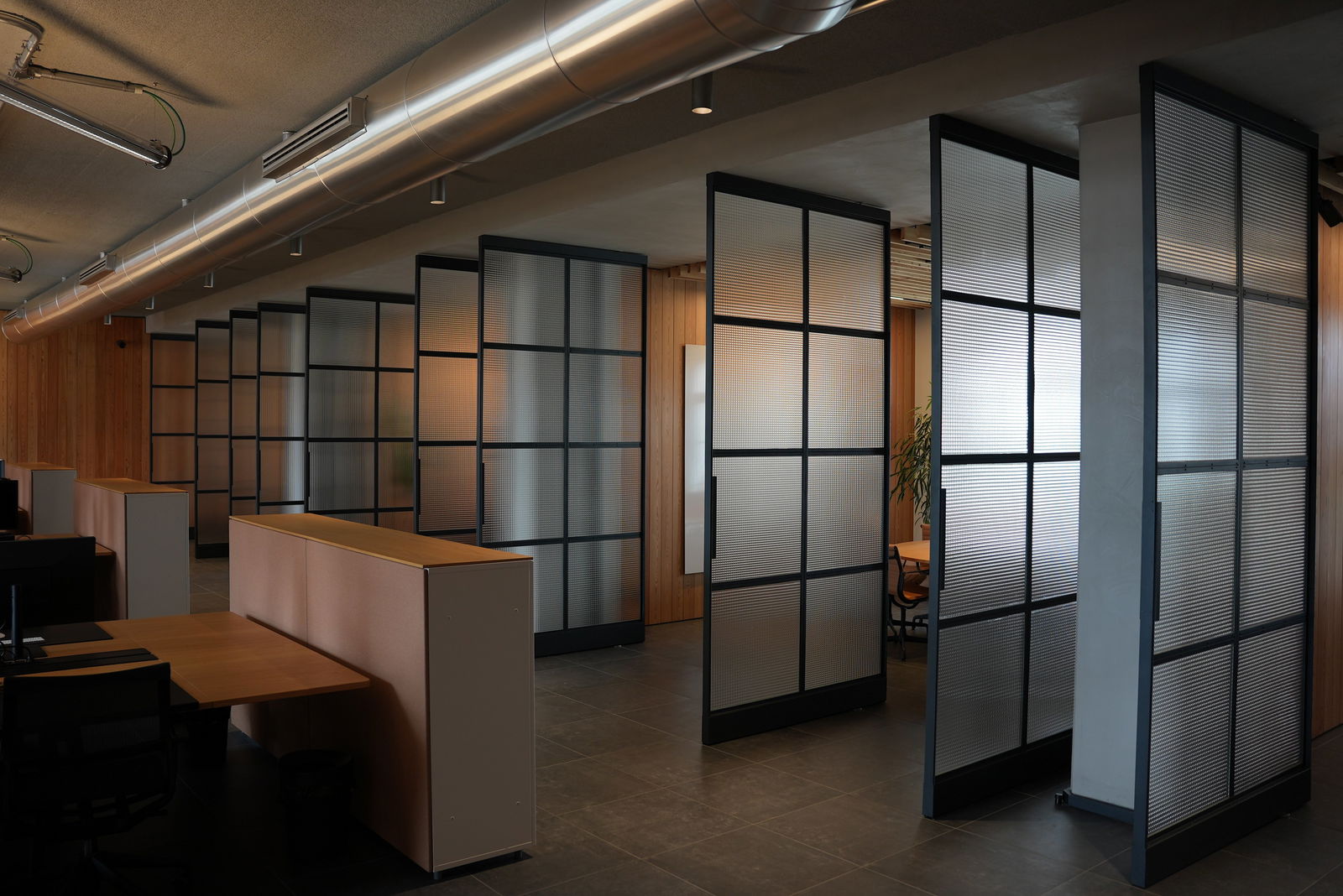 Following the sun
Portugal-based Carrot Incentives occupies about 300 square meters of office space in Lisbon. They deliberately opted for a smaller building, because their managing director, Fernando Batista, likes to keep his team small and flexible. His employees spend most of their time behind their computers, working on smart software solutions for telecom businesses. This calls for specific working conditions, setting quite some requirements to the layout in terms of sight, focus and comfort. Ergonomic desk chairs alone will not do – incidence of light also plays an important role. If the sun shines on your screen, you must be able to act immediately without having to switch places. Quite a challenge, because the office is in a part of the city where the light constantly changes, says Batista.
Playing with light
'If you say Lisbon, you say light. That is particularly true for this part of the city. We are close to the river here, and on the other side is a large bay. So, you are always close to the sea. What makes this location so interesting, is that the way in which the light enters the building is very unpredictable. At one moment, the sun may be very bright and, a few minutes later, you may need a lamp to be able to see properly. This means that a few clouds make a huge difference. This is quite cumbersome, for how, under these erratic circumstances, do you ensure that you will always be able to work comfortably? Together, we have brainstormed quite a few hours about ways in which we can ensure that the light intensity is the same for each desk.'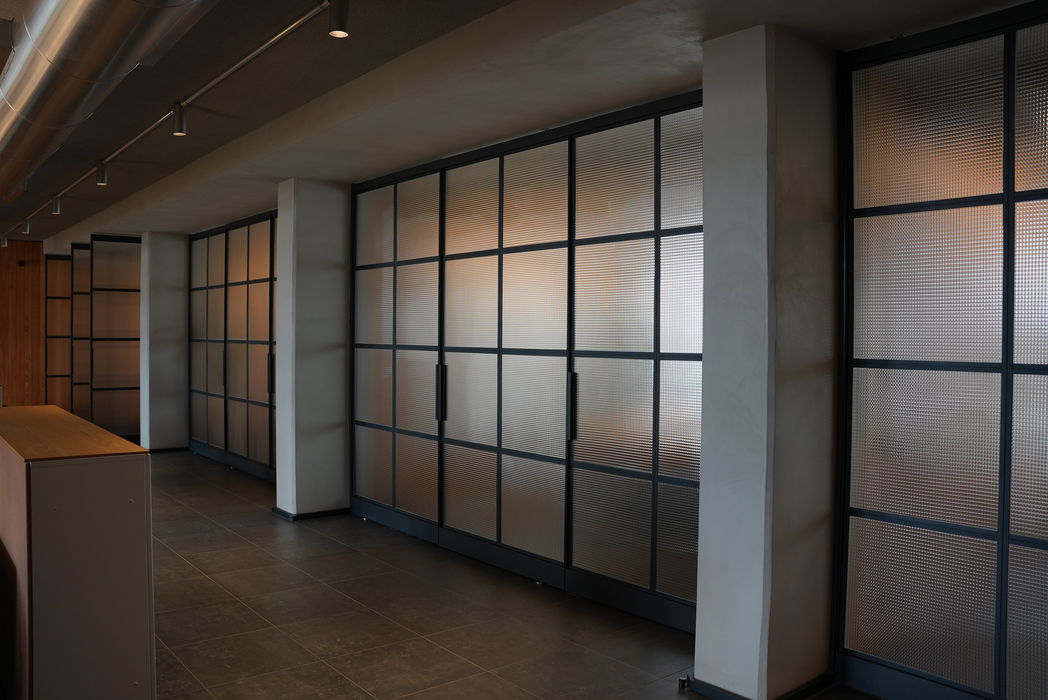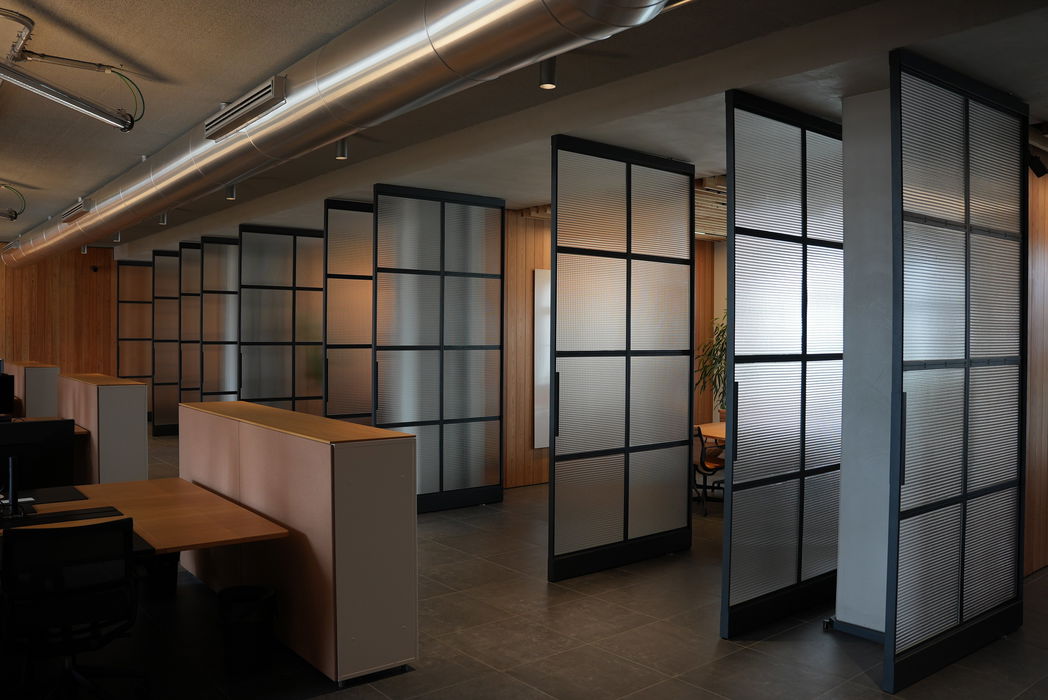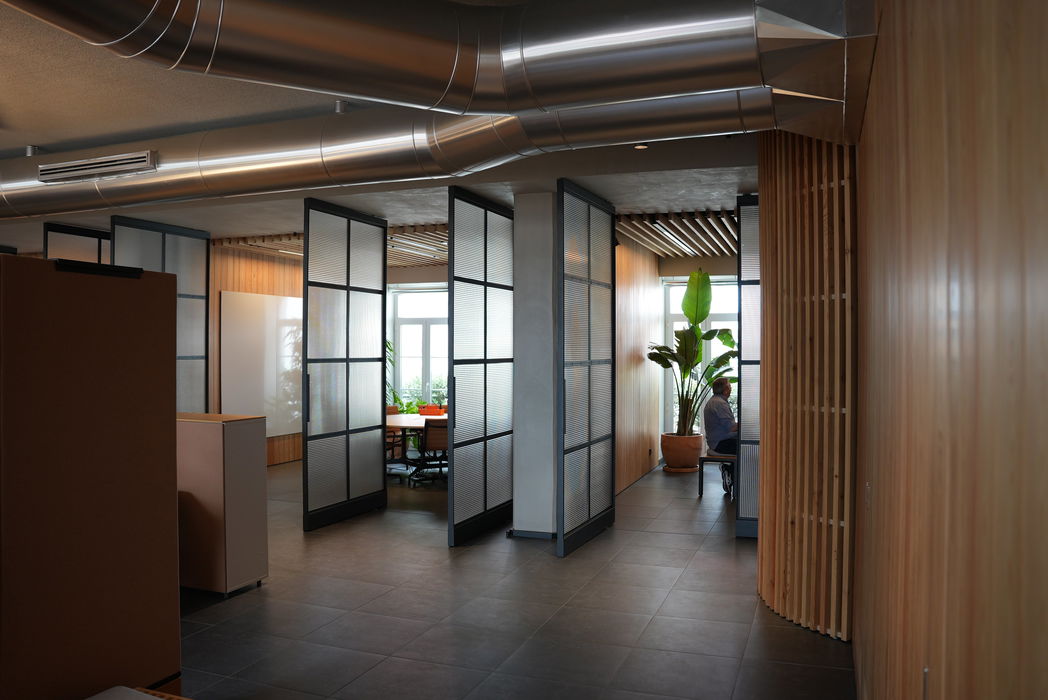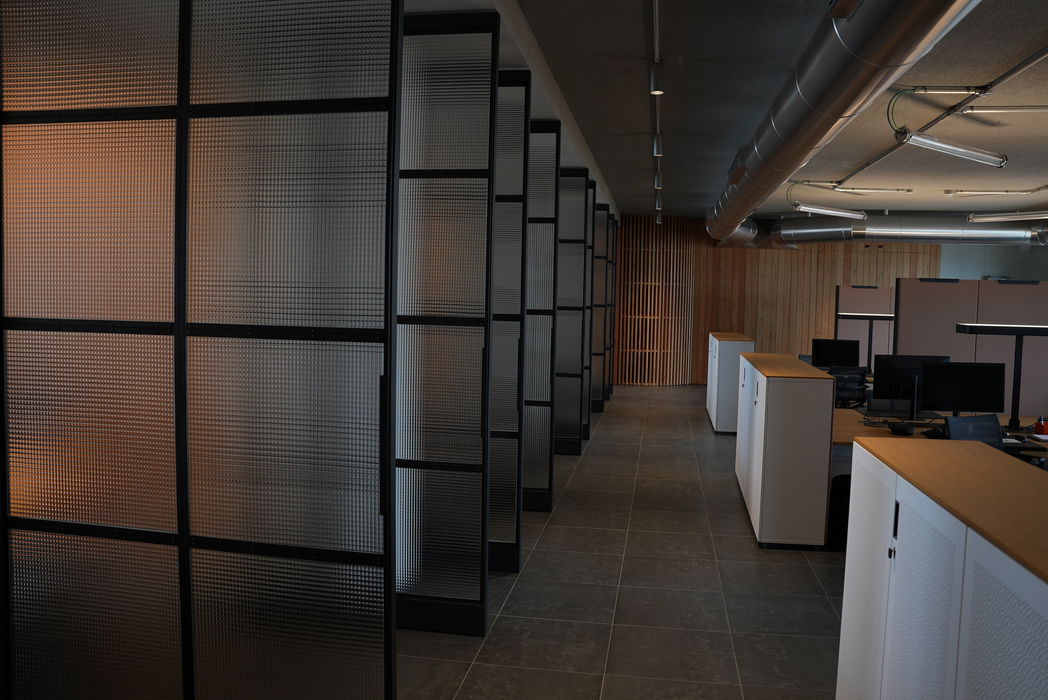 Drag over the photos for more
Beyond the sliding door
'Sunlight was one of the key starting points when designing the office,' Batista proceeds. 'To be able to enjoy both the rising and the setting of the sun, we decided that we needed a row of doors in the middle of the office. That made it possible to guide the light from the east to the west side of the office slowly. We immediately imagined saw glass black-framed doors that would allow enough light to enter, both open and closed. Given the function, the most obvious option was to use sliding doors. However, due to their size and weight, this created quite a few challenges. If you want to build and maintain such large moving parts, you must make a good plan. I have an engineering background myself and, after a few nights' sleep, I thought: This calls for a different approach.'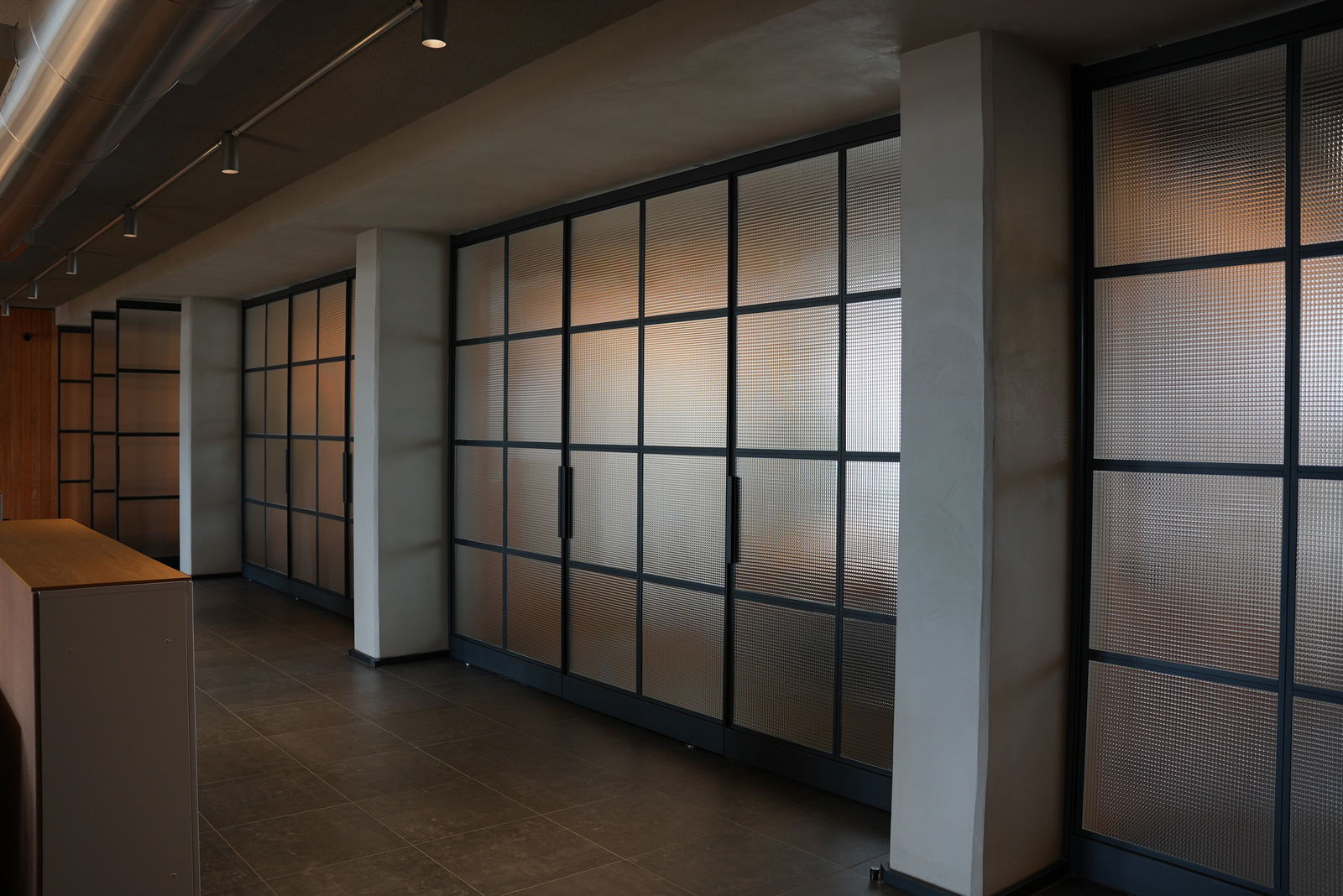 Hidden strength
'When, shortly afterwards, I was scrolling through a few magazines, I came across an article about pivot doors. I was immediately hooked and suggested them to the rest of the team. Everybody was enthusiastic, so we went looking for a system that was strong enough to carry the weight. On top of that, I wanted the rotation mechanism incorporated inside the frame as much as possible. That's how we ended up with FritsJurgens: not only are their hinges strong enough to carry hundreds of kilos, they are also almost invisibly incorporated in the door. We then had ten glass steel-framed pivot doors made by Serralharia Sepúlveda, according to a design by Promontorio Arquitectos. The installation process that followed was very smooth – it was finished in a jiffy.'
Smooth and sleek
Carrot Incentives opted for FritsJurgens' System M. This pivot door system allows you to adjust the door's movement fully according to your own wishes, so that the doors always open and close smoothly. Also, the doors close automatically: despite their huge weight, they only need a slight push to close. Moreover, it is possible to fix the hinges at any angle of 90 degrees, which ensures a sleek appearance. That is all the more convenient when multiple pivot doors are placed alongside each other, as is the case at Carrot Incentives's office.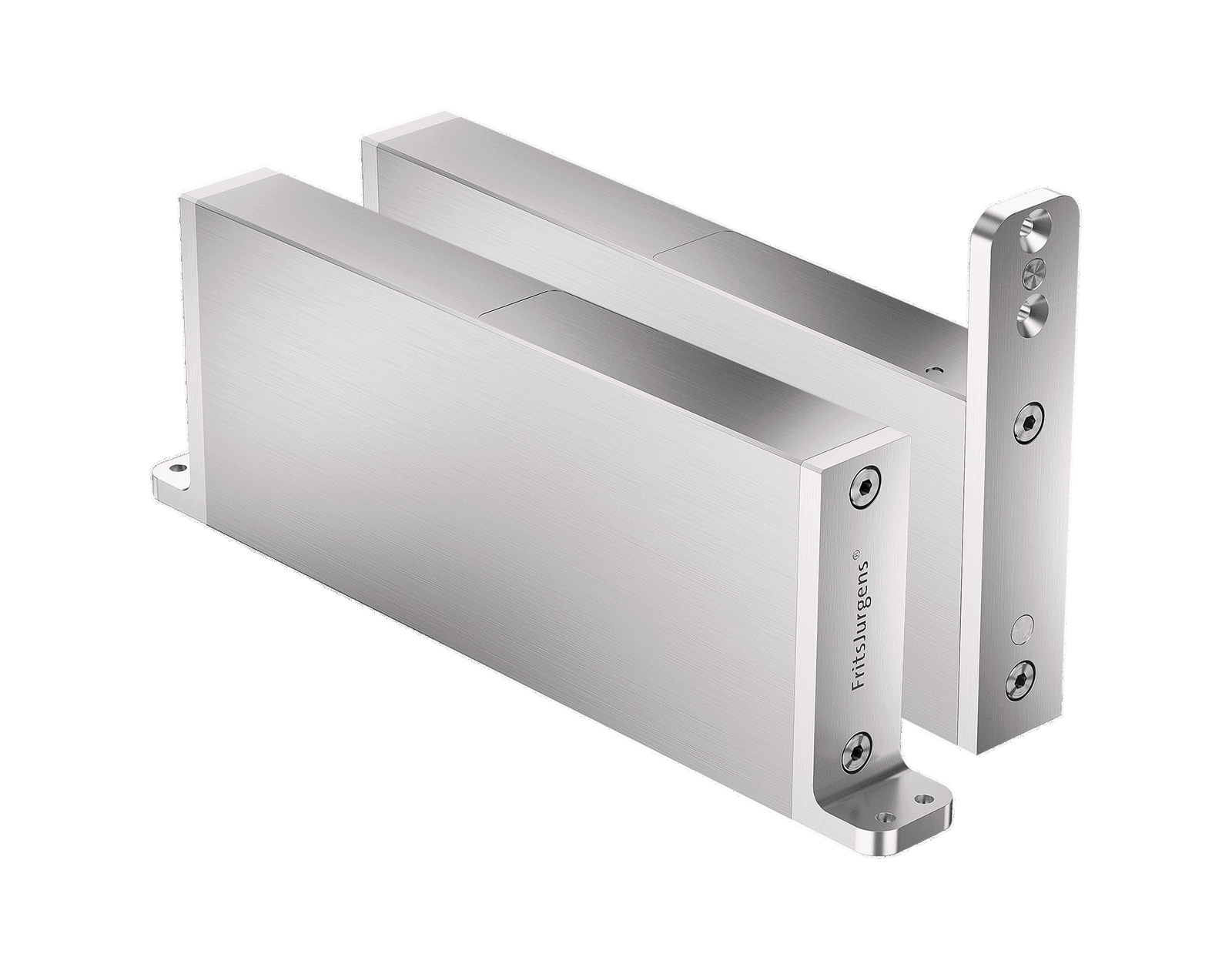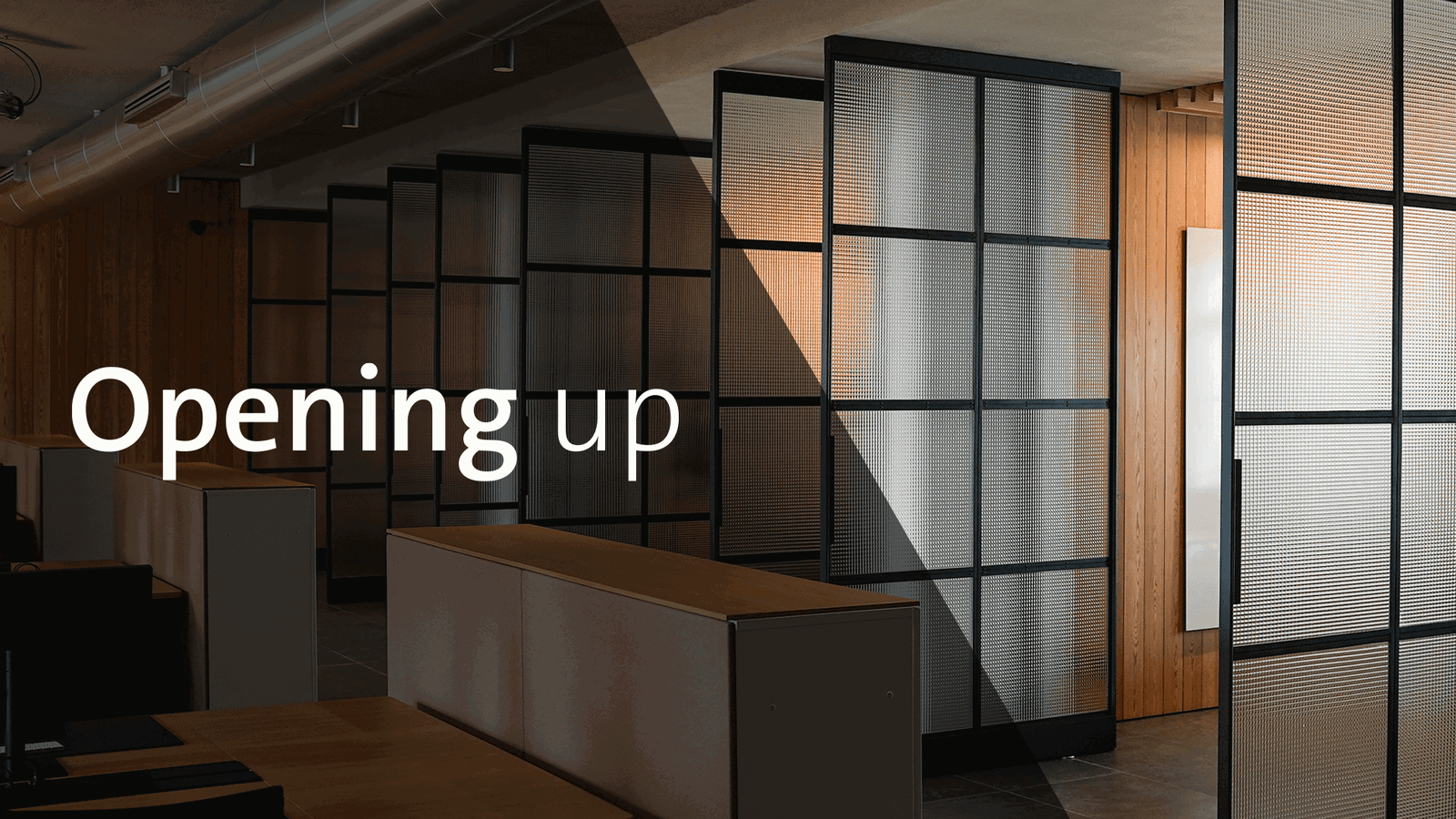 Work of art
Every day, Batista enjoys the look of the impressive row of pivot doors. 'When you enter our office, they are the first thing you see. Together, they form a real work of art. We are extremely proud to have them.'
This was part one of the triptych Opening up: Stories of Lisbon's light. Want to see more?