Home
›
Playing with space on the Adriatic coast
Playing with space on the Adriatic coast
Three walnut pivot doors
Only few people can call the Adriatic coast their backyard. The fortunate occupants of this apartment in San Benedetto del Tronto – formerly a simple fishermen's village, now a popular bathing resort – can. Architect Andrea Eusebi designed this dwelling on the fourth floor with much attention for detail and functionality. In his stylish and smart design, the pivot doors of FritsJurgens are indispensable. Eusebi opted for three doors alongside each other, which together form a movable wall. As the son of a carpenter, he supervised the whole process, from the first sketch to the end result.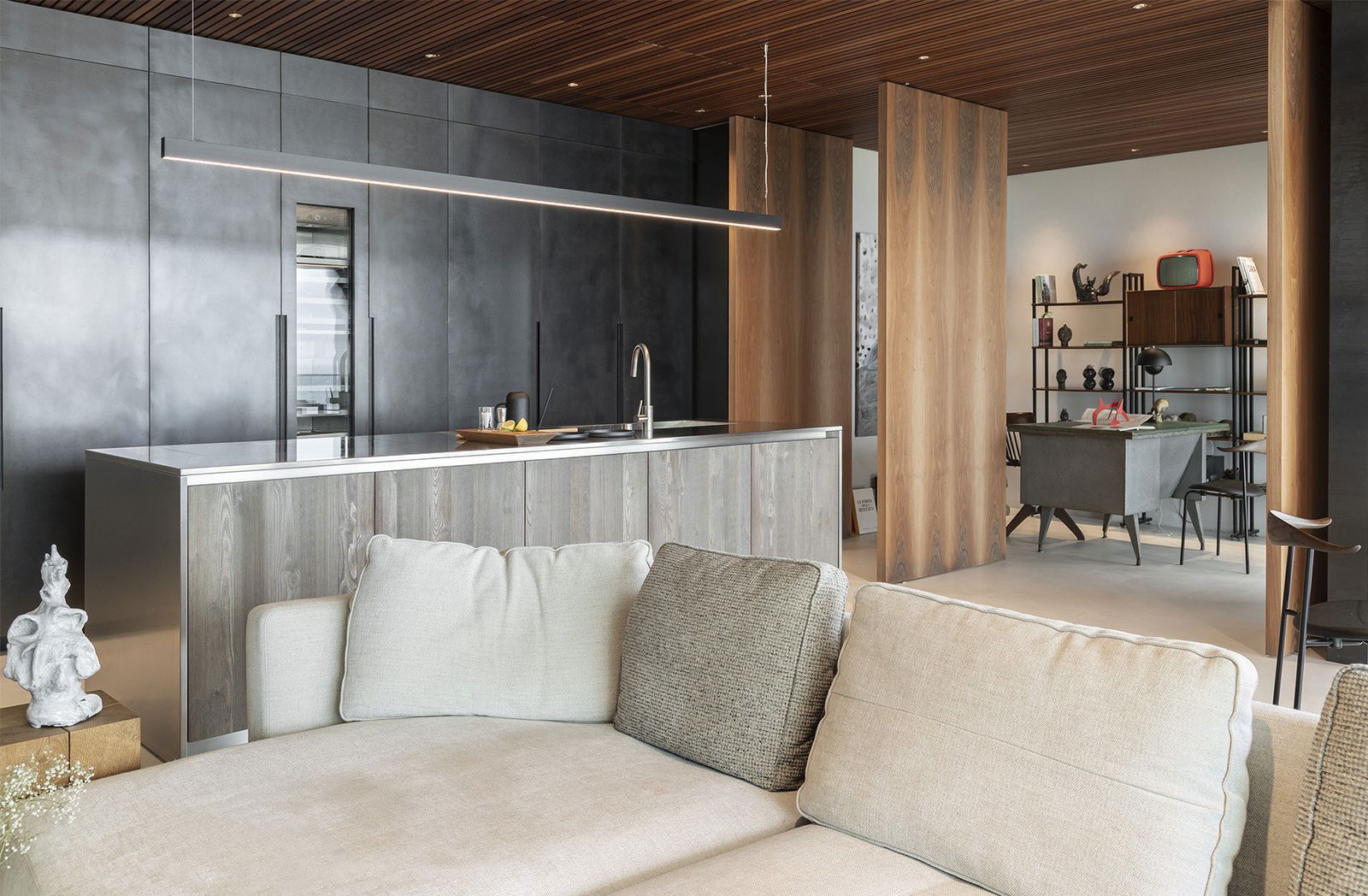 Connecting inside with outside
Eusebi grew up by the Adriatic Sea, between furniture manufacturers. Because of that background, he sees himself as a carpenter rather than as an architect. 'The smallest details are of great importance to me. A design should be just right, to the last millimeter', explains Eusebi. 'That is why I like to work with FritsJurgens: their solutions are well thought out, which makes them fit seamlessly with any interior.' Under the flag of family business Eusebi Arredamenti, Eusebi designed, manufactured, and placed the doors himself. 'The freedom and control that that gives you is awesome, despite the fact that you have to do everything yourself!', he laughs.
Interplay between wood and steel
In the kitchen, Eusebi placed a large cabinet of black steel, with additional storage space in the doors. The dark color of the cabinet goes well together with the wooden ceiling of the apartment. That combination of wood and steel can be found throughout the building. The kitchen unit for example: a striking appearance with a silvery counter and wooden cabinet doors, but at the same time one whole with the rest of the interior. A smart use of space and a well-thought out choice of materials show that functionality and style together are the central theme of this design.
Three doors, one wall
The owners had one important wish for their new home: the possibility to lay out a separate room as an office, or use it for any future additions to the family. That way, they can keep their work and private life separate and there will be room for a nursery later. That is why Eusebi placed three pivot doors alongside each other, which together form a movable wall. The doors are 2.70 meters high and 1.20 meters wide each and rotate with System M hinges of FritsJurgens. As they are both covered with a walnut layer, they seamlessly blend in with their environment. This way they make a subtle yet huge impact, both open and closed.
Love for pivots
The pivot doors form the heart of the project', says Eusebi. 'In fact, this is a smart wall, that you can adapt according to your wishes. It only takes a slight push to create a great, spatial effect or more privacy and hominess. This creates the possibility to play with space, and to make a room larger or smaller.' For as long as he can remember, Eusebi has been fascinated by pivot doors. 'I really love them. They are double-acting and no frame is needed – in my opinion, that is a huge advantage. A frame takes up valuable space and limits you in your design. You can make a pivot door from any material and place it wherever you like, which gives you much more freedom.'
Sleek statement pieces
System M by FritsJurgens is one of Eusebi's favorites, among other things because of the perfectly adjustable hold positions at any angle of 90º. 'Other brands simply don't offer this kind of quality. Thanks to this function, pivot doors always look sleek, whether they are open or closed. With several doors alongside each other that is a must: if they are all positioned at different angles, the effect is slightly messy. But in a straight line, they are real statement pieces, without any unnecessary distraction.' Another advantage of System M is the Damper Control. This enables you to determine exactly how fast the door opens and closes. Whatever your choice, a fluid door movement is guaranteed.