Home
›
Honest and personal
Honest and personal
The charm of steel-framed glass pivot doors
What actually is it that makes glass and steel pivot doors so loved in modern day interiors? Is it their applicability in every type of interior? Is it the way they separate spaces but still let daylight flow through? Or perhaps the infinite ways to combine glass and steel to create exactly the pivot door you want?
Our partner Preferro has mastered the art and charm of steel-framed glass pivot doors. In this Dutch home they realized five double pivot doors, all steel and glass. Every pivot door is fitted with a FritsJurgens System M pivot hinge. They are true eye-catchers and contribute to the atmosphere, style and optimal light in the room. But what is it really that gives these doors their charm?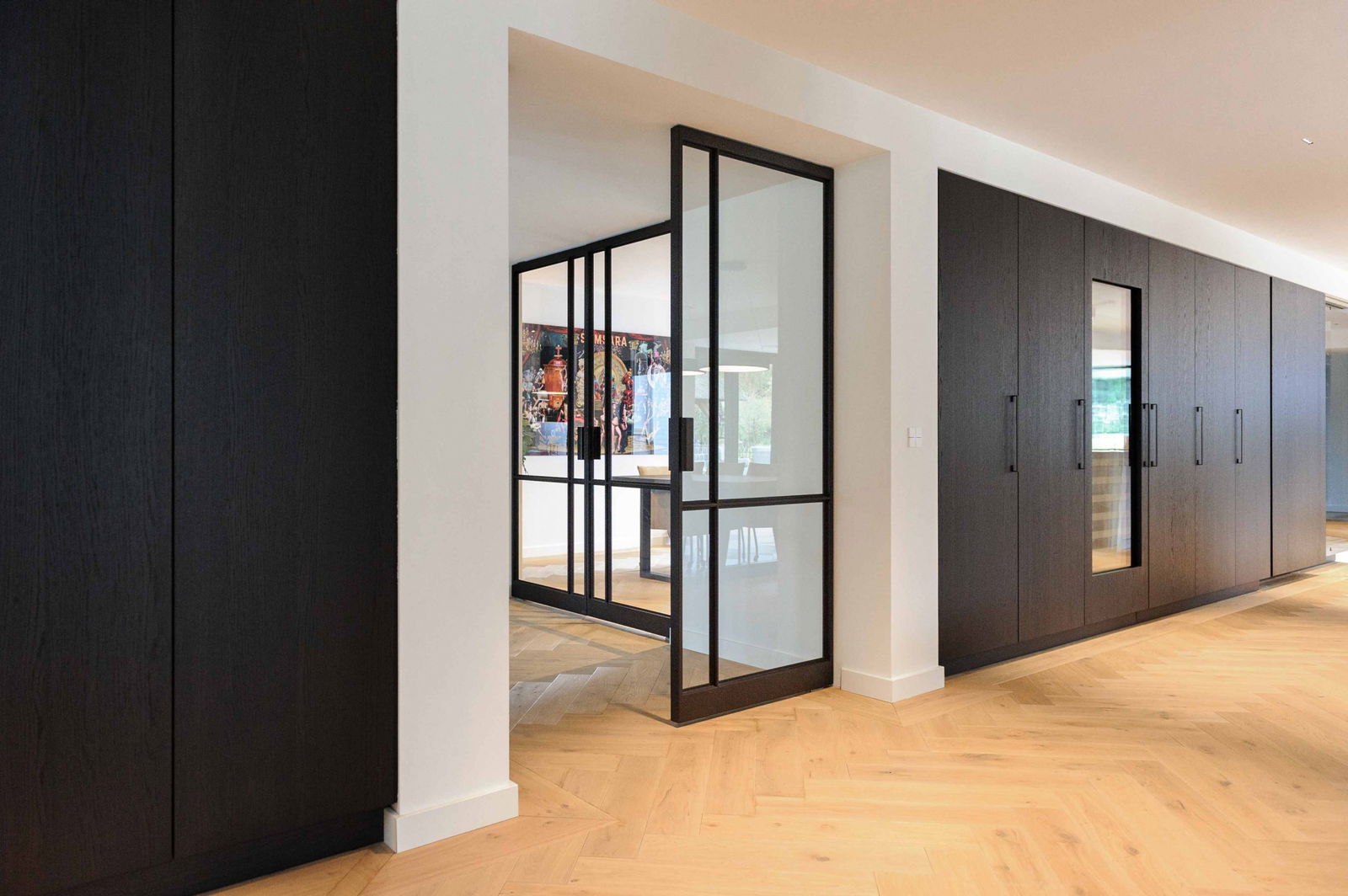 System M: design in every detail
Preferro designs their steel and glass pivot doors together with their clients to create the perfect door for a specific interior. Everything is possible and every assignment is different. However, the integration of the FritsJurgens System M pivot hinges is an almost constant factor.
Preferro: "The FritsJurgens hinges are made of the highest quality materials and are designed to last a lifetime. We as Preferro aim for eye-catching customization of an unprecedented level."
The finishing touch to a customized black steel door are the black floor- and ceiling plates that can be chosen with System M. These provide just that extra charm to the overall design.
"System M by FritsJurgens is a self-closing pivot hinge. The door opens effortlessly and in a controlled manner, the movement is elegant, and the closure is whisper-quiet. It provides control over the movement of the pivot door."
Learn more about System M and our other two pivot hinge systems: System One and System
Pivot doors of the zeitgeist
Steel and glass are honest and durable materials that fit well into the current zeitgeist. The combination of craftmanship, design and the modern-day technology of FritsJurgens is perhaps not surprisingly fitting. Preferro on this combination:
"Steel doors are durable, timeless and the result of craftsmanship. All of our steel doors are custom made according to traditional methods and realized with love. Stylish and industrial, slender and sophisticated. An enrichment for the home. Unique and exclusive."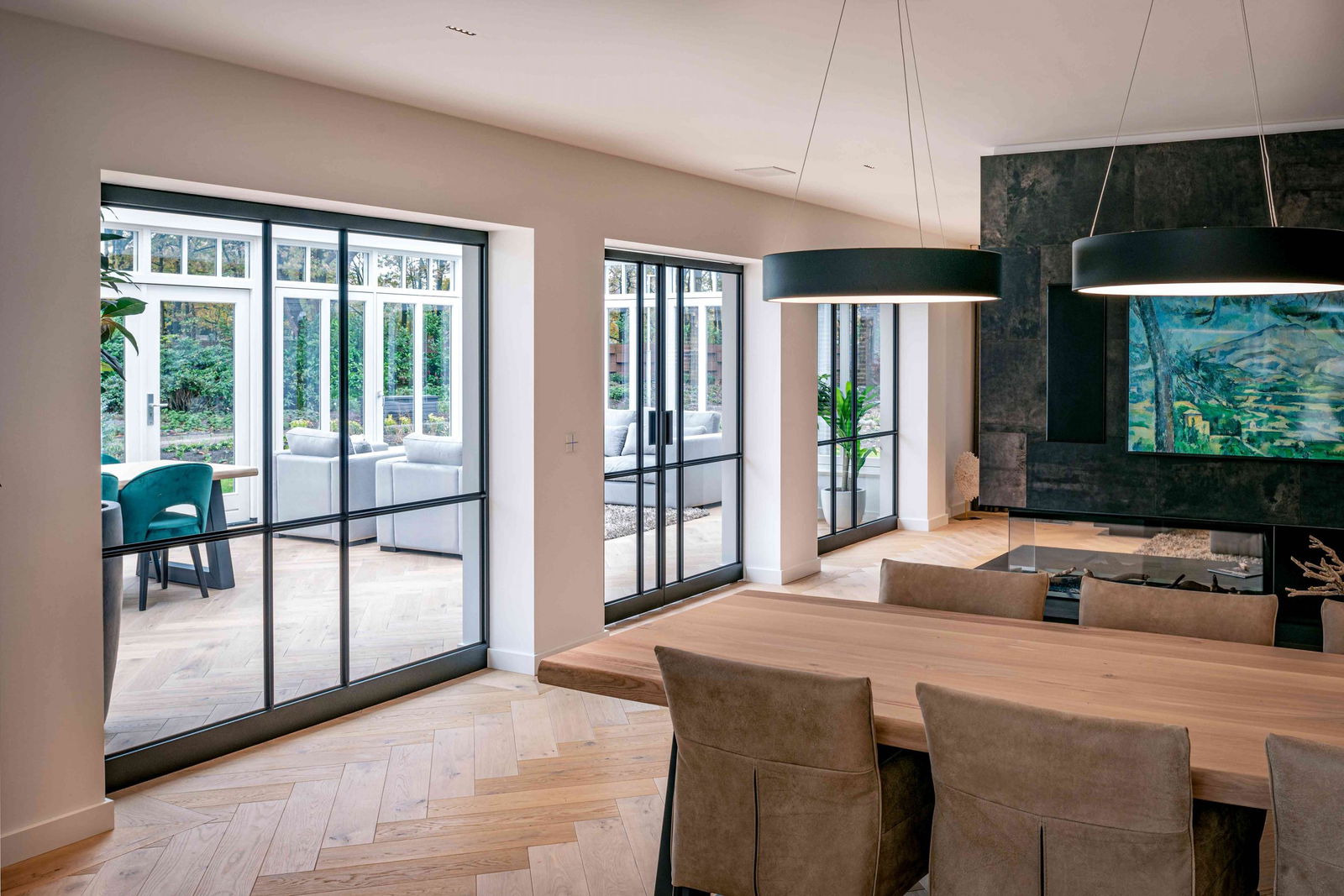 Charming in every situation
A steel-framed glass pivot door suits every type of interior, and with a FritsJurgens pivot hinge the application of such a door in both new and existing situations is easy. Even when floor heating is applied, a FritsJurgens pivot hinge can be installed in four steps.
Secondly, FritsJurgens pivot hinges allow minimal gaps around the door. A glass pivot door therefore creates a separation of spaces without blocking precious daylight.
Furthermore, a valuable feature of a glass and steel pivot door is the design freedom it gives you. With glass and steel, you can create large surfaces and thus large pivot doors. These can easily be carried by a FritsJurgens pivot hinge. The ratio of glass and steel can be customized, allowing you to design the exact door you have in mind.
The design options for glass and steel pivot doors are endless. Take a look at other examples and be inspired.
True craftmanship
FritsJurgens pivot hinges are a product of true Dutch craftmanship, as are the steel and glass pivot doors by Preferro. We believe in the timeless beauty of hidden perfection. From this value, the craftsmen at FritsJurgens have worked to design unusual pivot door solutions of the highest quality with a passion for details. Our systems are hidden in the door, offering endless design possibilities and the ultimate door experience.
Preferro pivot doors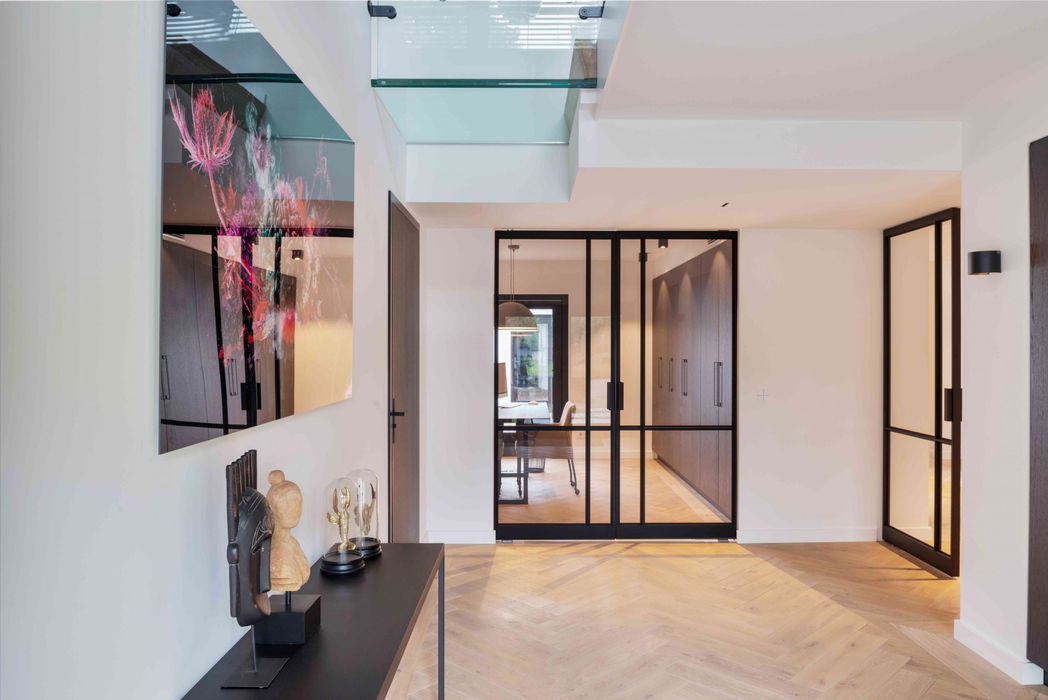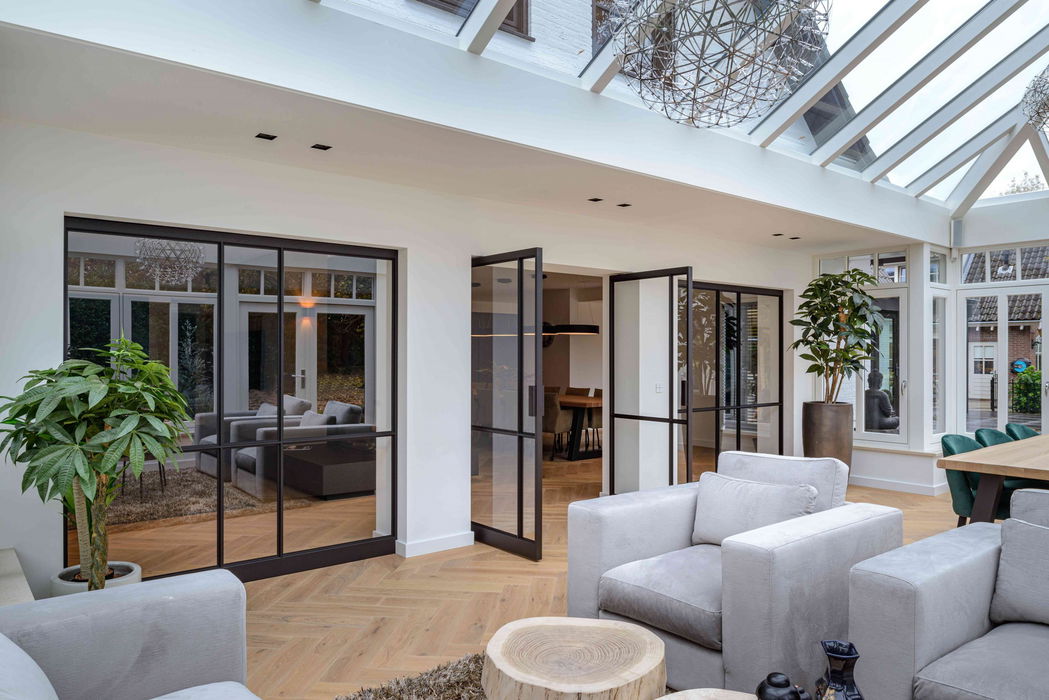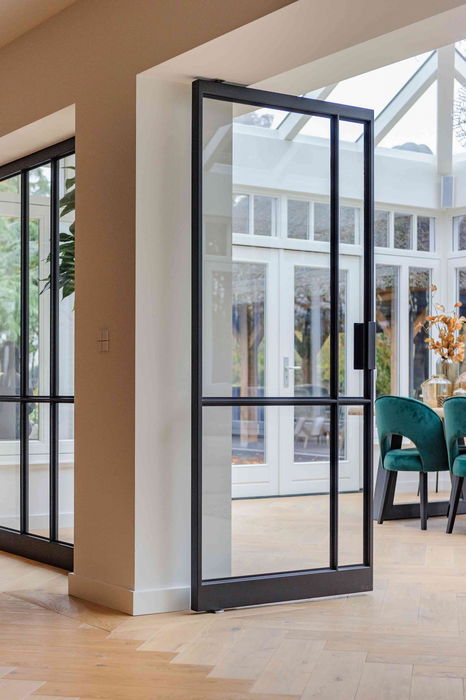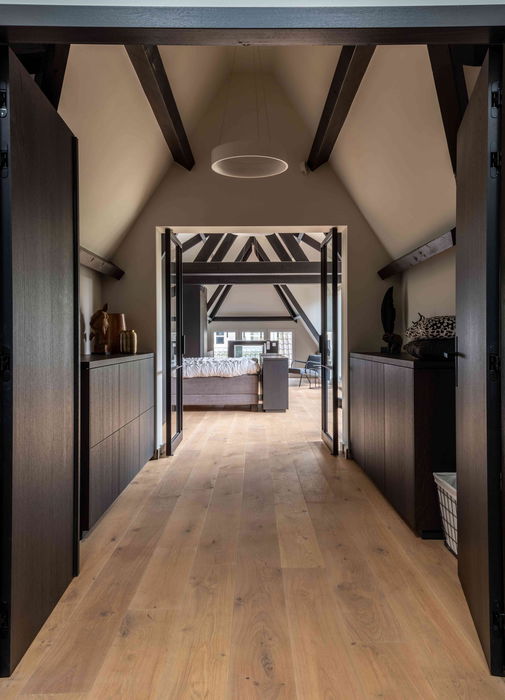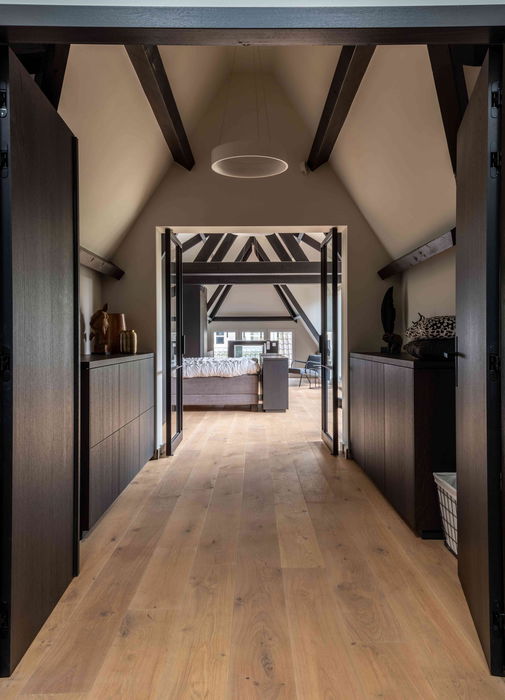 Drag over the photos for more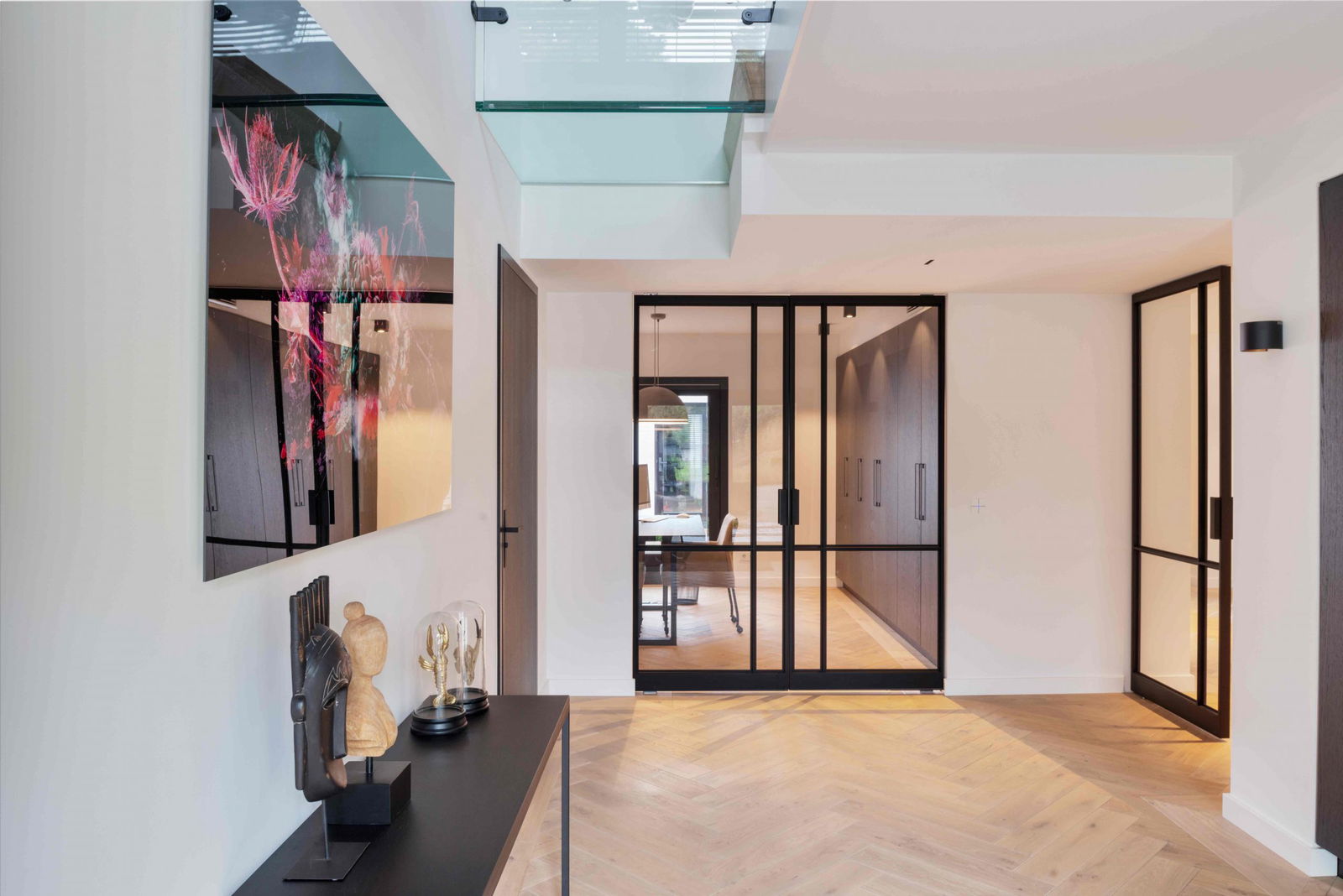 Honest and personal
The charm of steel-framed glass pivot doors is hidden in their honesty. What you see is what you get: craftmanship and high-end technology fit our zeitgeist, honest materials make for durable solutions, they are a perfect fit in almost any interior and their designability gives a personal touch to every single one of them.