Home
›
Space Joinery pivoting louvers
Pivoting louvers
Adjustable room dividers
The brief: give the client the flexibility of concealing or revealing the dining space from the main hallway. Five louvers turned out to be the perfect solution. They not only regulate airflow but also provide privacy when needed and a feeling of space when desired. Space Joinery did a fantastic job at creating a streamlined design that is in keeping with the aesthetics of the joinery throughout the home.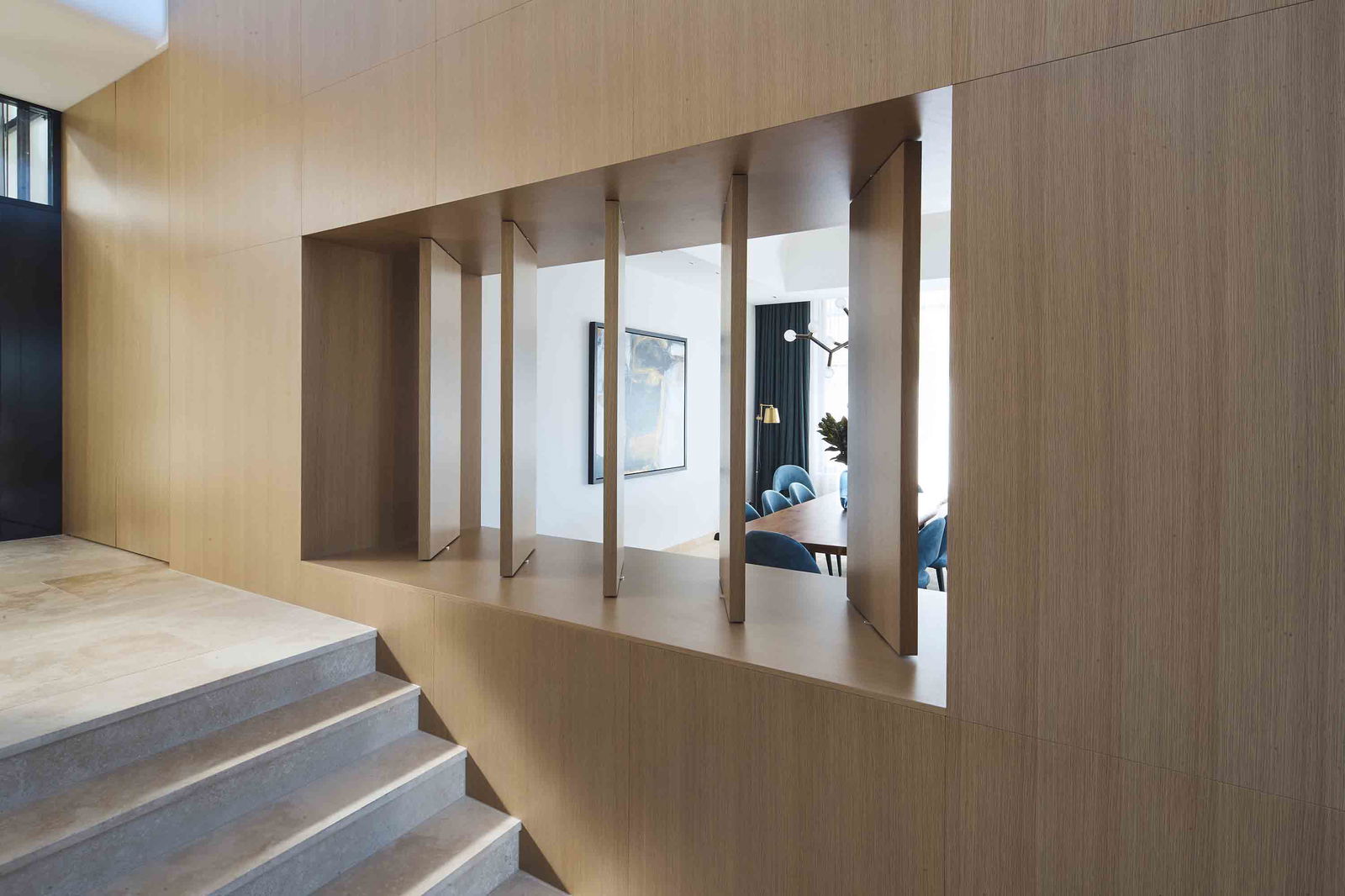 Louvers' benefits
We asked Space Joinery why they chose pivot hinges for this application:
"We are very familiar with pivot systems, and we have installed many in our projects. Initially, the idea involved using an engineer to create a system to hang each louver, but after installing the pivot system on doors within the home, we realized this system would also be suitable, cost-effective, and time-efficient for the louver partition."
The five louvers all pivot on FritsJurgens System One pivot hinges. Every louver can independently pivot 360° with fluid, smooth movement and be placed in any desired position. This provides exactly the freedom that the customer wanted: the option to partially, entirely, or not at all close a room at any time.
Freely rotating systems are often a must for room dividers of all sizes. System One is compact, solid, and – like all FritsJurgens systems – reliable. If you are looking for a little more functionality, System 3 is a suitable solution. This system has hold positions at every 90° angle, in which the door or wall remains in place when you stop it there. The door or wall always moves automatically to one of these hold positions and will always come to a smooth and controlled stop.
Discover more about the various FritsJurgens pivot systems.
Why FritsJurgens?
Space Joinery: "In the past, we have used many pivot systems, and after being recommended to use FritsJurgens' pivot system, we have never used any other system! We find them user-friendly, reliable, and of very high quality, and we have not experienced any issues to date."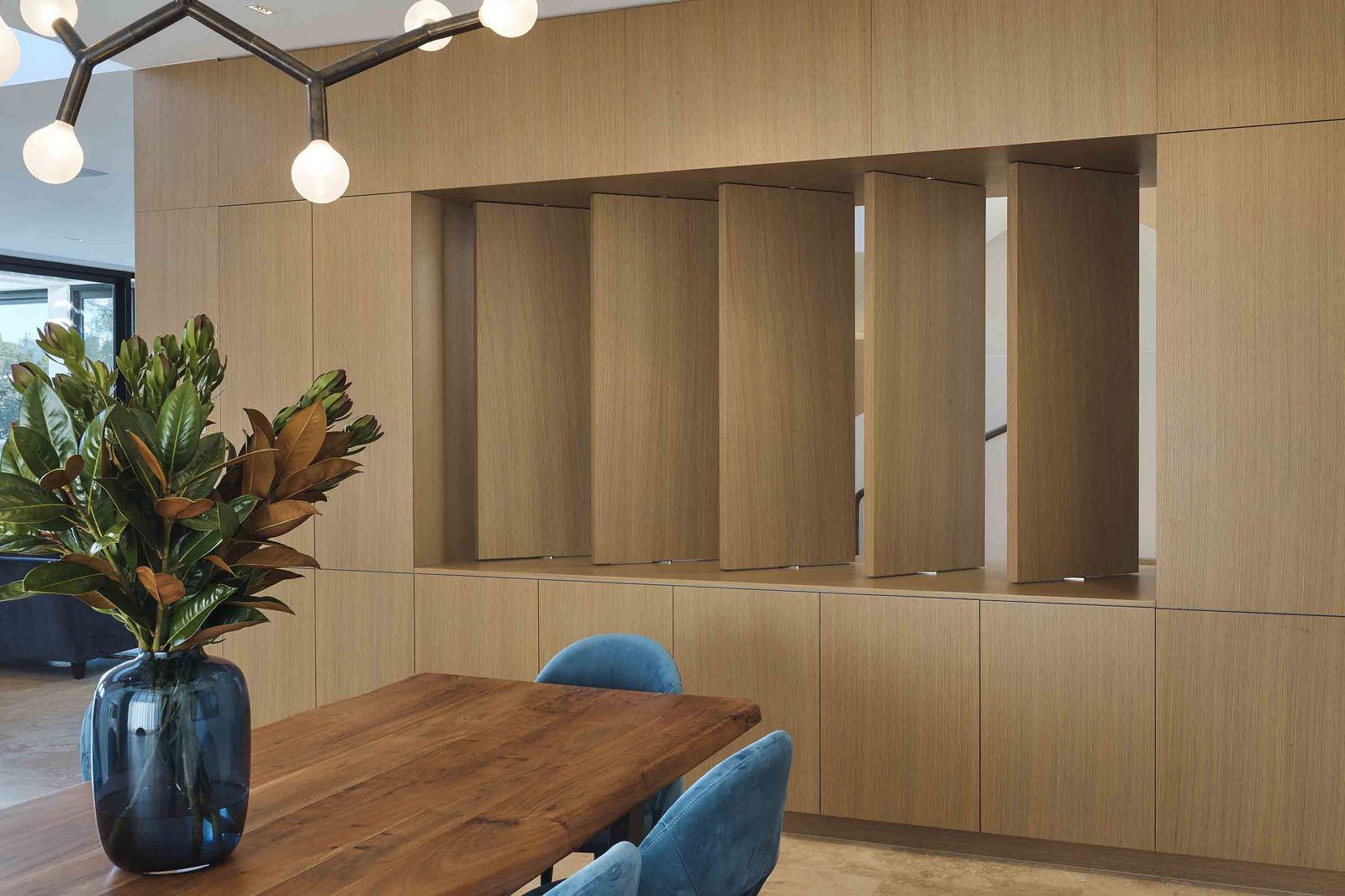 Travertine and limewash
Each of the five louvers is 1500 mm high, 650 mm wide, and 50 mm thick. They weigh 37 kg each and are made of American oak. The American oak and travertine (limestone) finish throughout the house were the architect's ideas. Space Joinery then opted for a limewash for the oak. This way, the material retains its natural beauty, and discolorations caused by a clear polyurethane finish are prevented.
These very striking, beautiful choices were made throughout the entire house, creating a seamless finish that connects all areas. The freedom to be able to extend this in pivoting elements too is therefore essential. Fortunately, a pivot door eminently creates design freedom.
Pivot doors can be designed in every possible way. FritsJurgens' systems are hidden in the door so that nothing can be seen from the outside. They can be incorporated into doors of any material, from aluminum and steel to wood and marble.
Discover the various possible materials suitable for pivot doors.
Custom made joinery
The decision for custom-made joinery is an integral part of the final look and feel of a home. Space Joinery:
"Custom-made joinery provides a unique finish specifically designed to meet the individual needs of our clients. Finishes are cohesive and can be constant, which is aesthetically pleasing to look at. Custom-made joinery can also be designed to maximize space and function within a room as clients can select materials, hardware, and sizes to reflect their lifestyle and space. Custom-made joinery also allows clients to match existing joinery, furniture, and or color schemes in their home for a seamless look."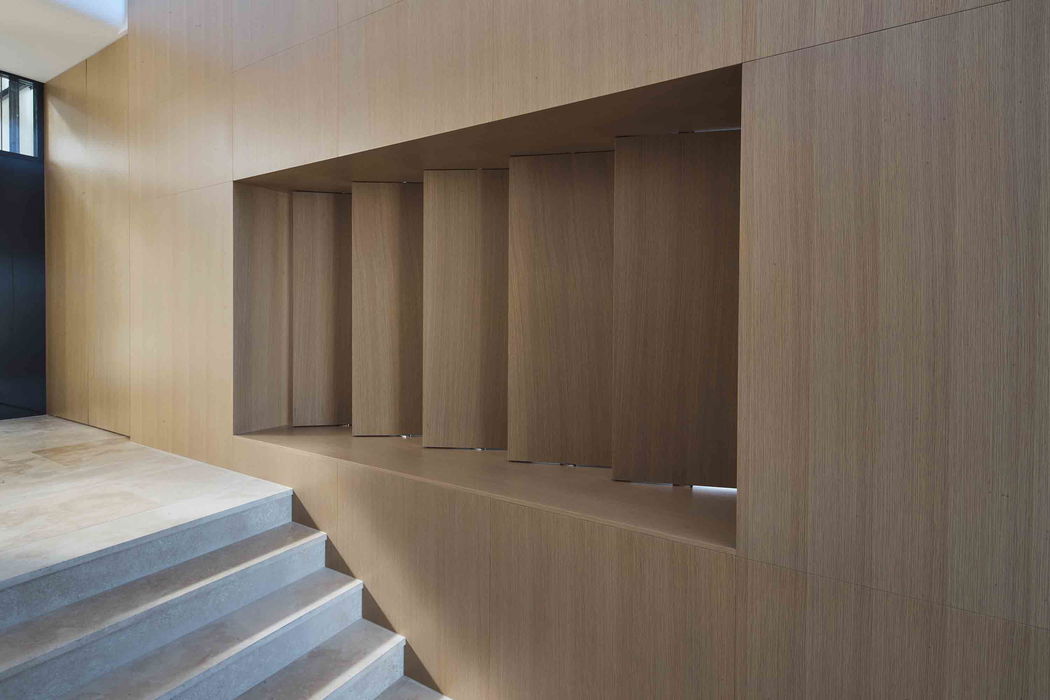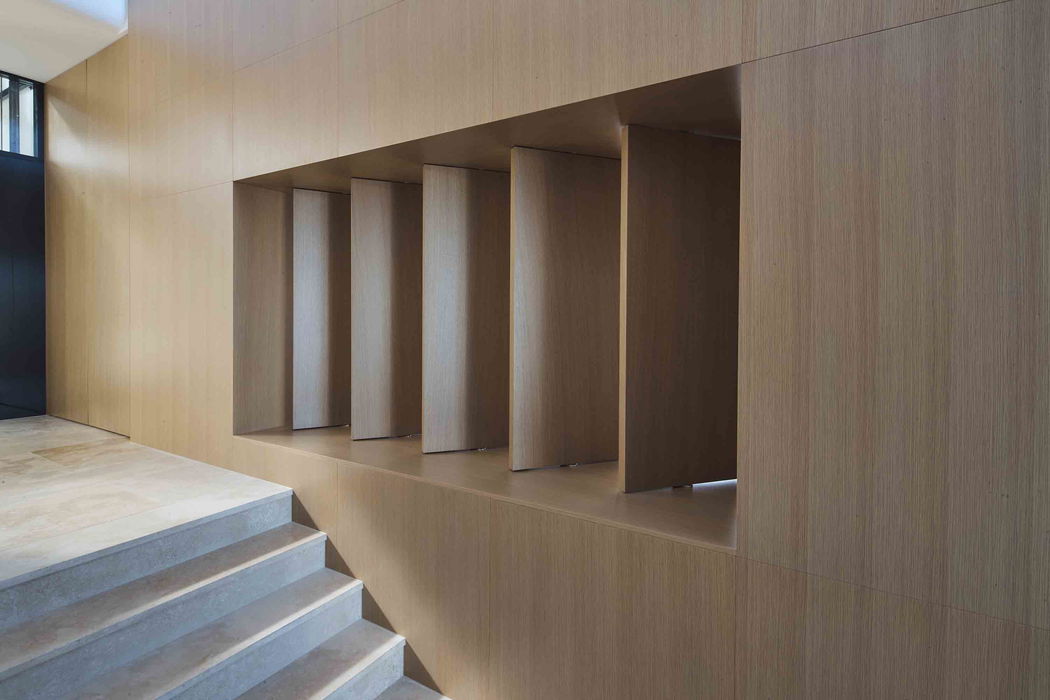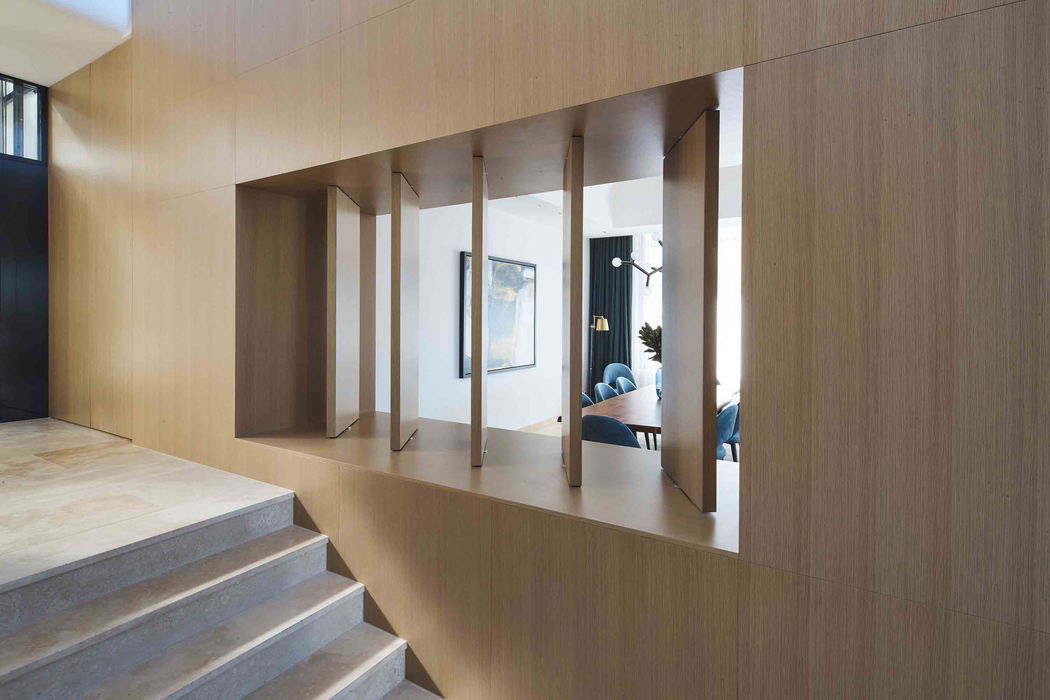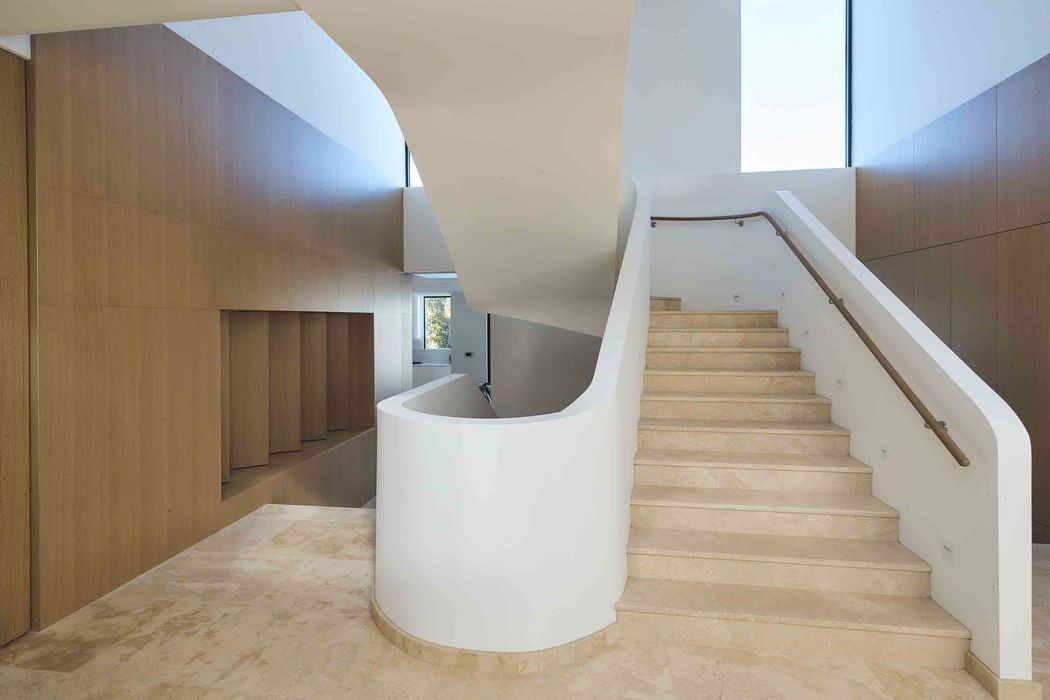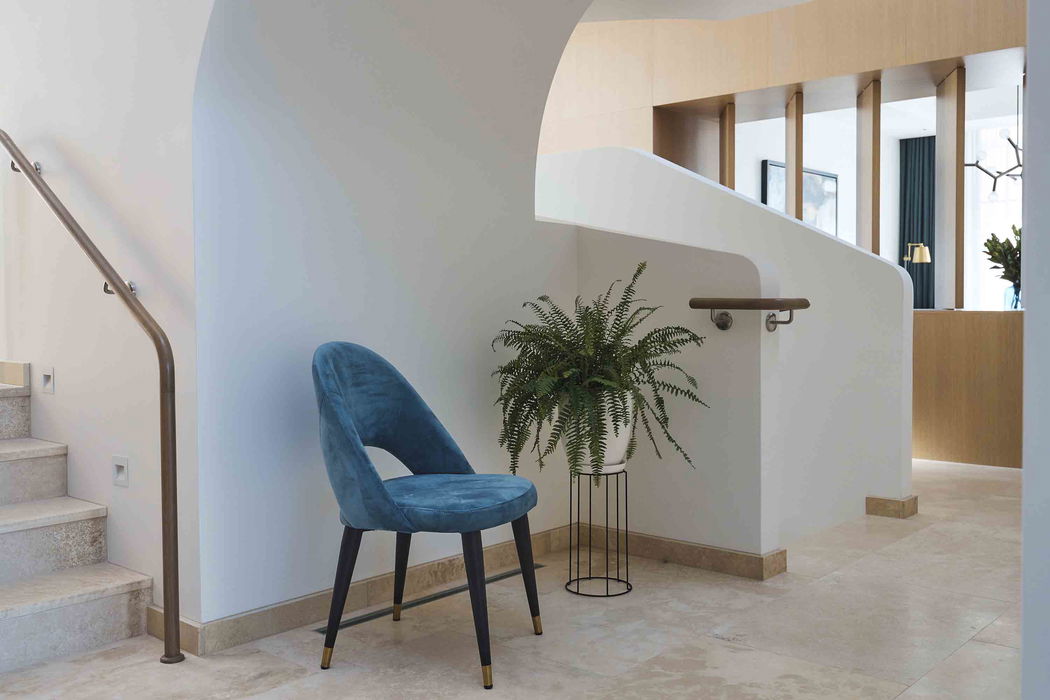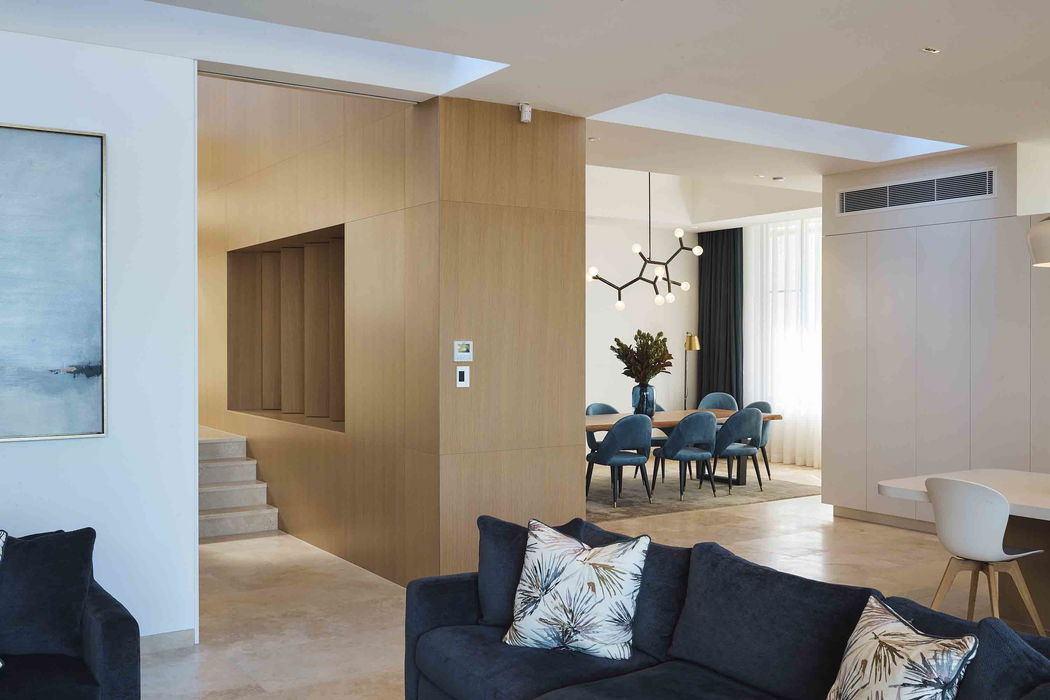 Drag over the photos for more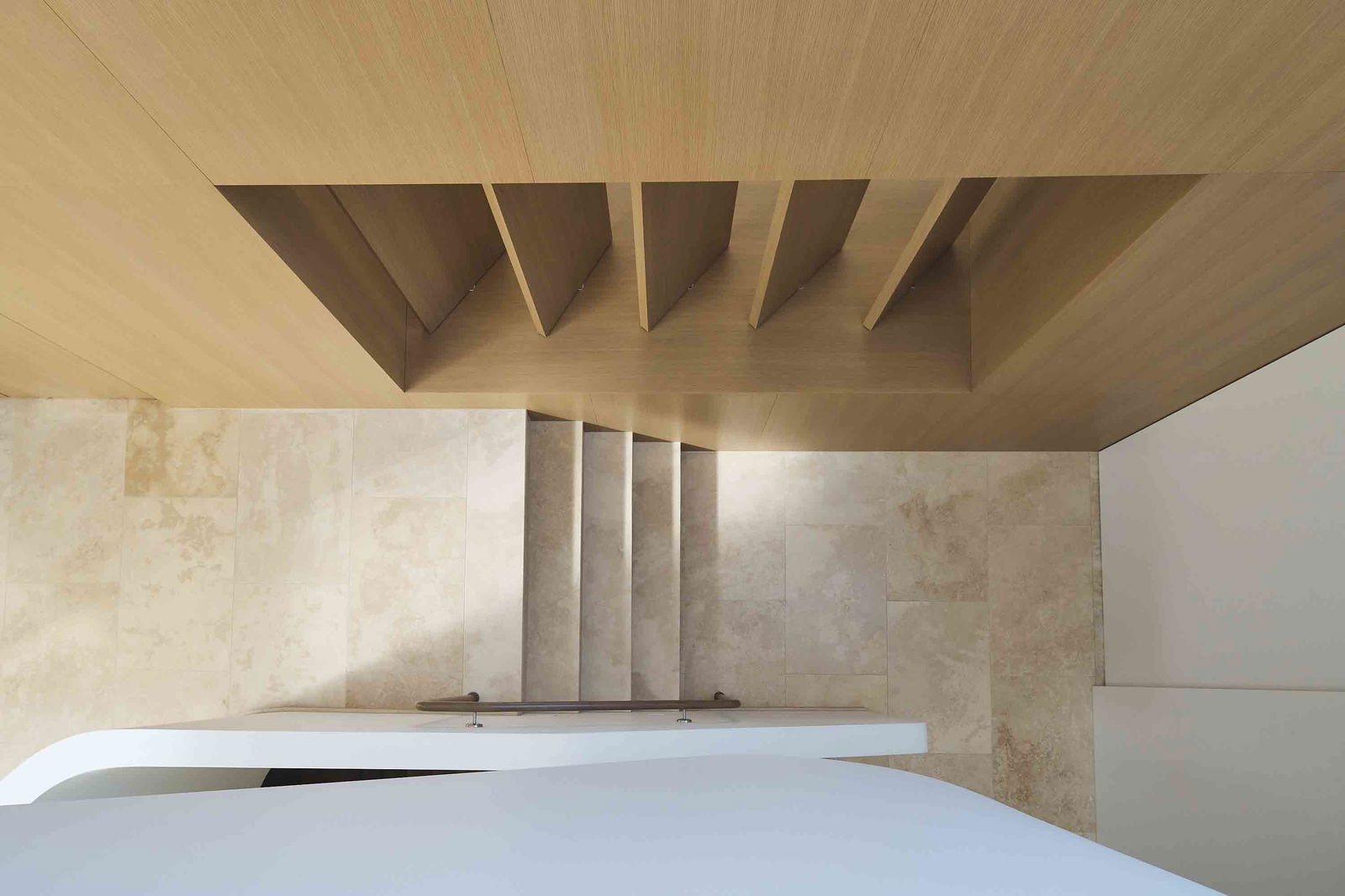 A surprising, classic application
It is fantastic to see what is made possible with pivoting solutions. The design freedom seems endless, and we are always surprised by the creativity of architects, designers, door makers, and homeowners worldwide.
These louvers are functional, at one with the rest of the house, and finally, a surprising pivoting solution. They show how simple good design can sometimes be and what the added value of custom furniture is in a home.