Home
›
Pivot doors in FritsJurgens' head office
FritsJurgens' office
4 types of pivot doors
Glass and steel pivot doors, wood-clad invisible pivot doors, print-covered pivot doors, and glass and wood pivot doors – if you put all these different doors in one sentence, it is hard to imagine a building where they all come together beautifully and serenely. Nevertheless, Marjan Bulder made it a reality. She re-designed the interior of FritsJurgens' head office in Kolham, creating openness and calm in a comfortable and modern workplace.
Photography by Gerard van Beek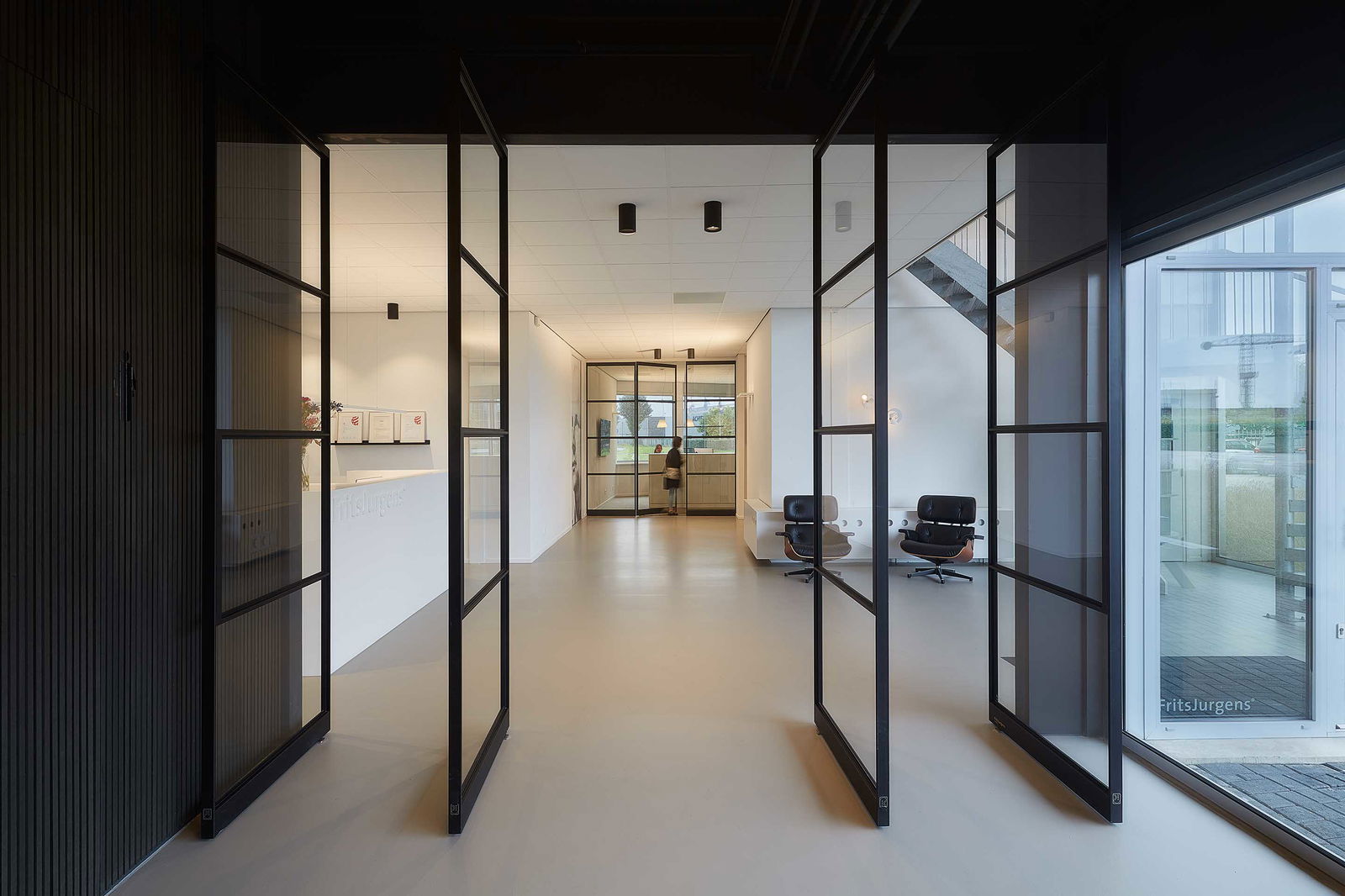 Steel and glass pivot doors
These steel and glass pivot doors were already present in FritsJurgens' old interior. They might seem familiar to you – this row of four doors is a well-used part of the office for various photos and videos. On our movement page, for example.
These pivot doors are beautiful but also very functional. They can separate the entrance hall from the kitchen and the large table where people have calls, meetings, and breaks. When you look closely, you can see a new glass façade with a single pivot door in the back of the image. The wall was broken down to place this glass and steel wall with a pivot door.
System M+ was used in all the pictured pivot doors. This system is most suitable for this type of door, where you want to be able to put the doors in hold positions and have opening and closing damping.
Discover all of FritsJurgens' pivot hinge systems.
Glass and wood pivot doors
On the first floor, you find six wood-framed glass pivot doors. Three of them are part of a glass wall, where used to be an ordinary wall. This change has created immense openness, and the space now feels much larger.
Especially the fourth pivot door on the right is a true eye-catcher. The controlled door movement of this large and heavy pivot door is a fantastic experience. Take a look at these doors in the photo slider further down on this page.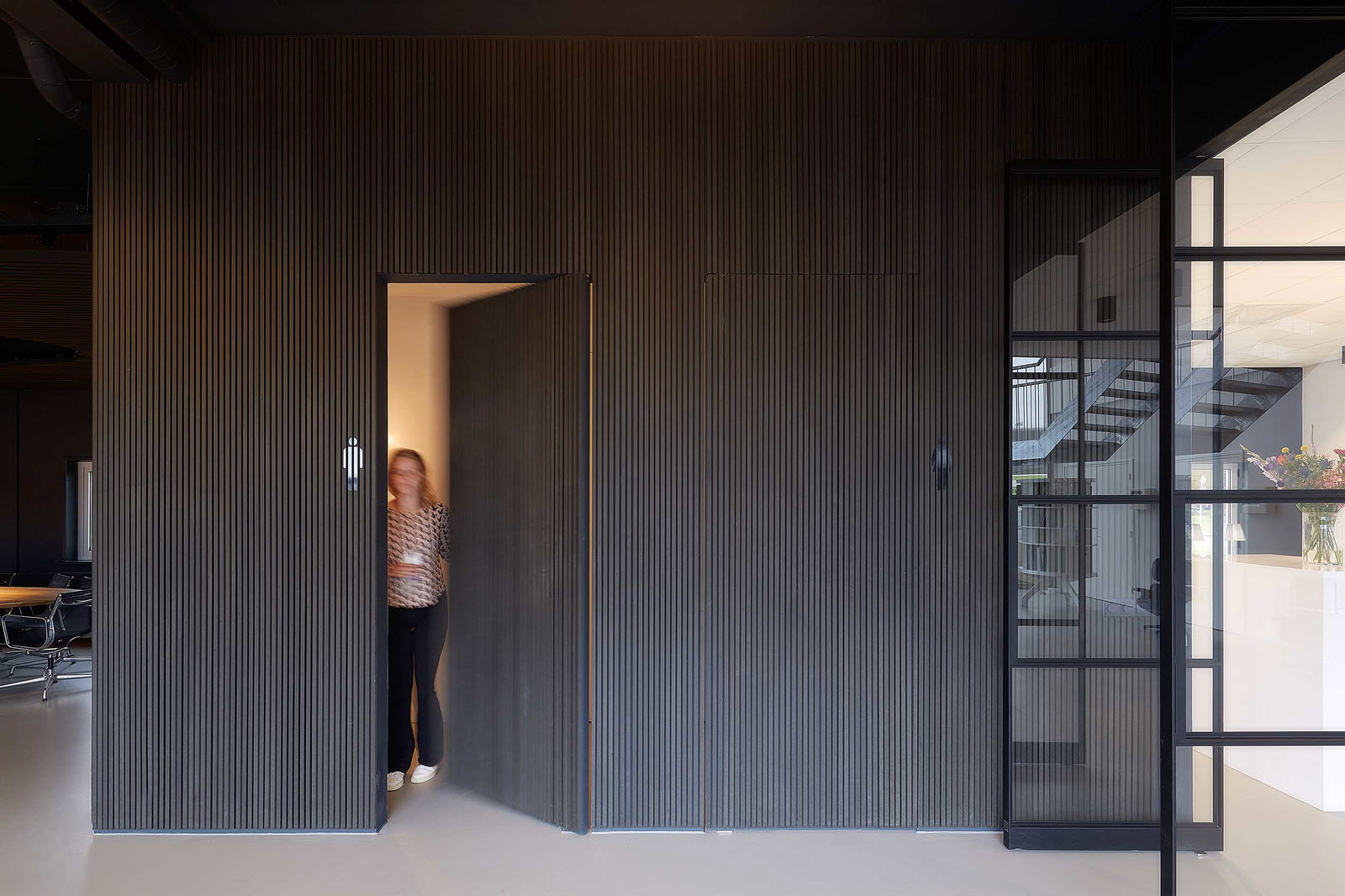 Hidden pivot doors
Pivot doors are excellent when you want to hide your door. Thanks to the minimum space needed around the pivot door, you can use clever ways to conceal that there's a door at all.
In FritsJurgens' head office, two toilet doors are concealed in the surrounding wall. Both are clad and perfectly aligned. Only two icons reveal that the door is there somewhere.
If you want to conceal your pivot door, there are various ways to do this. You can clad your door or simply choose the same design for both the wall and the door. Jib doors with paneling are a great example of this and show that a pivot door doesn't have to be used in a modern building solely.
Discover more ways to apply different types of pivot doors.
Print-covered doors
You can do anything with your pivot door – even if you want to decorate it with an enlarged, printed photo. The door to one of the offices downstairs was decorated with an image of FritsJurgens namesake, Frits Jurgens. An inspiration that we are now reminded of every day. Take a look at this door in the photo slider below.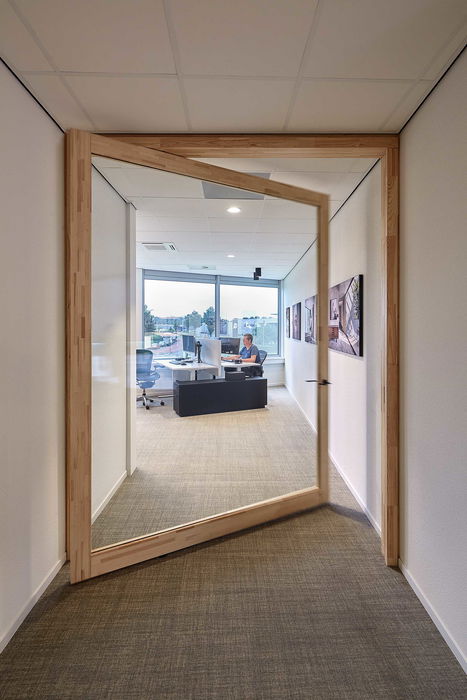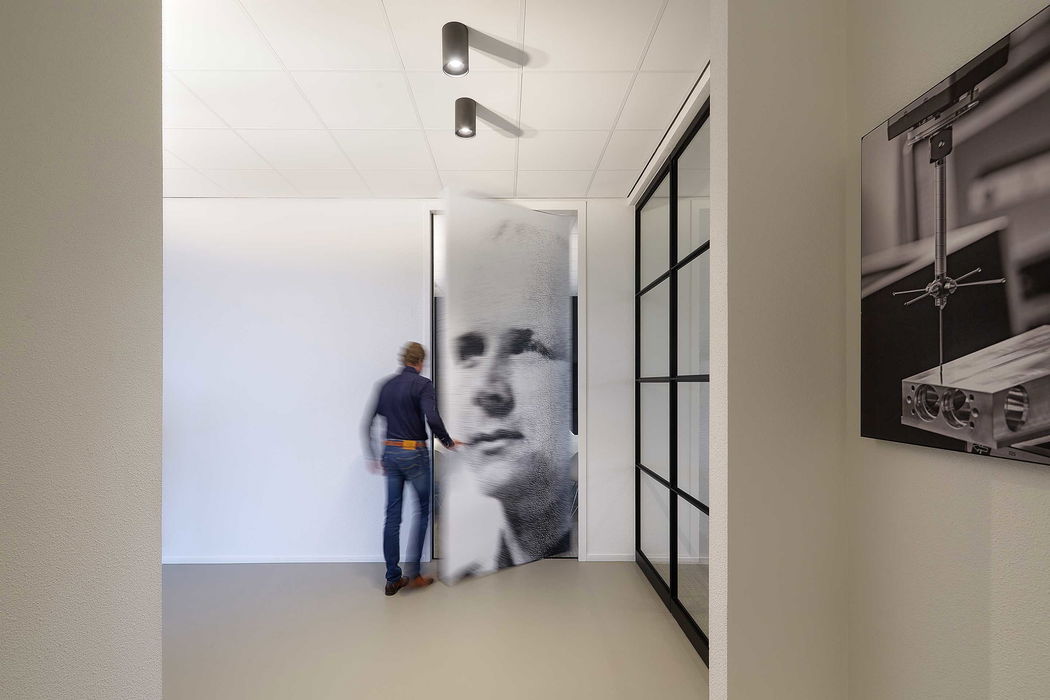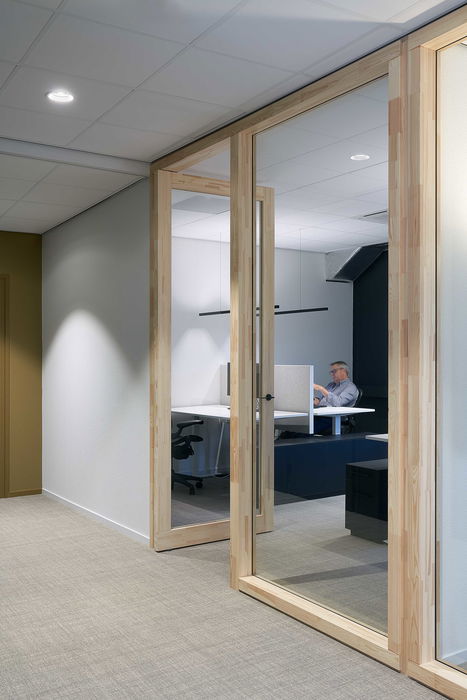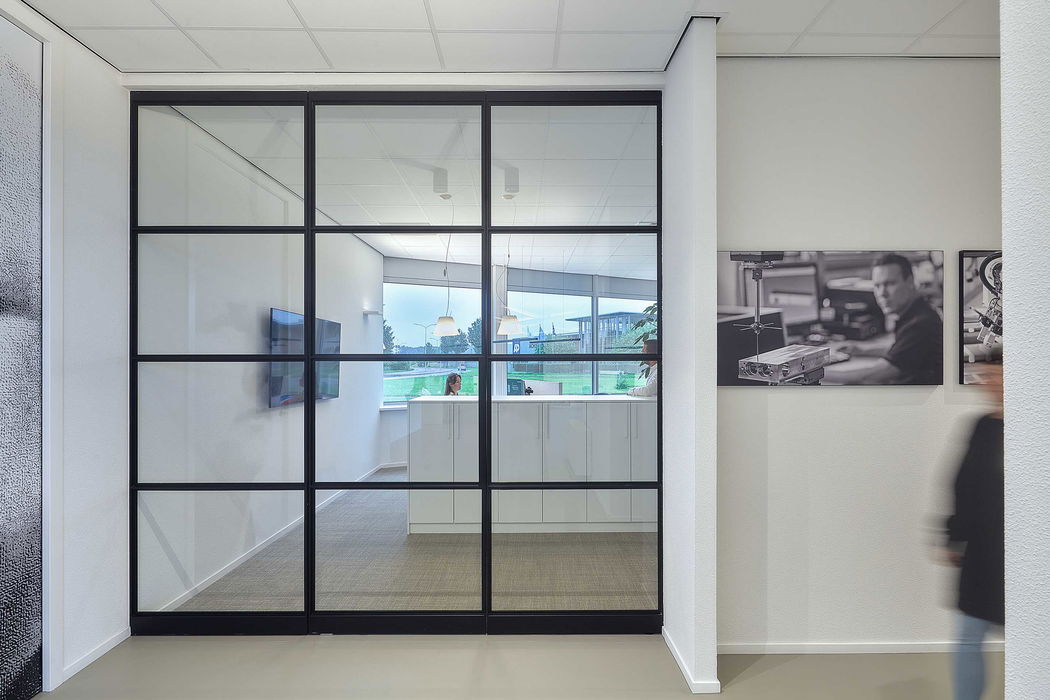 Drag over the photos for more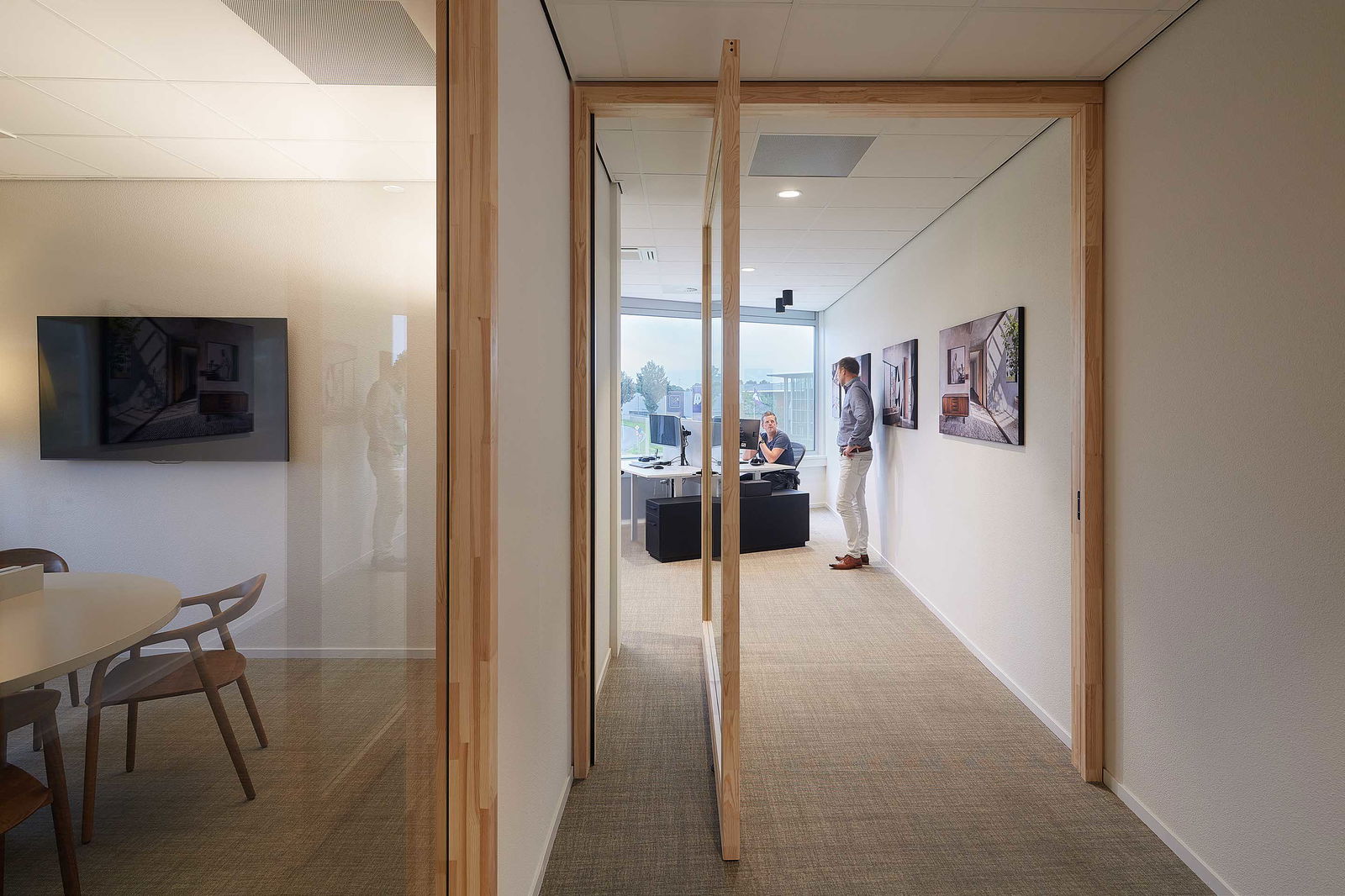 Timing
This renovation couldn't be more well-timed – after working from home for over a year, FritsJurgens' employees now slowly start to find their way back to the office. Not only had we all missed the chats, laughs, and inspiration, but the new interior has become a fantastic place to work. And we wouldn't miss it!