Home
›
Pivot door installation
Installation instruction System M+ / M
On this page you find all the information you need related to the installation of the System M and System M+ pivot hinge. The installation can be done in four steps.
Mount the floor plate
Mount the ceiling plate
Place the door
Fine-tune the door
System M and System M+ can be installed in the exact same way. Only the fine-tuning of the movement is different.
Mount the floor plate
FritsJurgens floor plates can be placed on a single floor type, but on two different floor types as well. When mounting the floor plate, the drilling mall is used to determine the placement of the 8 mm spindles on the bottom of the floor plate.
Mount the ceiling plate
The ceiling plate position can easily be determined by using a point laser. The hole for the tube on top of the ceiling plate is drilled, and the screws can be pre-drilled. The top of the ceiling plate is covered with glue and can then be affixed on the ceiling. Lastly, the plate is affixed with screws as well to secure it.
04:14 – Mounting the ceiling plate
Mount the door
The door can easily be placed by first lifting the oval spindle on the System M or System M+ into the notch in the floor plate. It is important that the door is placed in its open position, so the oval spindle should be rotated into that direction.
The Axle Wrench is a useful accessory to accomplish this. After the door is placed on the floor, the top pivot is extended by turning the included hex key in the bottom hole at the top of the door sixteen times.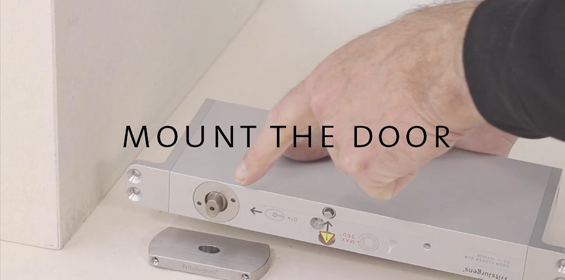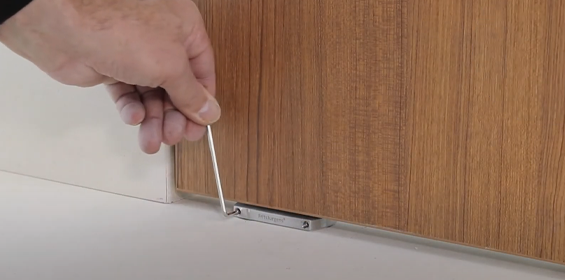 Radial Positions
After fine-tuning the gaps around the door, if this was necessary, the radial position can be fine-tuned.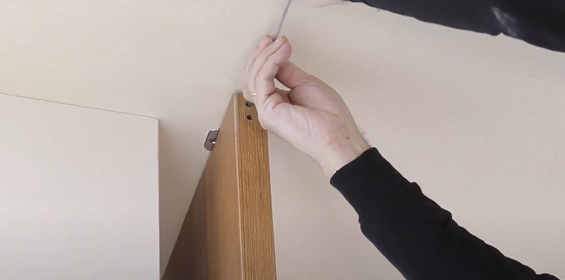 Closing seam
The last step in the fine-tuning process of the placement of the door is fine-tuning the closing seam. This is done by accessing the top pivot through the top hole in the door.
Movement
Fine-tuning the movement of the door is different for System M and System M+. System M has adjustable Damper Control, System M+ has adjustable Damper Control, 30° Speed Control, and Latch Control.