Home
›
Black house with a monolithic character
Black house with a monolithic character
Creating space with oak pivot doors
Hidden between the oak trees in Breitbrunn am Ammersee lies this black house, designed by the German architect Fabian Wagner. The owner of Buero Wagner has a predilection for small-scale projects. The smaller the project, the more freedom to experiment. For example, with pivot doors. Precisely because the house is rather small, he saw it as a challenge to create as much space as possible. The pivot doors make that possible. They allow the house with its gorgeous view to be fully absorbed by the nature surrounding it. Moreover, when designing the building, Wagner only used ecologic building materials – sustainable and stylish.
Photography by Florian Holzherr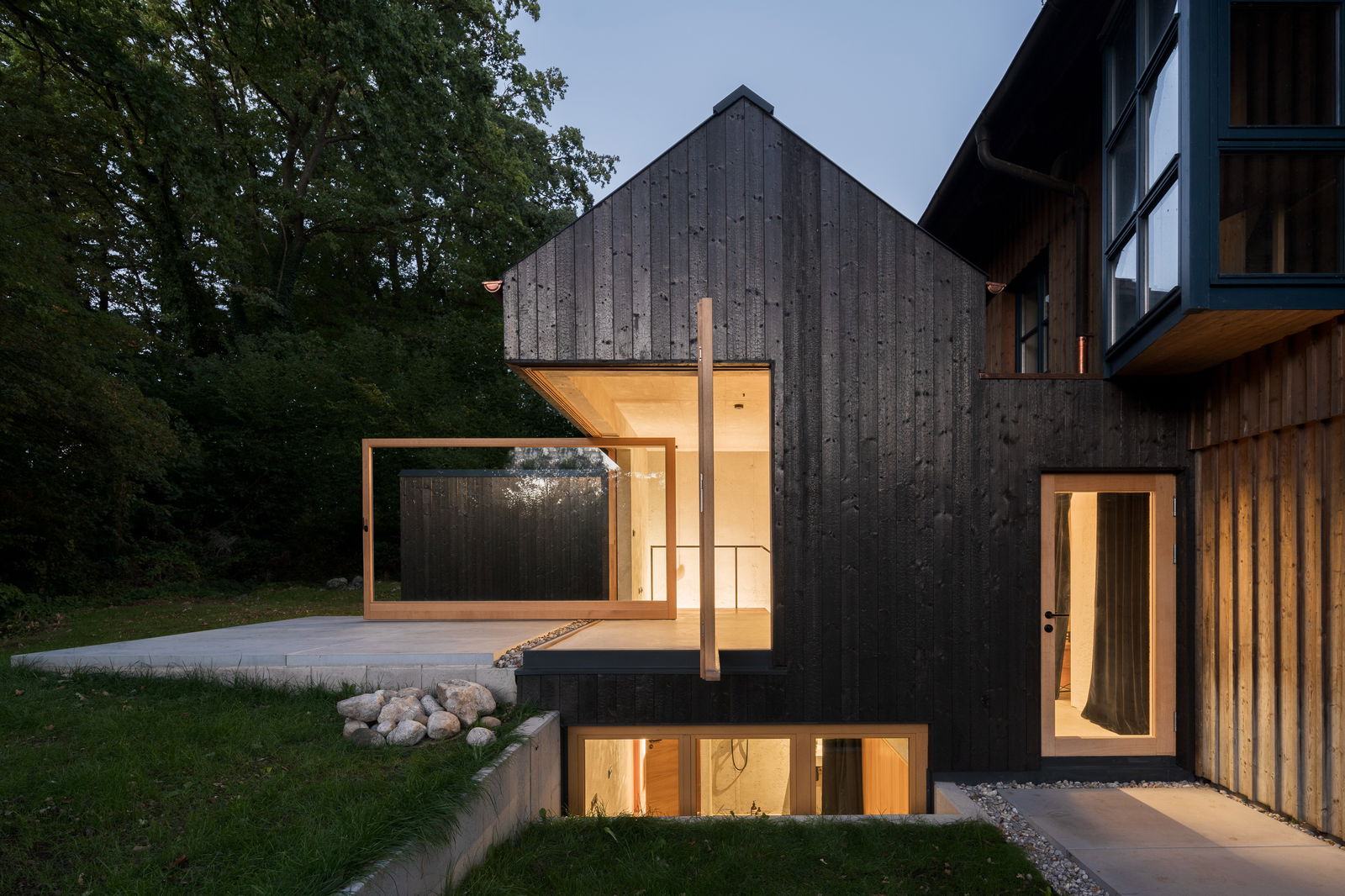 The small black house
The house is at a two hours' drive from Munich and lies on the banks of the Ammersee. A lovely spot surrounded by nature. Although there was plenty of space, the zoning plan did not allow for the building of a new detached house on this plot. "Never mind, I'll just design an extension to the house that is already there," Wagner thought. His challenge was to still make it feel detached. Despite the building's small measurements of 6 x 3,80 meters, it appears very spacious. Moreover, it has a terrace of its own. The various floor layers give a dynamic impression; the design of the house follows the landscape.
Sustainable building materials
The exterior and interior of the house have various special aspects. To start with the materials: they have all been processed naturally. No part of the house has undergone any chemical process. "We wanted to keep the design as pure as possible," says Wagner. For example, the spruce wood on the exterior of the house has been carbonized. Hence the black color. The charred layer protects the exterior of the house against harmful influences – from rainfall to insects. All other wooden elements in the house have been oiled only, both the frames of the pivot doors and the kitchen. "As a result, they will sooner show signs of exposure. The occupant needs to be aware of that," says Wagner.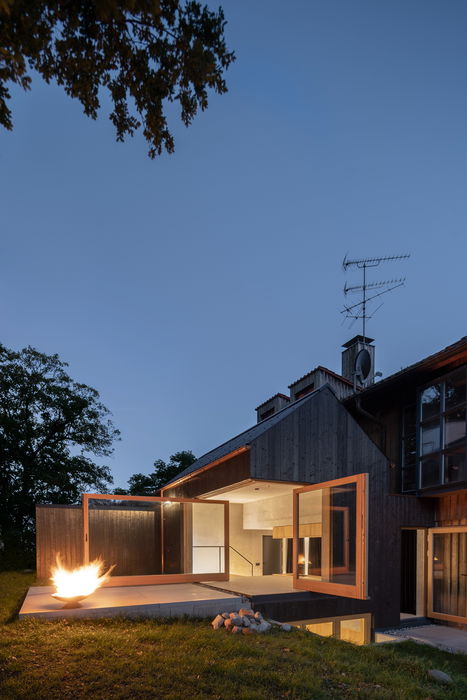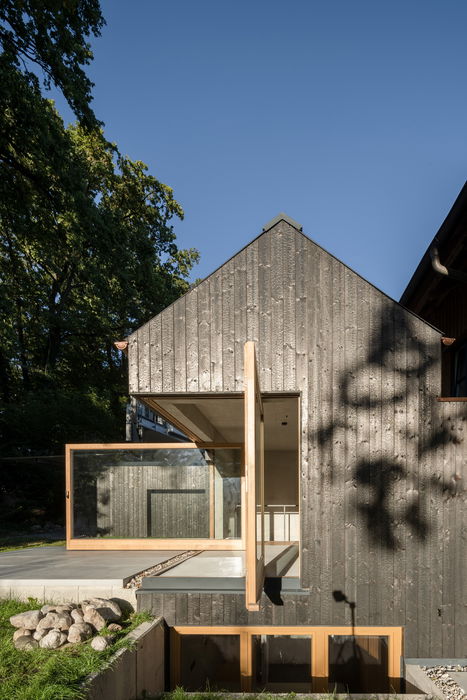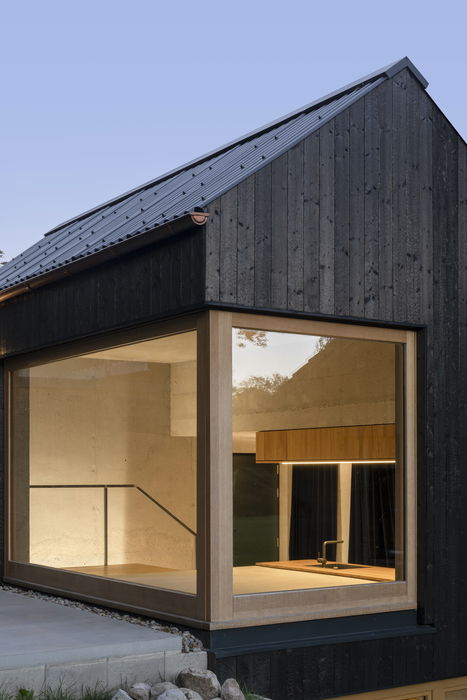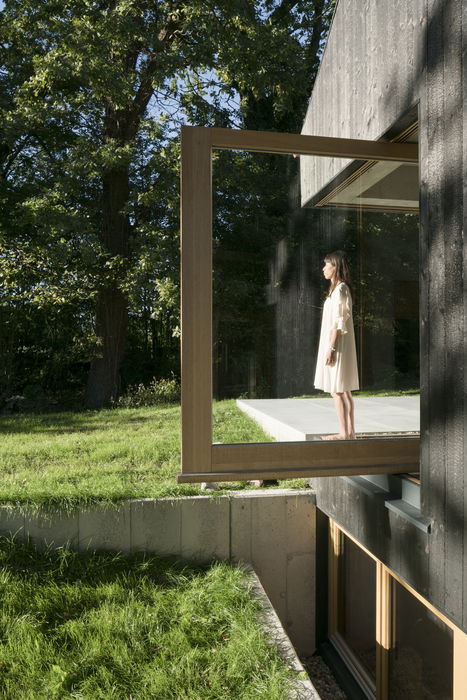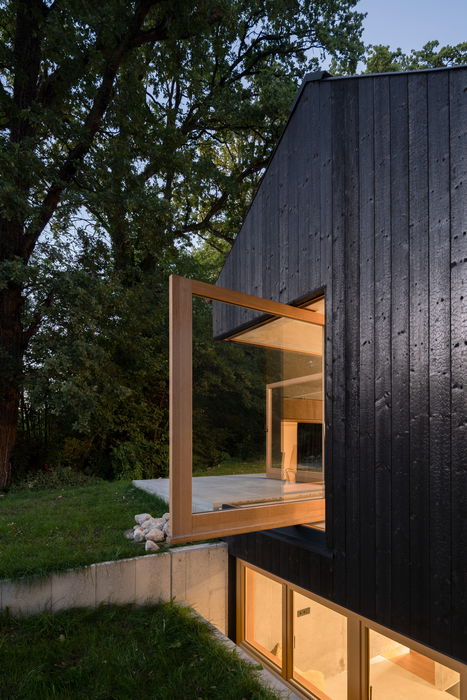 Drag over the photos for more
Smooth movements
The house has a monolithic character, which means that the interior is one whole. "It was our goal to make the house into a continuous space," says Wagner. "The rooms are not divided by doors, but by the various levels on which they are situated. And the floor, walls and ceiling are made of exactly the same material, which creates the illusion of more space. In addition, all installations – such as pipes and heating – are directly concealed in the concrete walls. This creates peace and space. Also, the windows and the angle of light play an important role in this respect: if you are in the basement, you still have a beautiful view of the garden. The light easily makes its way through the window of the bedroom, which is partly underground.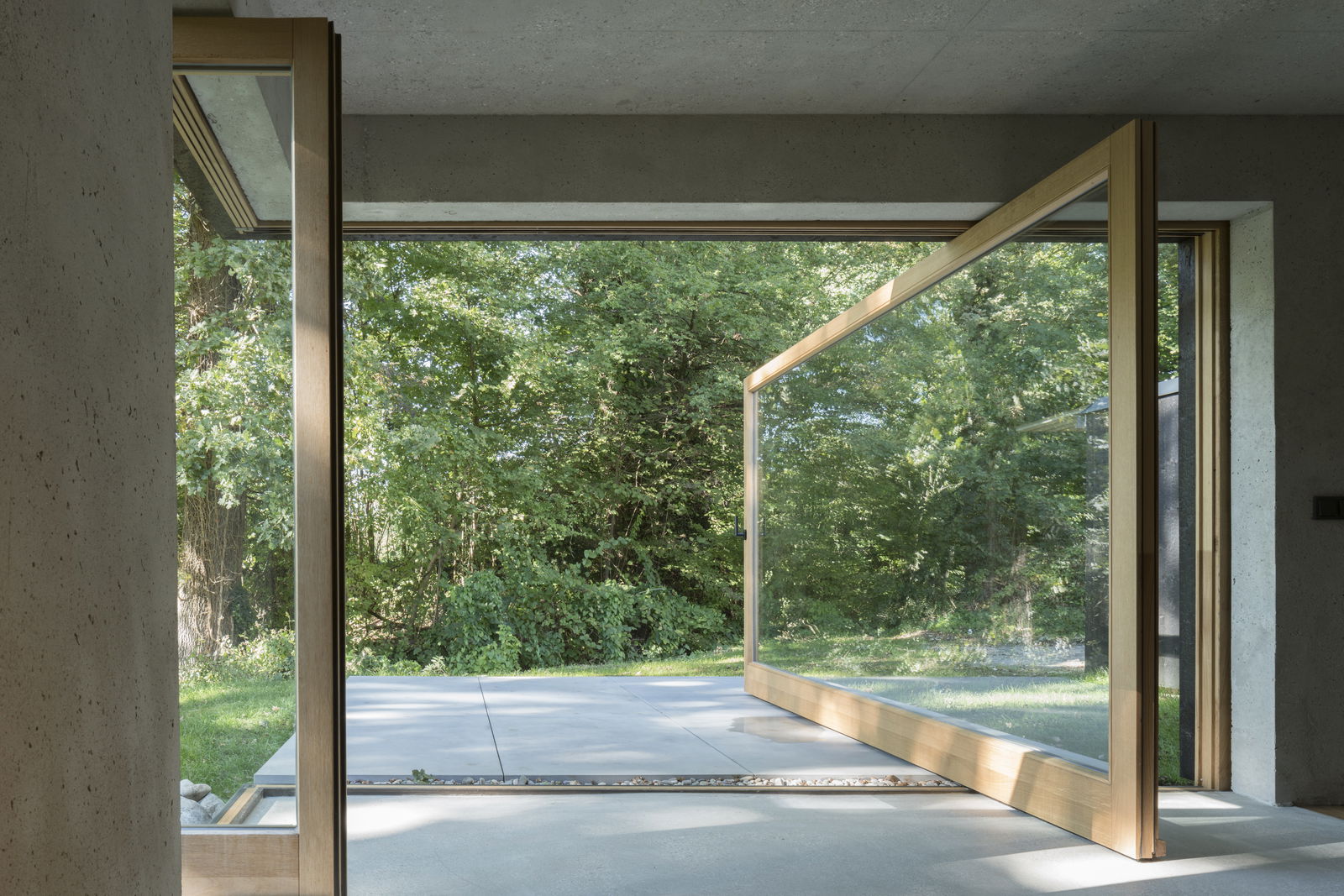 Connection between living room and terrace
That smooth movement is strengthened by the two huge oak pivot doors leading up to the terrace. The doors are 1.9 meters high and 3.35 and 1.8 meters wide and make the outdoor area an extension of the living room. When you look out through the doors, the view feels like a life-size painting. For this project, Wagner had several door options in mind, but the pivot variant clearly proved best. "They give a lovely view of the nature, without your view being interrupted by door or window sills. That is exactly what we wanted," he explains. "We have developed them together with a carpenter. Both doors are made of oak and have, just like the other building materials, not been processed chemically."
System M
For the type of hinge, Wagner chose FritsJurgens' System M. This option offers a smooth door movement – in line with the appearance of the rest of the house. The hinge is self-closing with an adjustable closing attenuation and a hydraulic opening attenuation. Moreover, you can fix System M at any angle of 90 degrees. This allows the occupant to determine the spatial impact of the door themselves. And ideal for this small house: System M offers the possibility to place the hinge fairly close to the wall. As a result, the turning circle on the inside of the house remains minimal. This way, you avoid empty spaces while keeping the elegant pivot door movement. You can achieve an even smaller turning circle in combination with the TP-40 top pivot. Wagner: "The FritsJurgens hinges are the only ones that can carry this kind of weight. I am very happy with the smooth movement of the door."