FritsJurgens' 10 best pivot doors of 2020
16 December 2020
2020 was an exceptional year in many different ways. We were online more than ever, and thanks to architects, designers, homeowners, and manufacturers worldwide, we have been able to continue to show you the best pivot doors from around the globe all year long.
Some pivot doors in this list are simply breathtaking. Others have ingenious technology incorporated in their design that makes us wonder what else is possible. We are truly amazed by what has been shown to us this year, and we can't wait to see what will be created in 2021.
10. Glass pivot door creates a hallway with a view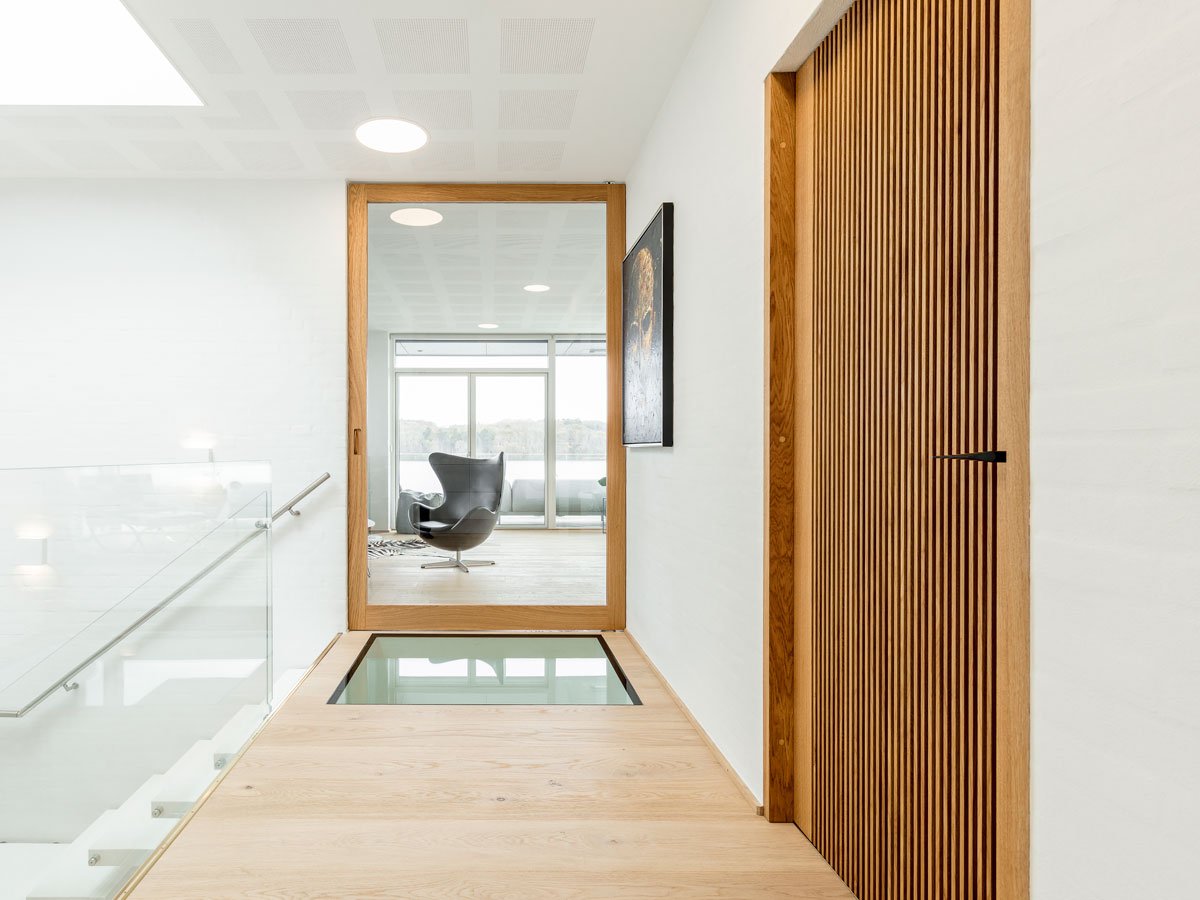 Pivot door by Vahle, architecture by m2plus – Denmark – System M
Last on the best pivot doors list, but definitely not least, is this glass pivot door with a European oak frame. The pivot door gives the space warmth and provides a glimpse of the living room's view from the hallway. Every door in this home was designed in the same style, embracing natural materials. The use of glass on both the floor and door is a cool architectural touch and adds character to the long hallway.
9. Subtle passage hidden in a cupboard-wall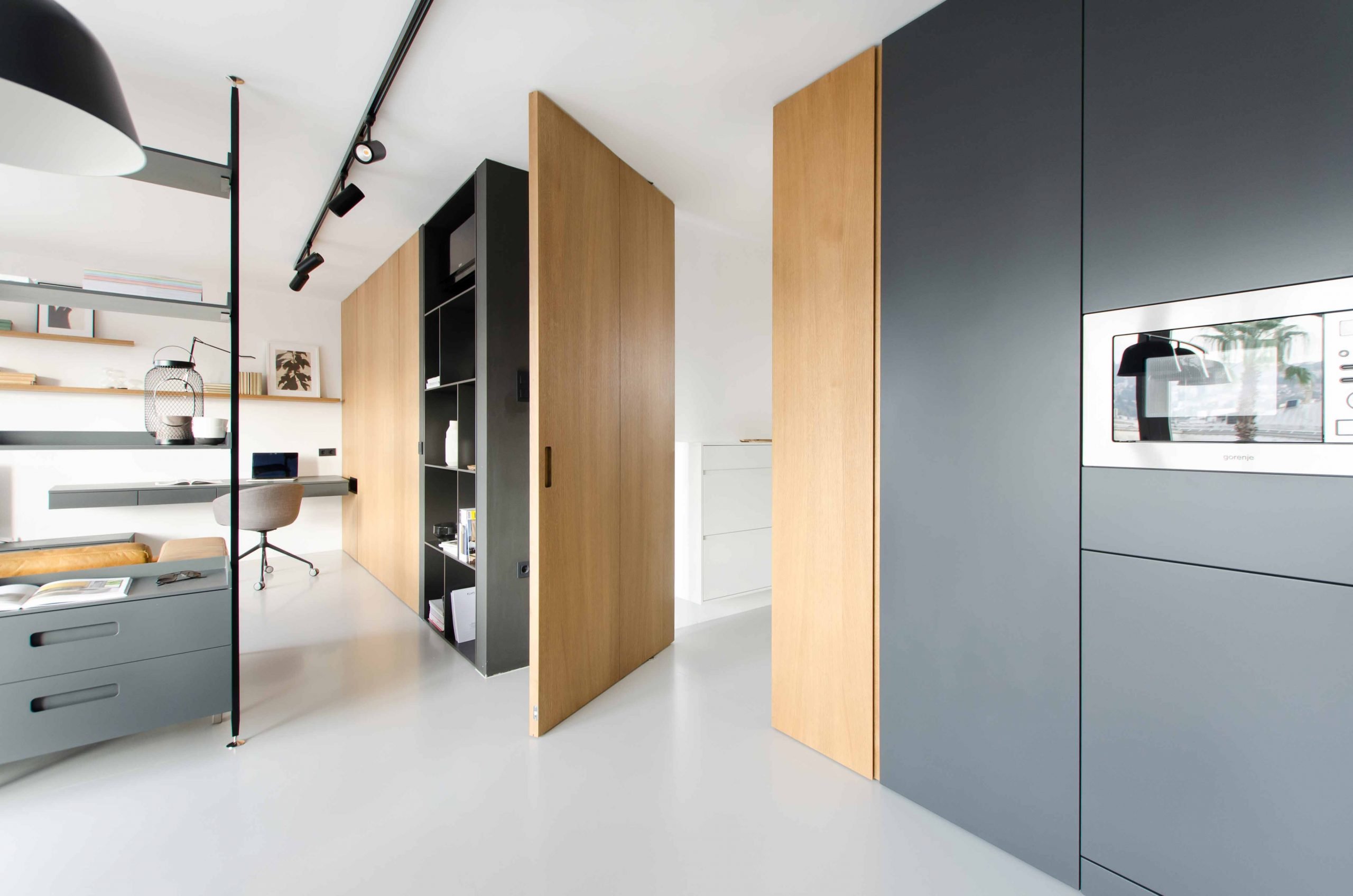 Interior and door design by marasovic arhitekti – Slovenia – System M
Another wooden pivot door is in ninth place. This pivot door was made with walnut veneer, a returning type of material throughout the apartment. The door is more than a passage: it is part of a custom-made, meters-long walnut-veneer cupboard-wall and disappears when closed. Almost every piece of furniture in the apartment was custom made, creating cohesion and a distinct style.
8. Less is more—a sturdy steel entrance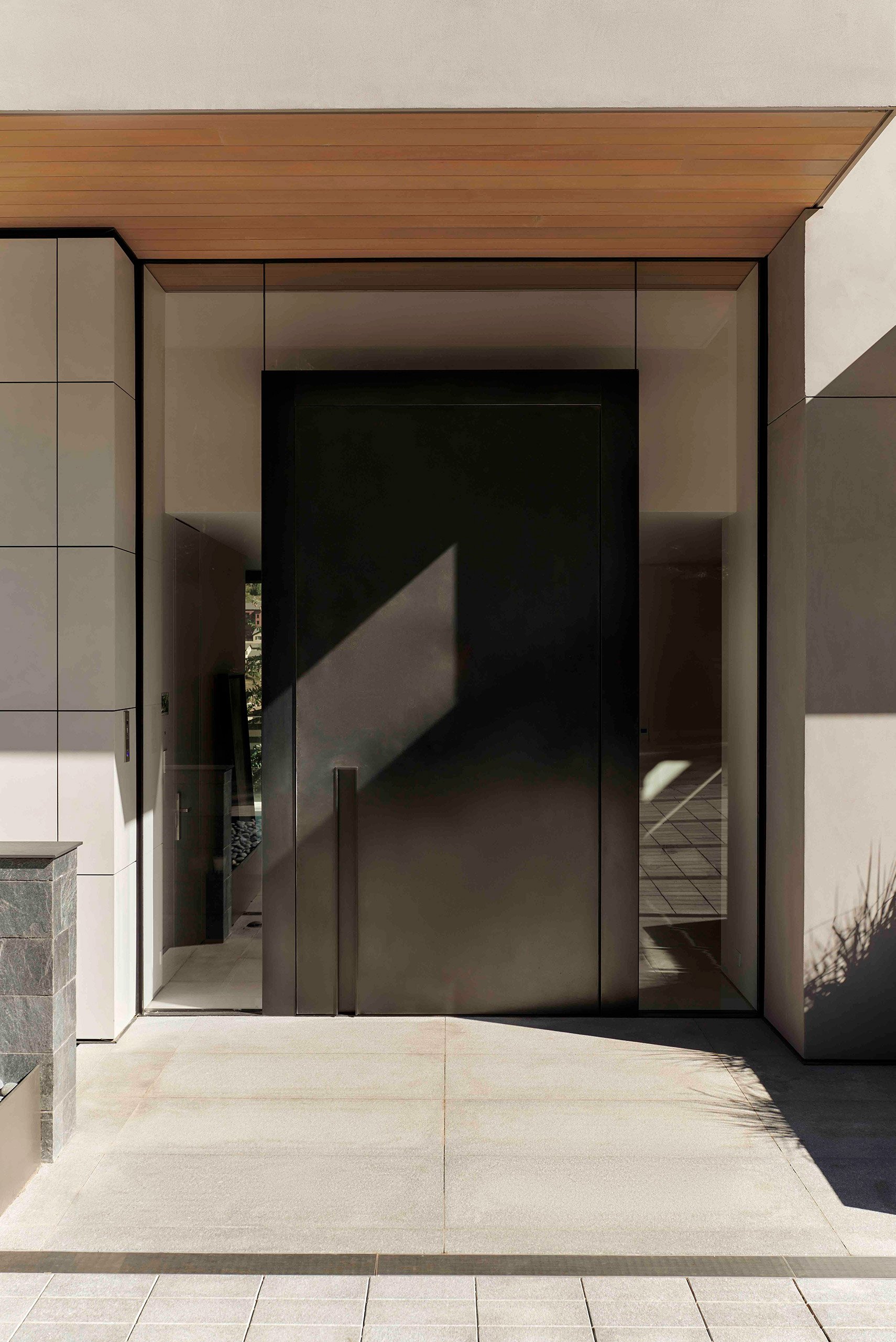 Pivot door by CastleWood Doors – USA – System M
Less is more—a steel exterior pivot door in a black frame, with a beautiful, subtle handle. This tall pivot door gives this home a grand entrance. The use of materials in this design has been thought through very well. Windows surround the black frame of the door, creating a contrast between tough and subtle materials. The warm, wooden roof shelters the entrance while there is strong concrete under your feet.
7. Pivoting room dividers at their best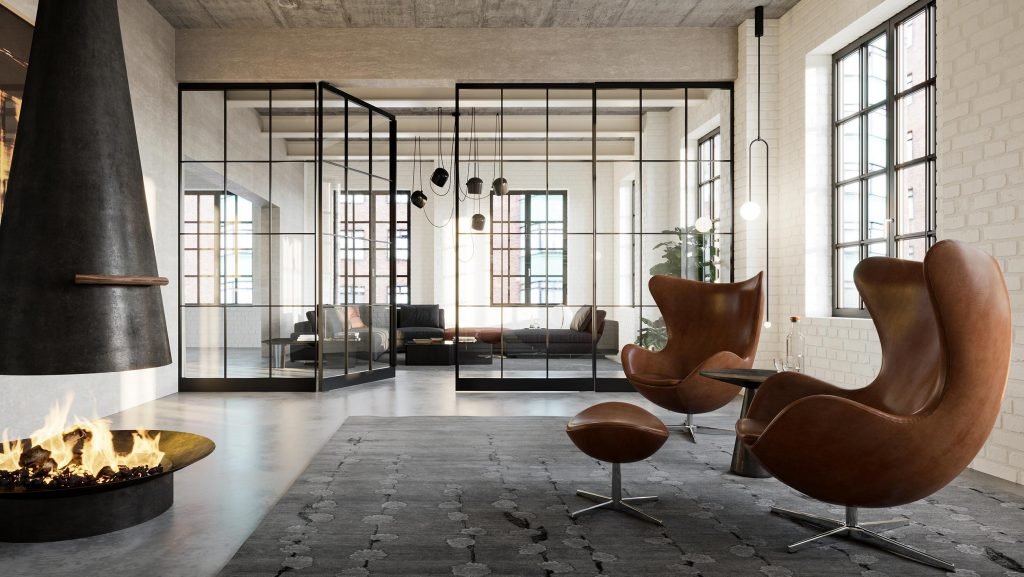 Pivot door by Axis Pivot Türen – Austria – System M
This design shows pivoting room dividers at their best. A well deserved seventh place on the best pivot doors list. Ceiling-tall double pivot doors are the exact right match for this loft design. With the minimum amount of space around the frame, it is barely visible that, when they are closed, the two middle parts of the glass wall are doors. They can be opened and put into hold positions, too, creating one large living area.
6. Thinking ahead—materials with character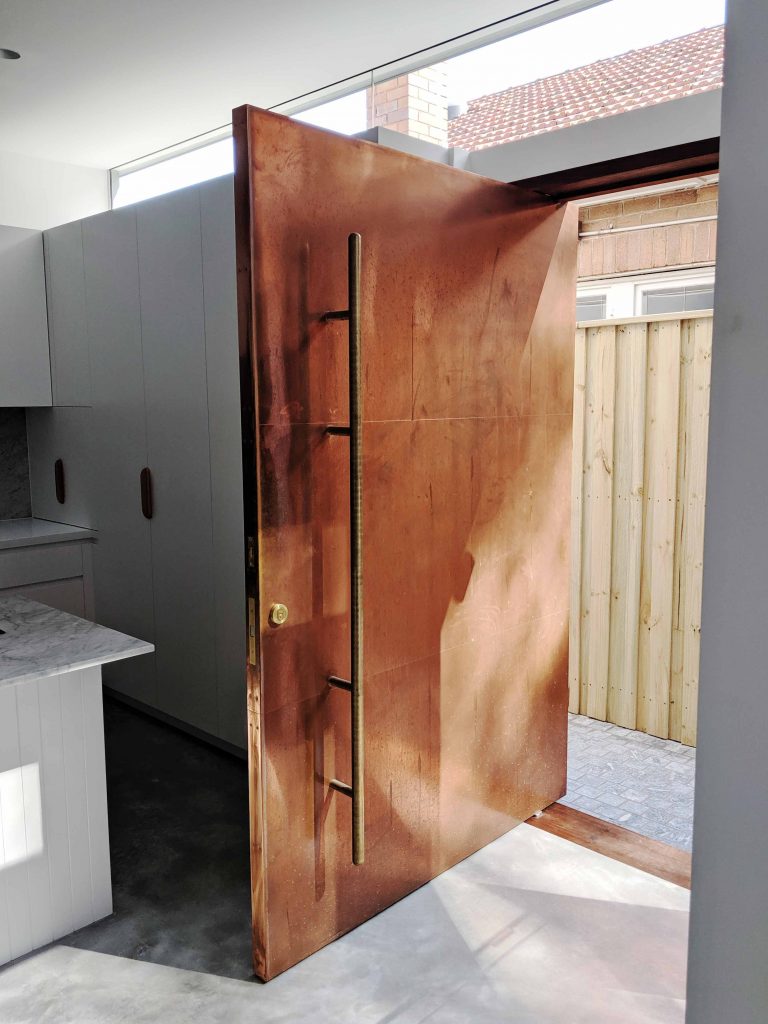 Pivot door by Coppice Joinery – Australia – System M
The use of the material is what blew us away when we saw this pivoting entrance door. The handmade copper cladding changes over time. It also shows the design freedom that a pivot door with a FritsJurgens hinge makes possible: when weight, material, and dimensions are no longer an obstacle, you have the freedom to think beyond a passage. A door can become an architectural statement.
5. Handcrafted design without compromise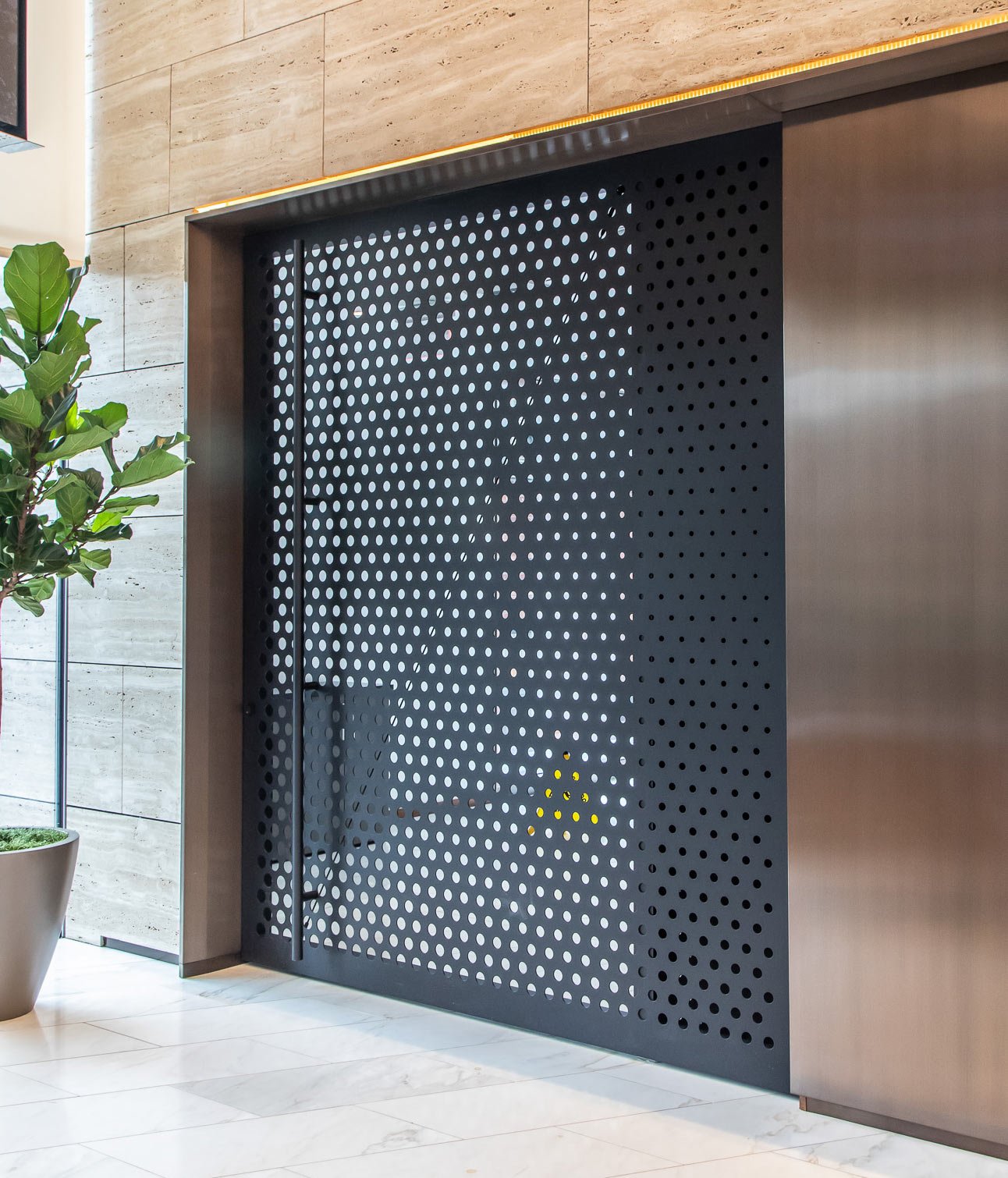 Architecture by NBBJ, pivot door by Architectural Elements – USA – System M
This pivot door received lots of love on social media. Its dimensions and design are not only stunning— they're also smart. The pivot door design was realized together with the architect, making sure there was as little compromise as possible. The addition of an adjustable bronze tension bar helped with sag, as the design had to be super minimalistic and light. You can read more about the process of creating this pivot door here.
4. Dutch design: copper and brass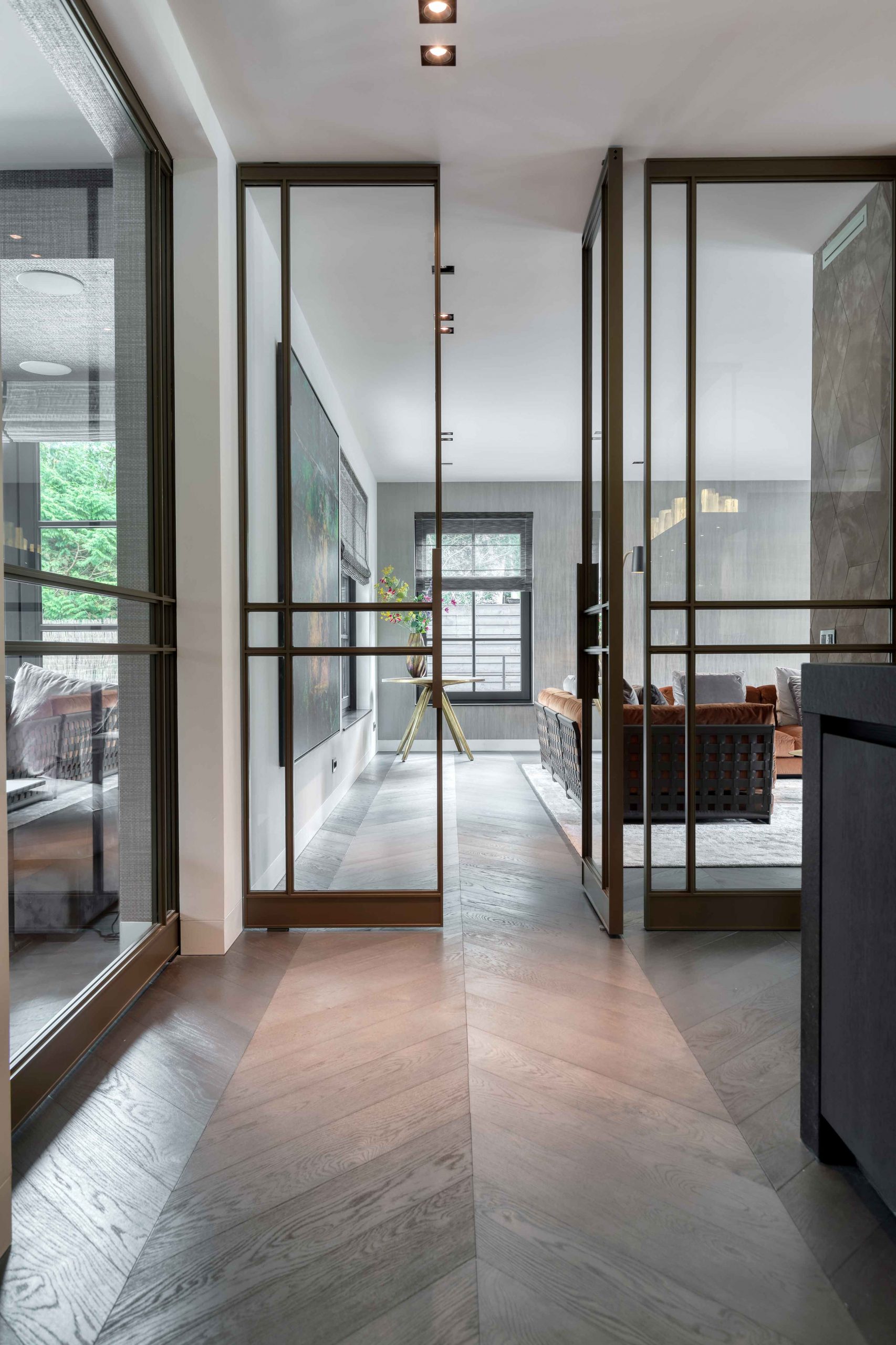 Interior by Herman Peters Interiordesign, pivot door by Laska Metaal – The Netherlands – System M
This is a perfect execution of a new type of pivot door: steel doors with a copper or brass coating. Black steel and glass are classic materials for interior pivot doors, but it doesn't have to end there. Depending on the interior, warmer colors of steel or metal can be better design choices. They can create more cohesion with other materials and a less harsh disruption between spaces. In this design, two pairs of steel pivot doors with a copper coating provide that extra touch of refinement.
3. Soundproof pivot doors in award-winning Forum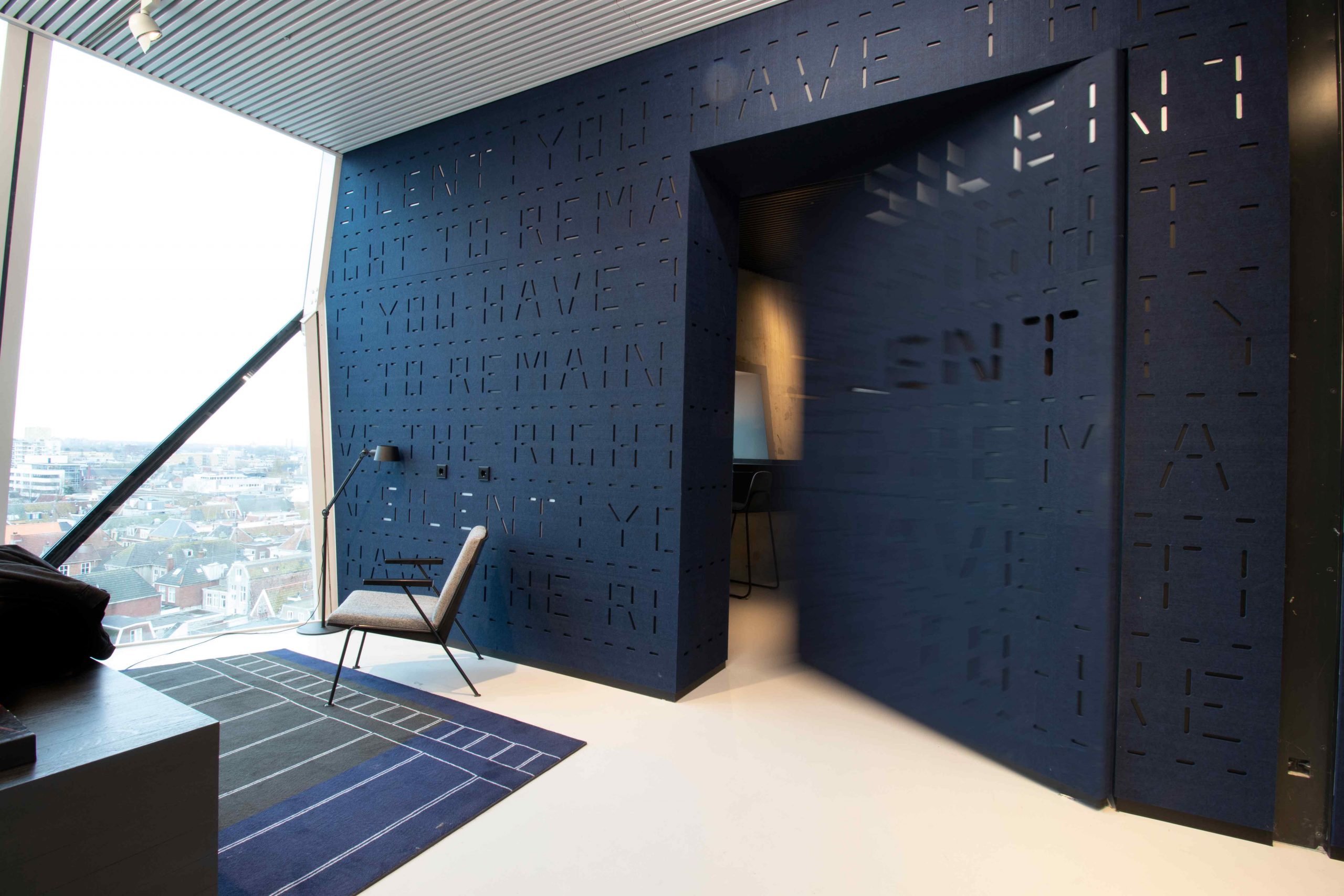 Interior by DeMunnikdeJongSteinhauser and Prast&Hooft, pivot doors by Harryvan Interieurbouw – The Netherlands – System M
Our top 3 opens with two oversized, soundproof, and flush pivot doors in the multiple award-winning Forum, The Netherlands' best building of 2020. The doors are hidden in the walls and covered with sound-absorbing felt. The felt is made from recycled PET bottles and approximately 1 cm thick. It has been cut out to playfully create the sentence 'you have the right to remain silent.' You can read more about this project here.
2. The charm of simplicity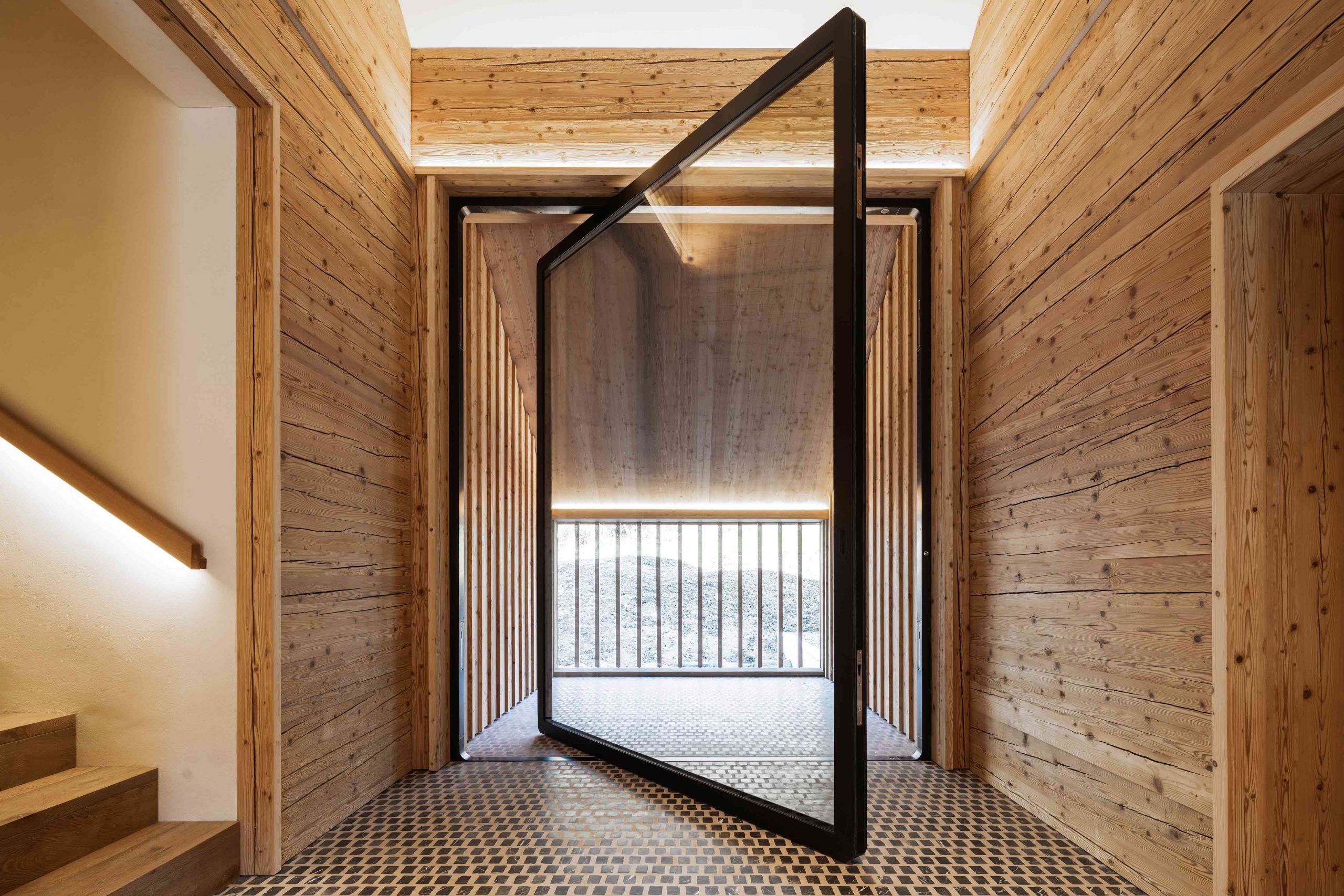 Pivot door by air-lux – Switzerland – System One
The second place on the list has been conquered by simplicity—this door is the embodiment of what makes a pivot door so beautiful. It charms with a simple, curved aluminum frame. The placement of the pivot hinge system just off the middle of the door emphasizes the passage's dimensions and the door movement that is so characteristic of a pivot door. The Swiss style of the interior is not disrupted but accentuated by the modernity of the pivot door.
1. Contemporary architectural statement on the oceanfront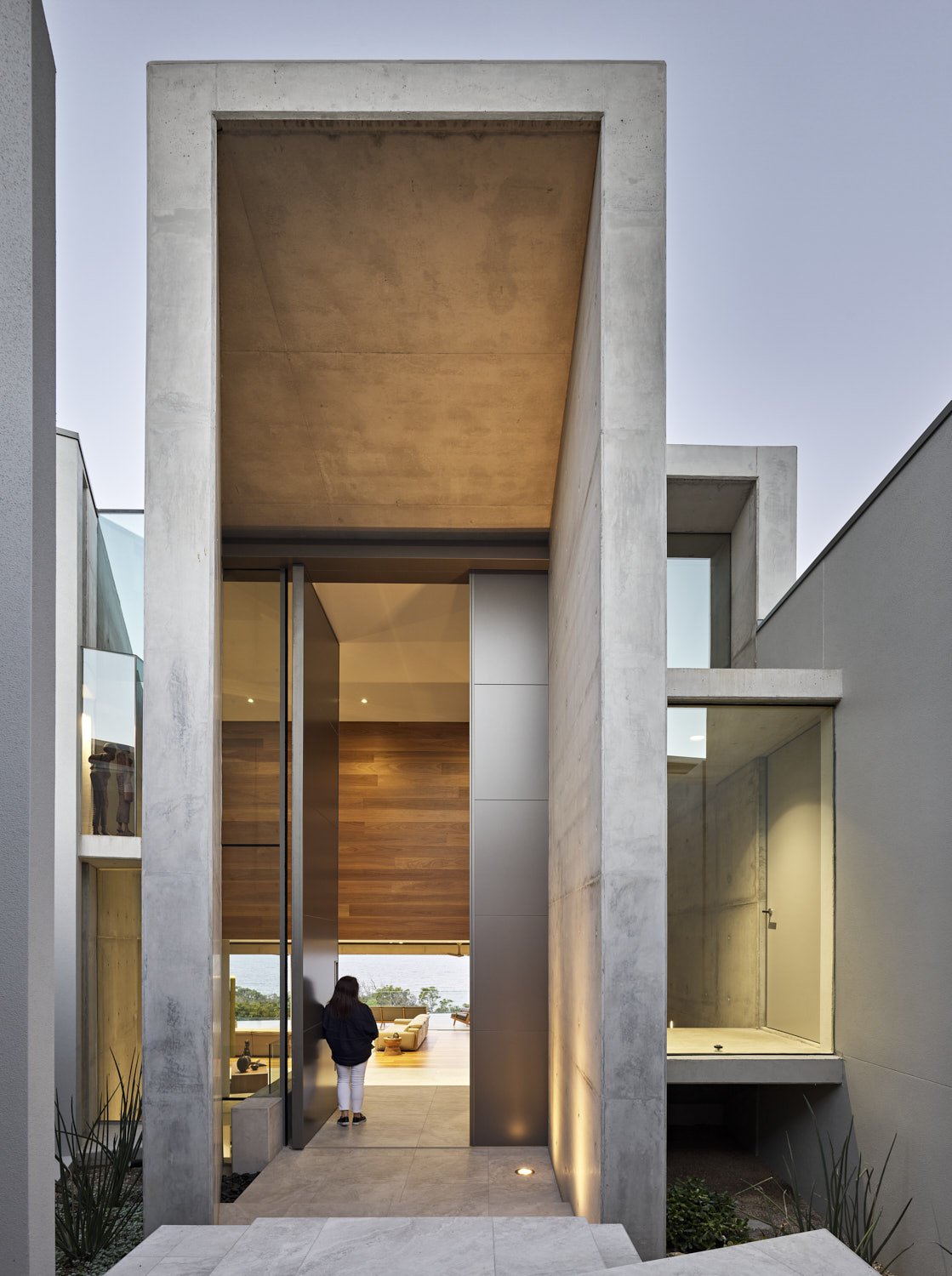 Architecture by Gavin Maddock, pivot door by Australian Metal Craft – Australia – System M
Choosing our number one pivot door of 2020 was a joy. The entrance pivot door of McAnally Drive is imposing, has an incredible back-story, and creates a state-of-the-art contemporary architectural statement. The almost six-meter-tall entrance door is inspired by nearby caves and gives an immediate view of the ocean upon entry. This contemporary home is like a rough diamond—tough and indestructible, while at the same time refined and remarkably detailed. You can read more about this project here.