An inspiring work environment
FritsJurgens creates her pivot systems for architecture and design. We want to empower architects, designers, and creators to create their best work, whether that's a stunning entrance or an interior refined to perfection. That is why we want to create a work environment that inspires us to design new pivot solutions that allow architects, designers, and makers to create the new standard for pivot door design. In this blog, you can read about various inspiring design classics that can be found in the FritsJurgens head office.
Renovation
Recently, the interior of the FritsJurgens headquarters in Kolham, the Netherlands, received a makeover. Marjan Bulder designed a work environment that inspires – pleasant workplaces, green accents, spaces to retreat to, and rooms to come up with new ideas together.
Classics
You will now also find design classics from various designers spread throughout the building. All have translated their vision on design into a design that grew into a classic, sometimes already tens, even a hundred years ago. Their vision on design inspires us to stick to ours: developing revolutionary pivot systems.
Ball Chairs by Eero Aarnio
Finnish pop aesthetic
In front of the glass-enclosed balcony on the first floor are two Ball Chairs by designer Eero Aarnio. The chair is well-known, one of the classics of Finnish design, from 1963. Design scholars consider it one of the most iconic objects of the 1960s, an expression of the new pop aesthetic in design and an emblem of the space age.
Although Aarnio is praised for his space travel aesthetic, futurism was never his intention when designing the Ball Chair.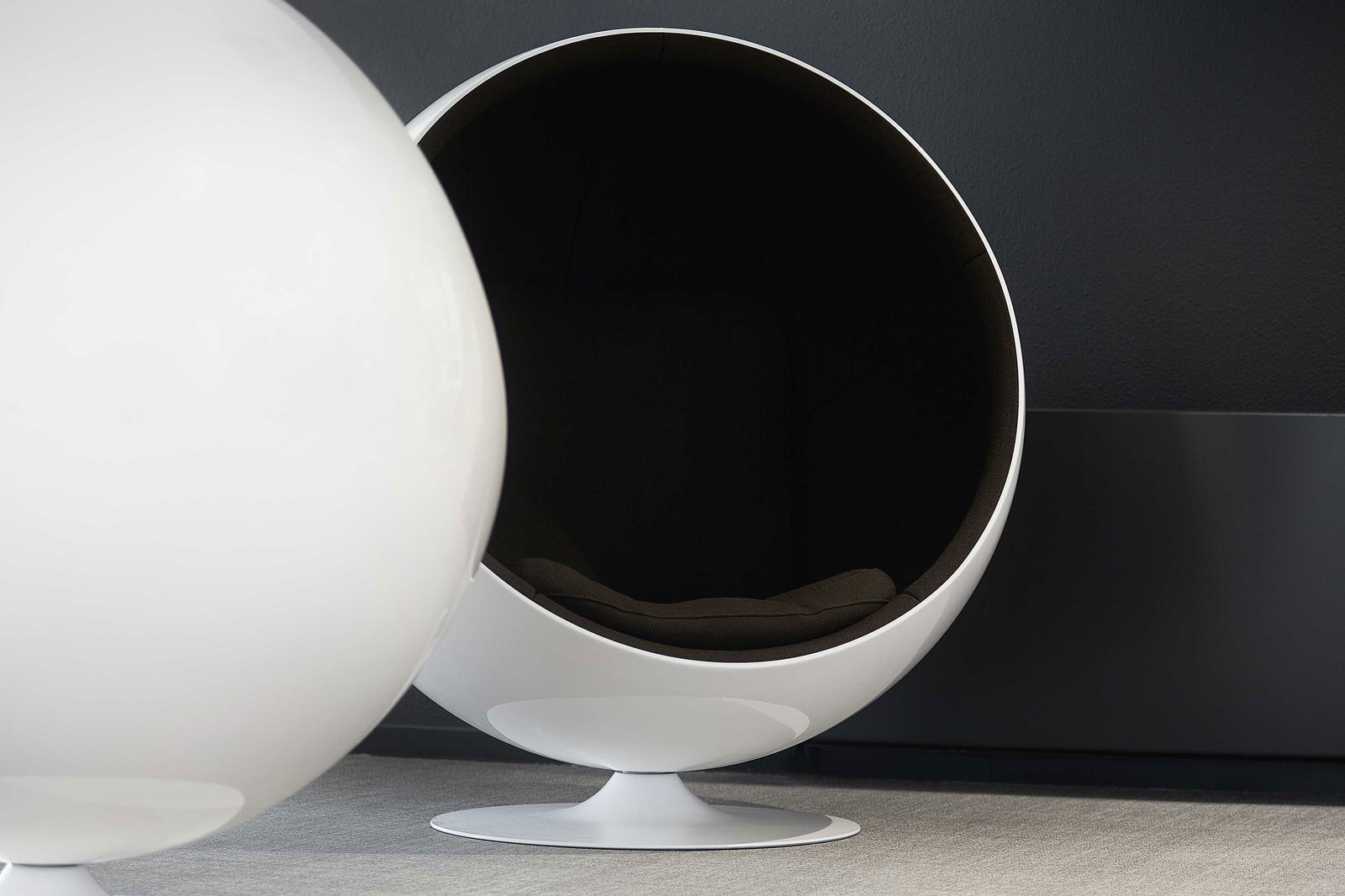 Fiberglass
When Aarnio starts his career as a freelancer in the early 1960s, he is an unknown designer. He dreams of creating a piece of furniture that people will remember. Like many of his time, he has a fascination with fiberglass. This material, invented in 1930, was unaffordable until then due to international patents.
Aarnio is also not the only one who experiments with round shapes in his fiberglass furniture. Take Verner Panton's Panton Chair, for example – another fiberglass design classic. At that time, however, nobody dared to do what Aarnio did: create a complete sphere of the beloved material to create a chair that resembles an entire room.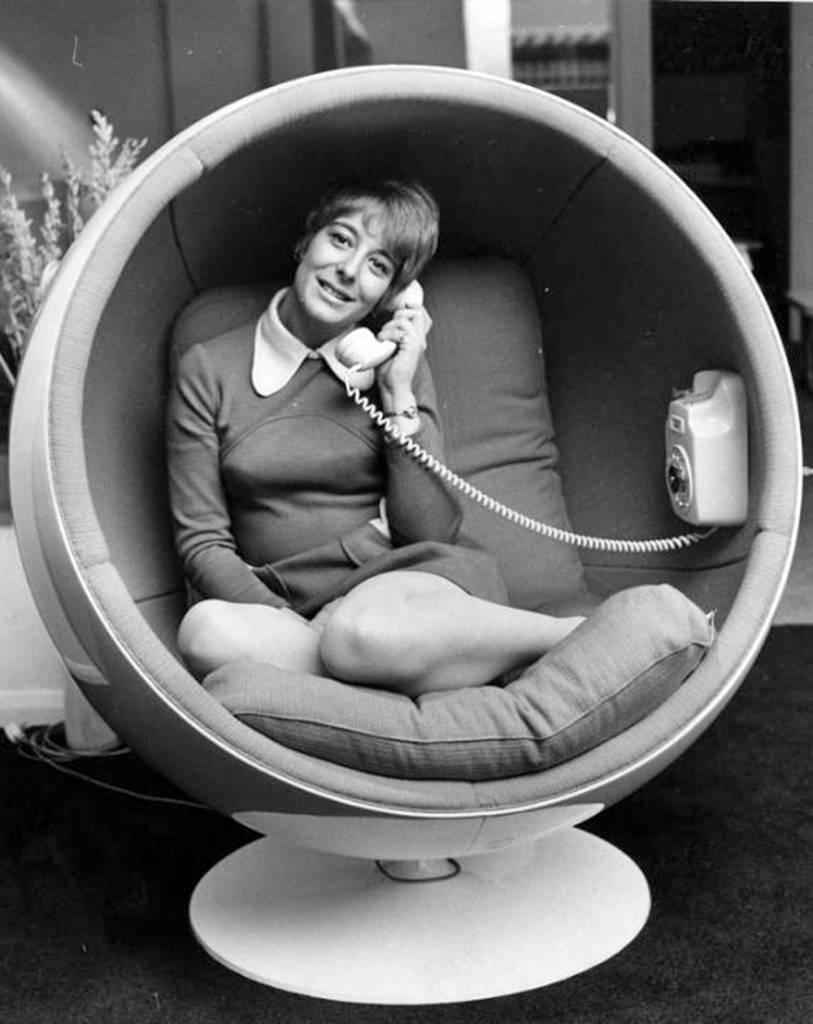 The Ball Chair produced by Asko could be special ordered with a telephone installed in it
Showstopper
Aarnio's goal had always been to design a piece of furniture that would make passersby stop when displayed in a shop window. According to Aarnio, a piece of furniture is the most essential and prominent product of an interior, and a chair is the most challenging and fascinating to design. On January 11, 1963, he draws the first design of the Ball Chair. He knows right away: this is the showstopper he's looking for.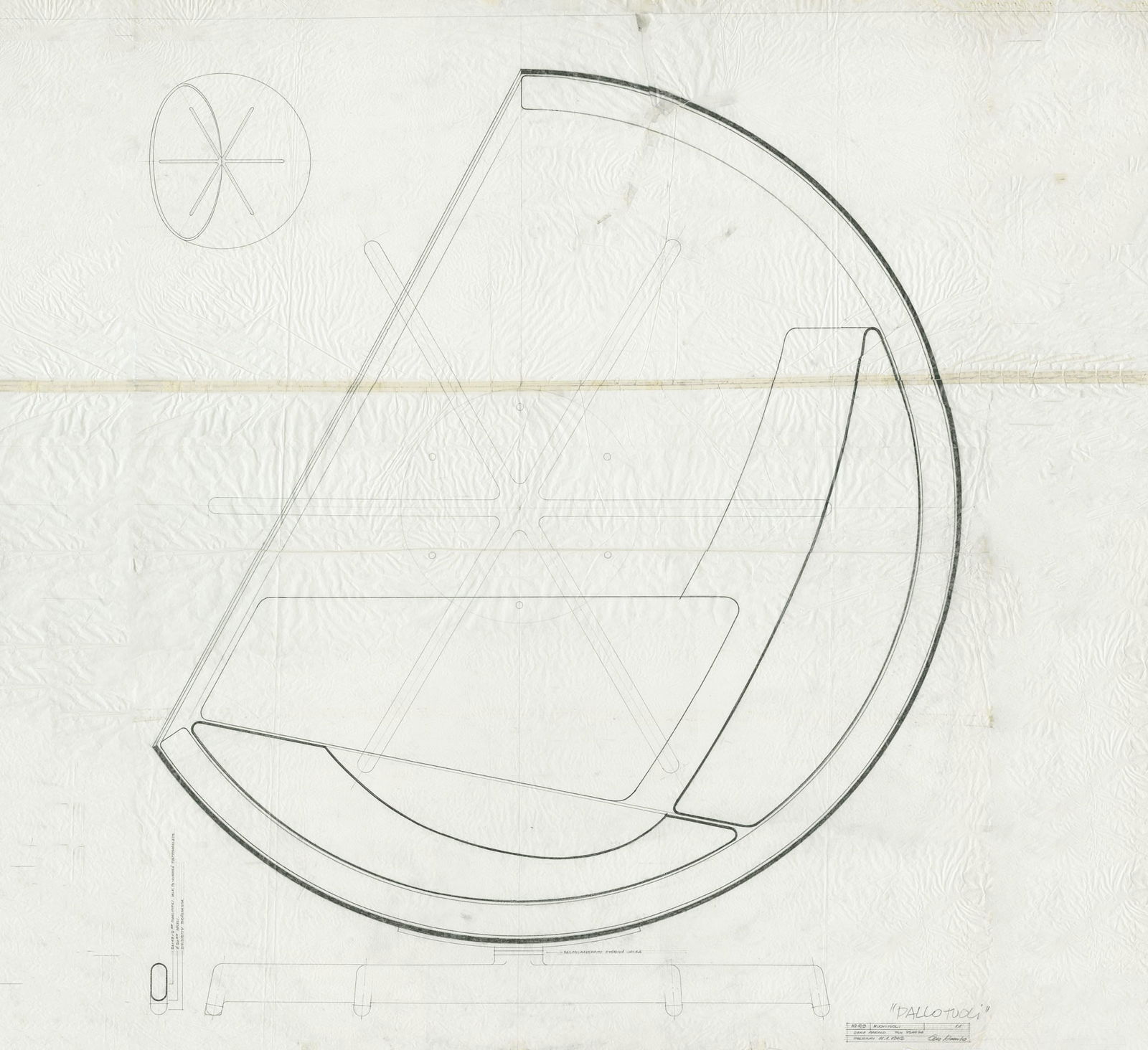 Aarnio's original 1963 sketch of the Ball Chair
© Photo courtesy of the Design Museum, Helsinki
Prototypes
Making the first prototypes of the chair took quite some effort. Because Aarnio thinks that furniture manufacturers are not interested, he wants to make the prototype himself. He does not have a studio in which he can work. That is why the first chairs are made in a handicraft room at the school where his father-in-law works.
Together with his brother-in-law, Aarnio makes various versions of his design until the final, now so well-known design is in front of them.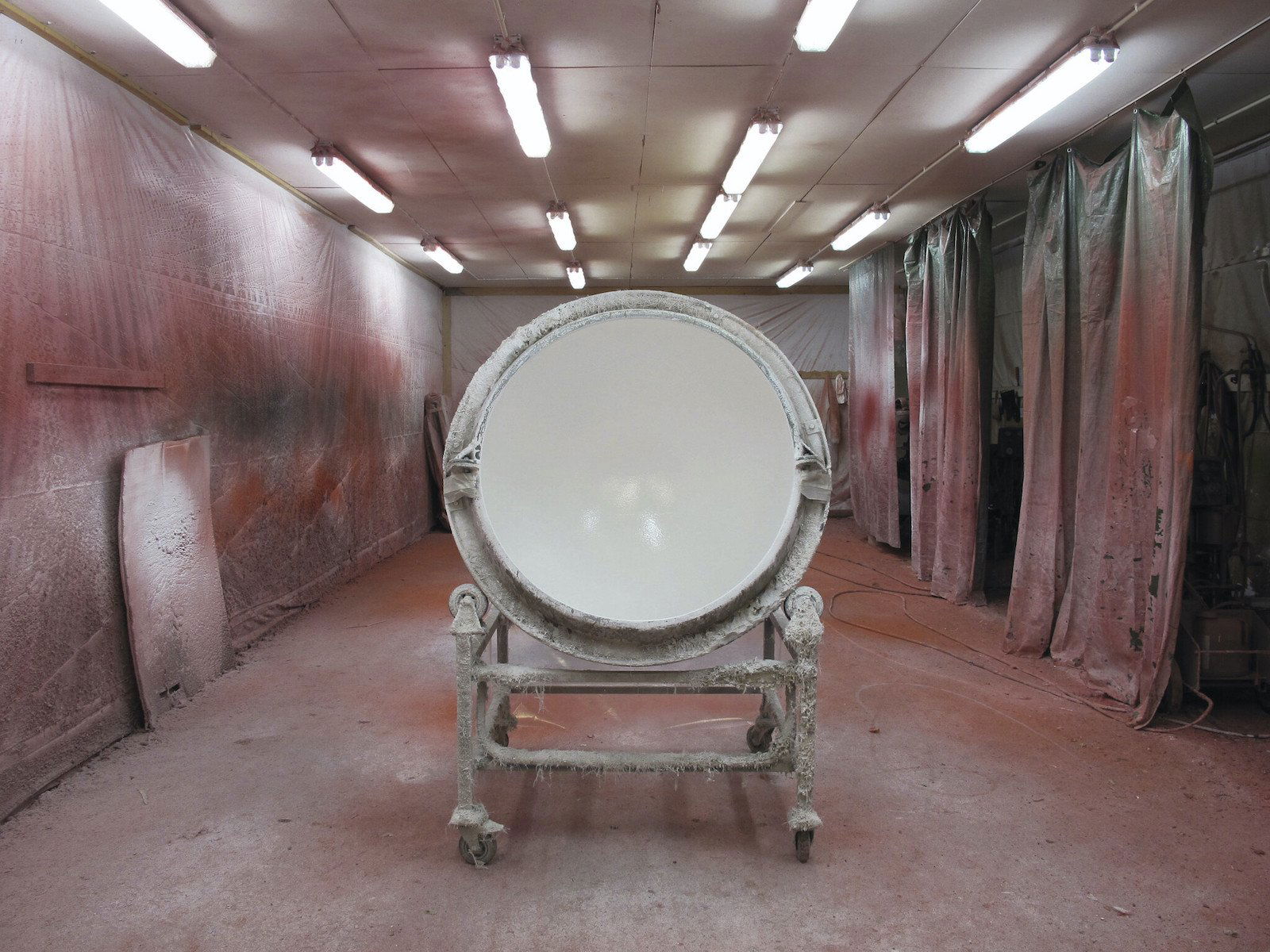 Production of the fiberglass shell of the Ball Chair at the Artekno factory in Helsinki.
© Colombo-Kokkonen, courtesy of the Design Museum, Helsinki
From patience to success
Several companies are looking at the Ball Chair in subsequent years. Unfortunately, the chair doesn't turn out to be such a resounding success as Aarnio had hoped. In 1965 he contacts his old employer, Asko, a large and successful company that produces various types of furniture. They are immediately impressed.
The Ball Chair is then exhibited for the first time at the Cologne Furniture Fair in 1966. In the first week, many orders are immediately placed by interested parties worldwide. Finnish newspapers pick up the chair, after which the New York Times also reports on it. Things move quickly after that – within a few years, the Ball Chair has become an international design icon.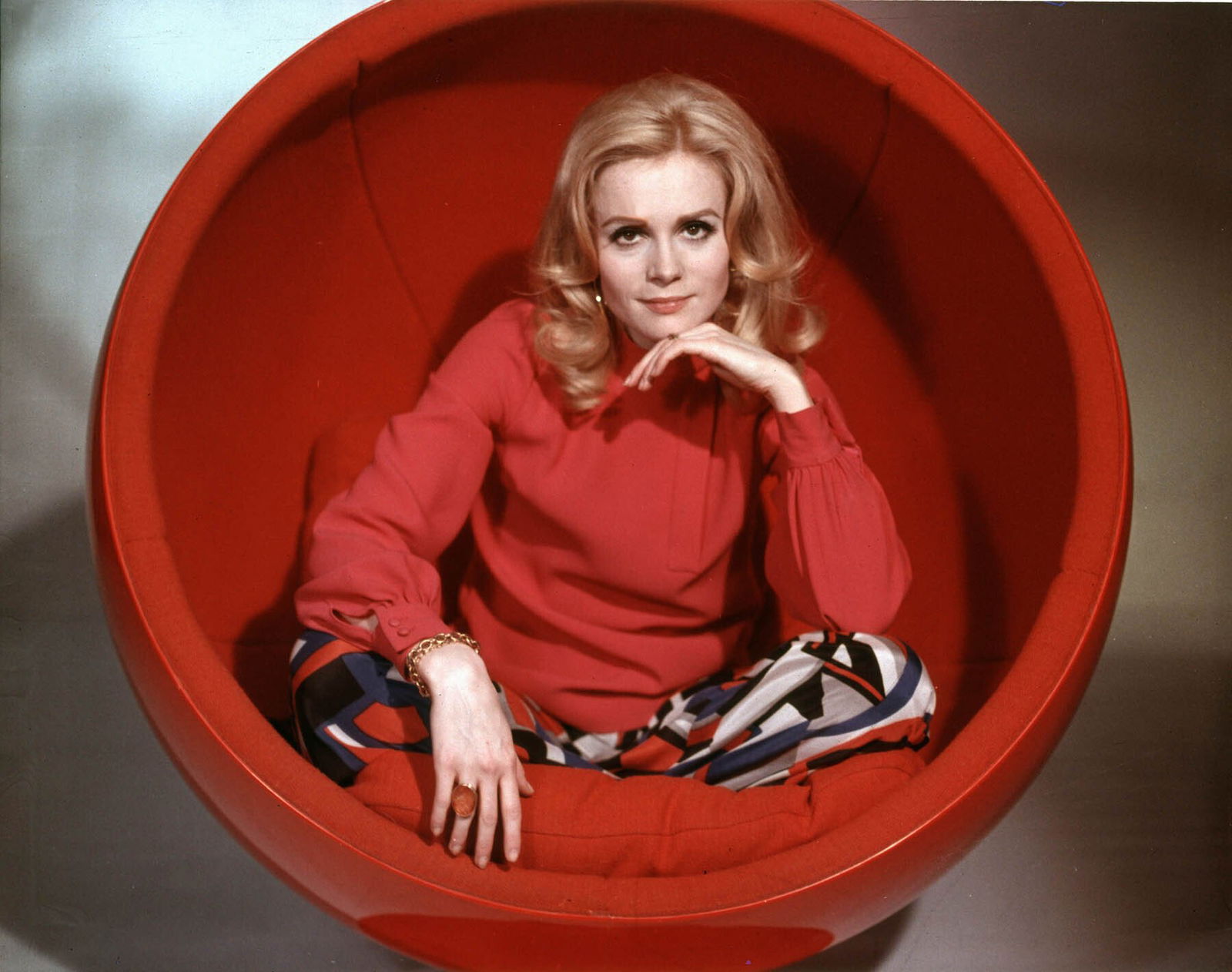 Actress Françoise Dorléac sits in an Eero Aarnio Ball Chair in this image promoting the 1967 film Billion Dollar Brain, directed by Ken Russell.
The Philosophy of Eero Aarnio
According to Aarnio, ideas for products arise either purely from dreams and imagination or from the desire to solve a problem or update a new product – depending on whether the goal is purely a work of art or a utility object.
To this day, Aarnio's personal favorite Ball Chair is one with a white shell and black upholstery. He cherishes the feeling of seams drowning in color, like a magical substance spreading in the chair. Your inner world and thoughts lie in the chair, a cocoon nest that shields you from outside noise.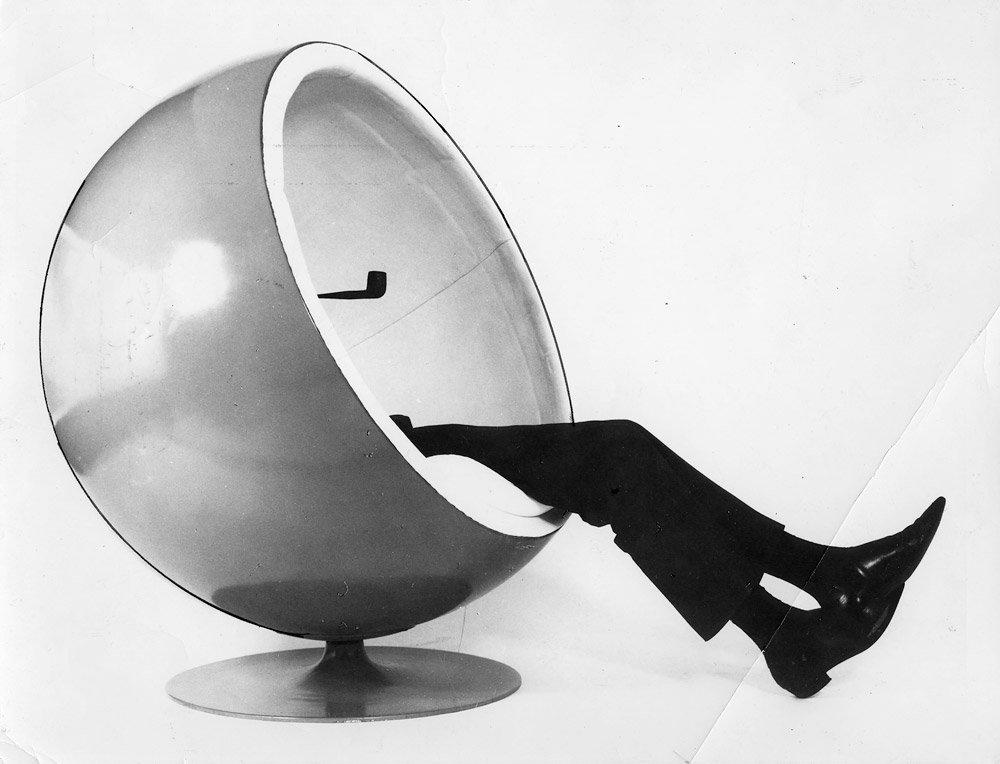 An iconic photo of Aarnio in a Ball Chair
Royal System by Poul Cadovius
Revolutionary
In one of the offices on the first floor of FritsJurgens' head office hangs the Royal System cabinet system by the Danish designer and all-rounder Poul Cadovius (1911 – 2011), designed in 1948. The cabinet system was revolutionary at the time: it hung on the wall, freeing space on the floor.
Colorful icon
Poul Cadovius was one of the most colorful and successful individuals in the history of the Danish furniture industry. He was initially trained as an upholsterer but soon became interested in design. In 1945 he founded his own furniture factory Royal System. Here he produced his first wall cabinet, also called Royal System.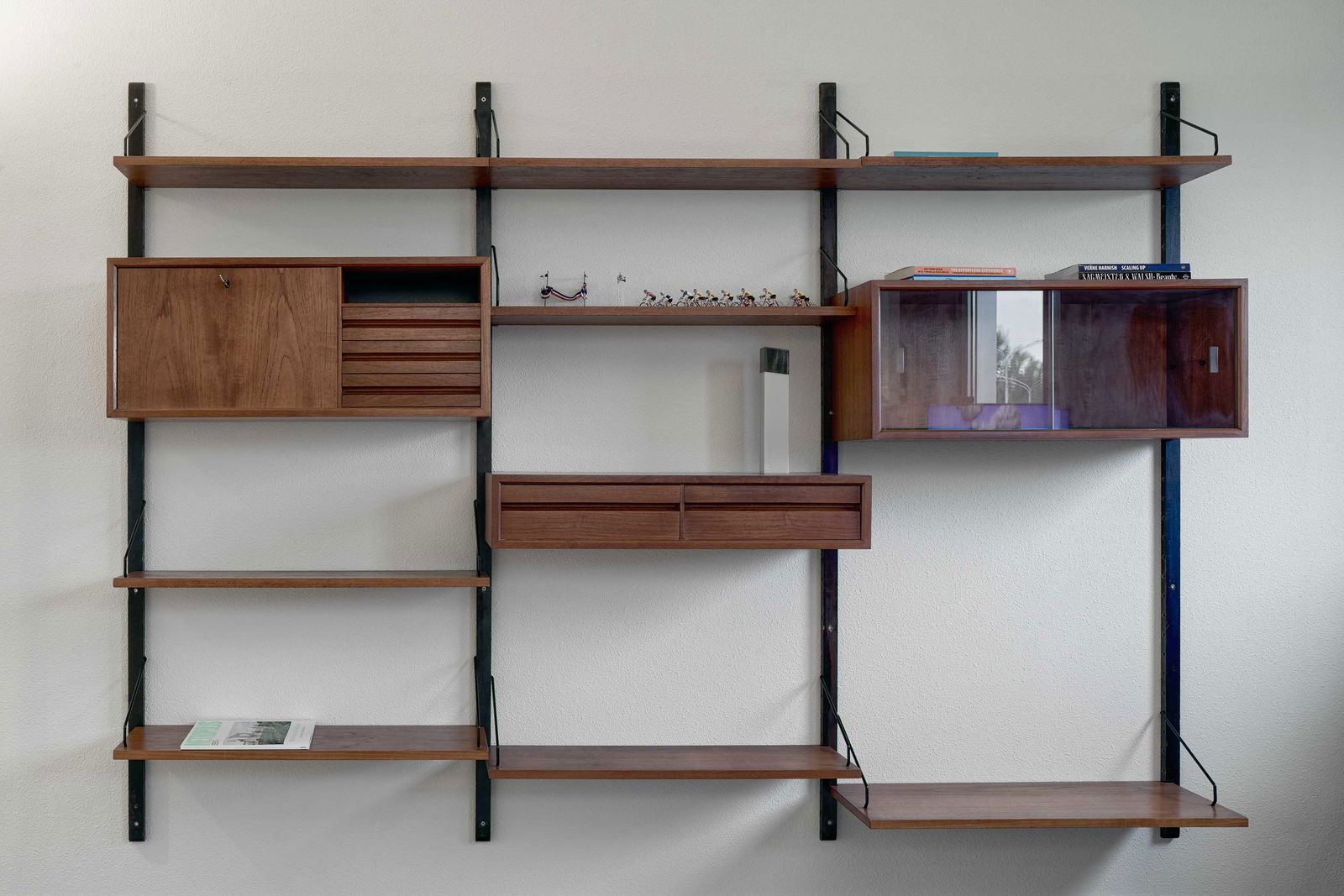 Space to live
Royal System was one of the world's first wall furniture systems, and Cadovius' idea that furniture should not use floor space was innovative. "Most of us live at the bottom of a cube. If we level the walls with the floor, we get a lot of space to live on," said Poul Cadovius.
Functionality was an essential theme in all of Cadovius' designs. Royal System emphasizes his penchant for problem-solving design.
16 million possibilities
The cabinet system consists of wall-mounted wooden rails, shelves with hangers in brass or stainless steel, and various modules such as cabinets, drawers, and desks. Because of all the separate parts, it is possible to set up the system in multiple ways. Cadovius believed that there are 16 million possible ways to apply Royal System.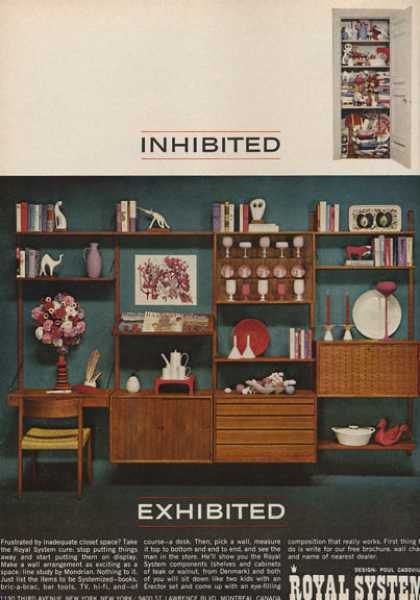 An old advertisement for Royal System caste system designed by Poul Cadovius
All-rounder
Cadovius is known for his cabinet systems – after Royal System, System Ultra, System Cado, and System Abstracta followed – but was involved with much more. He designed all kinds of furniture and is also known for his mushroom-shaped bus shelters. He continued to design until his death at the age of 99, resulting in more than 400 patents to his name.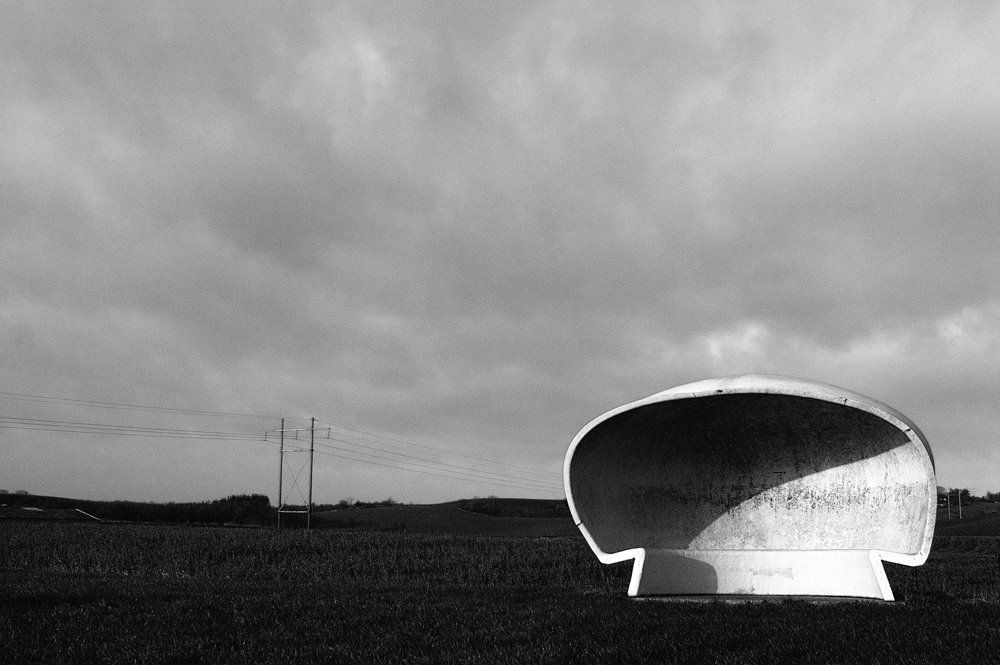 Mushroom-shaped bus shelter designed by Poul Cadovius
Wanted
To this day, Cadovius' cabinet systems are in demand. To celebrate the 70th anniversary of the cabinet system, dk3 re-released it in 2018, along with a more compact version designed specifically for homes in the 21st century. Various variants of the system are now available in various types of wood.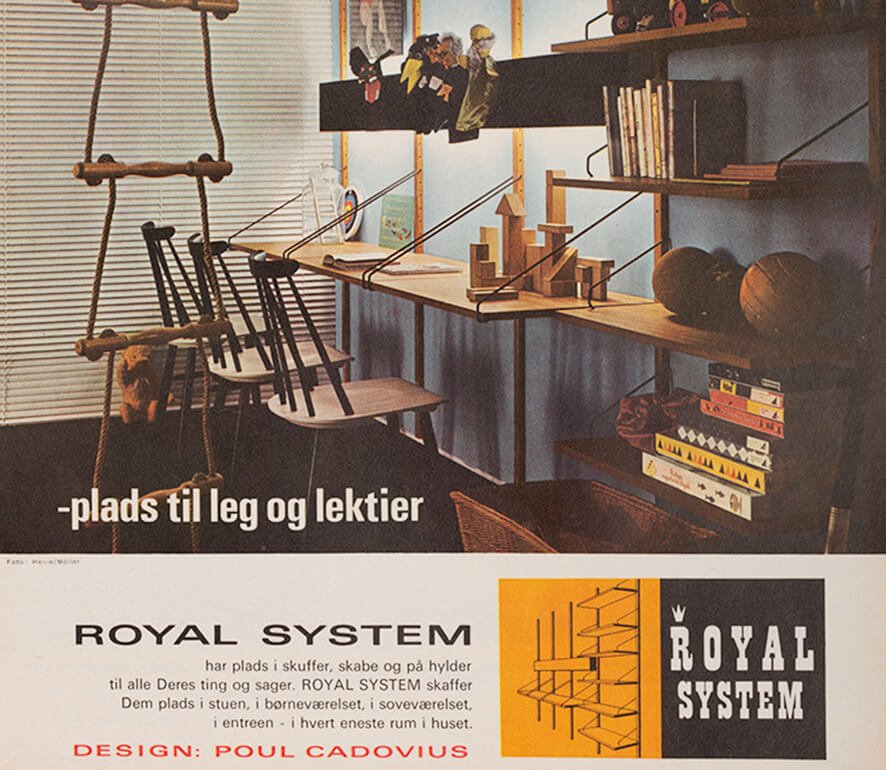 Advertisement for Royal System cabinet system designed by Poul Cadovius
Eames Lounge by Charles and Ray Eames
A new version
The idea for the world-famous Eames Lounge and Ottoman by Charles (1907 – 1978) and Ray (1912 – 1988) Eames originated from the traditional English club armchairs. Immediately upon entering the FritsJurgens office, you will find two of these revolutionary chairs.
The design process by Charles and Ray Eames took years. The aim was to create a lighter, more elegant, and more modern version of the traditional English club chair using the best materials and the highest achievable craftsmanship.
Eames office
Charles and Ray Eames meet at the Cranbrook Academy of Art. They get married and move to Los Angeles, where they set up Eames office. Together, they design furniture and buildings, exhibitions, films, toys, graphics, and textiles.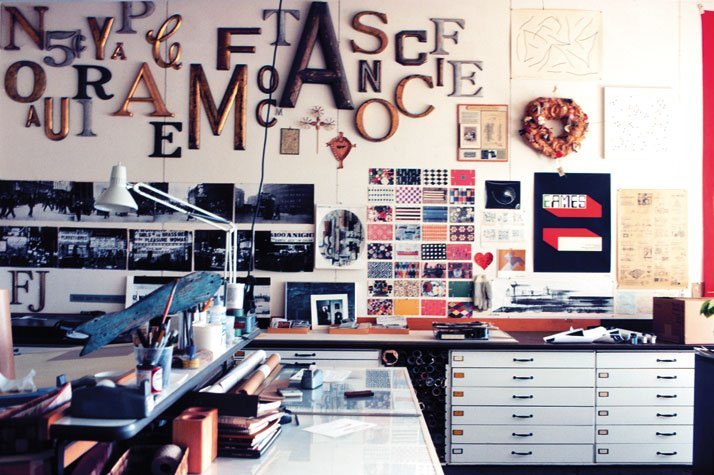 The graphic room
© 2010 Eames Office LLC, from the Collections of the Library of Congress
Legend
According to a legend, the original idea for the Lounge Chair came from American film director Billy Wilder. Billy, an old friend of Charles and Ray's, often complained about the lack of comfortable and modern chairs. Wilder was very interested in the design process and received one of the first prototypes of the chair.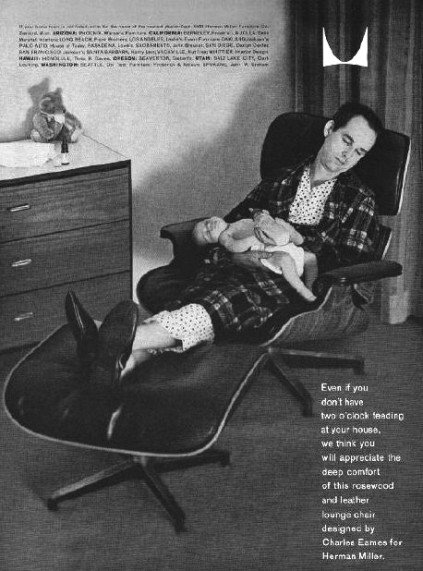 Courtesy Herman Miller - A vintage Herman Miller advertisement showing a father and son in an Eames Lounge Chair.
Production
The production process of the Eames Lounge and Ottoman consists of a fixed process of 47 steps. The seat and back of the Eames Lounge Chair are formed from a combination of a molded plywood shell and leather upholstery. Each Lounge Chair consists of three such shells: one for the seat, one for the backrest, and a third as the headrest. A pair of cushioned leather armrests complete the seat construction. A swivel, aluminum base supports the seat structure.
The complimenting Eames Ottoman has an identical construction principle to the chair, only with a non-swivel base. Both Lounge Chair and Ottoman are available in different woods, leather colors, and base finishes.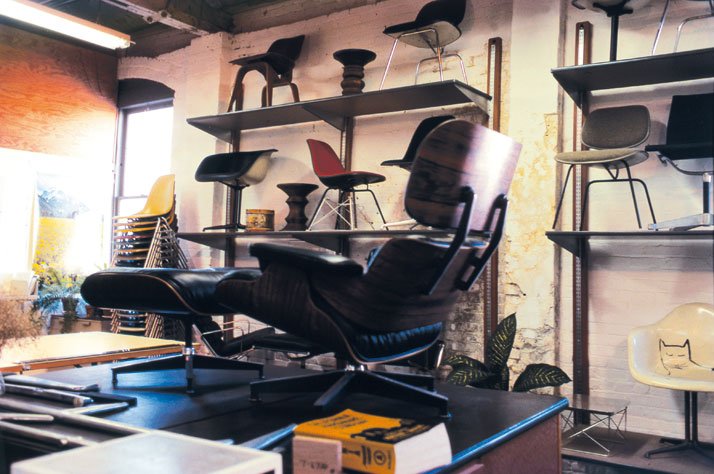 Herman Miller's West Coast factory
© 2010 Eames Office LLC, from the Collections of the Library of Congress
Grown
The Eames Lounge and Ottoman are produced by two companies: Vitra for Europe and Asia and Herman Miller for America. This guarantees the quality of the product. The production process has been the same for fifty years, except for a slight change: the size.
Compared to the 1950s, humans have grown about 10 cm. That is why the Eames Lounge and Ottoman are now also available in a larger model in addition to the classic model. The difference is 5 centimeters.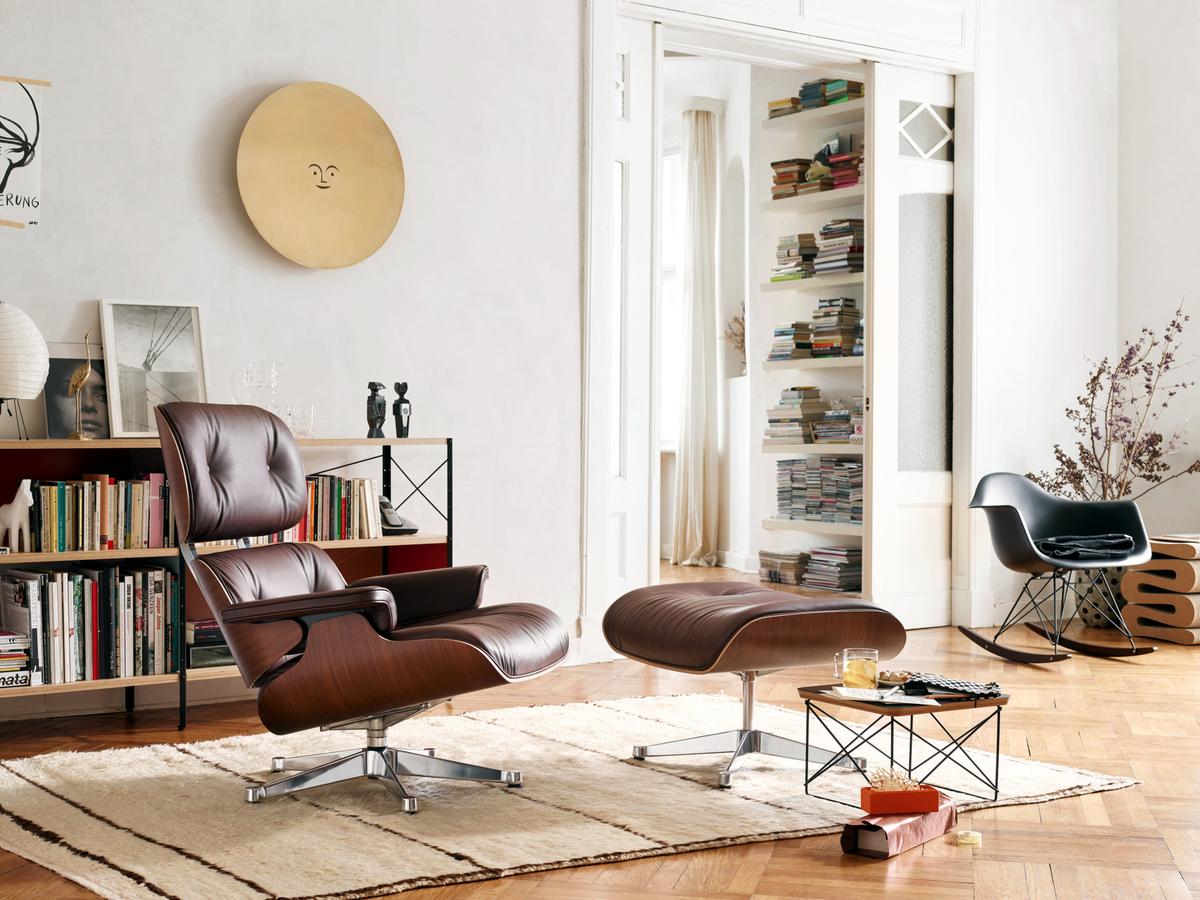 Eames Lounge Chair with Ottoman from Vitra
Export ban
The original versions of the chairs are made of Brazilian palisander. Since 1968, this type of wood has been protected by an export ban, and since 1998 it has been subject to very strict usage controls. That is why the current model is made with Santos palisander. This is a type of wood that looks the same but is more environmentally friendly. In addition to the Santos palisander version, the Eames Lounge and Ottoman are also available in dark walnut and white walnut.
Tulip table by Eero Saarinen
An "ugly, confusing, unrestful world"
The Finnish-American Eero Saarinen (1910 – 1961) was born as the son of two already well-known creatives: architect and director of Cranbrook Academy of Art Eliel Saarinen and textile artist Loja Saarinen. From Eero's first training, sculpting, he develops a unique way of looking at furniture. With the Tulip table, part of the Pedestal Collection for Knoll, Eero aims to make the "ugly, confusing, unrestful world" more functional and beautiful.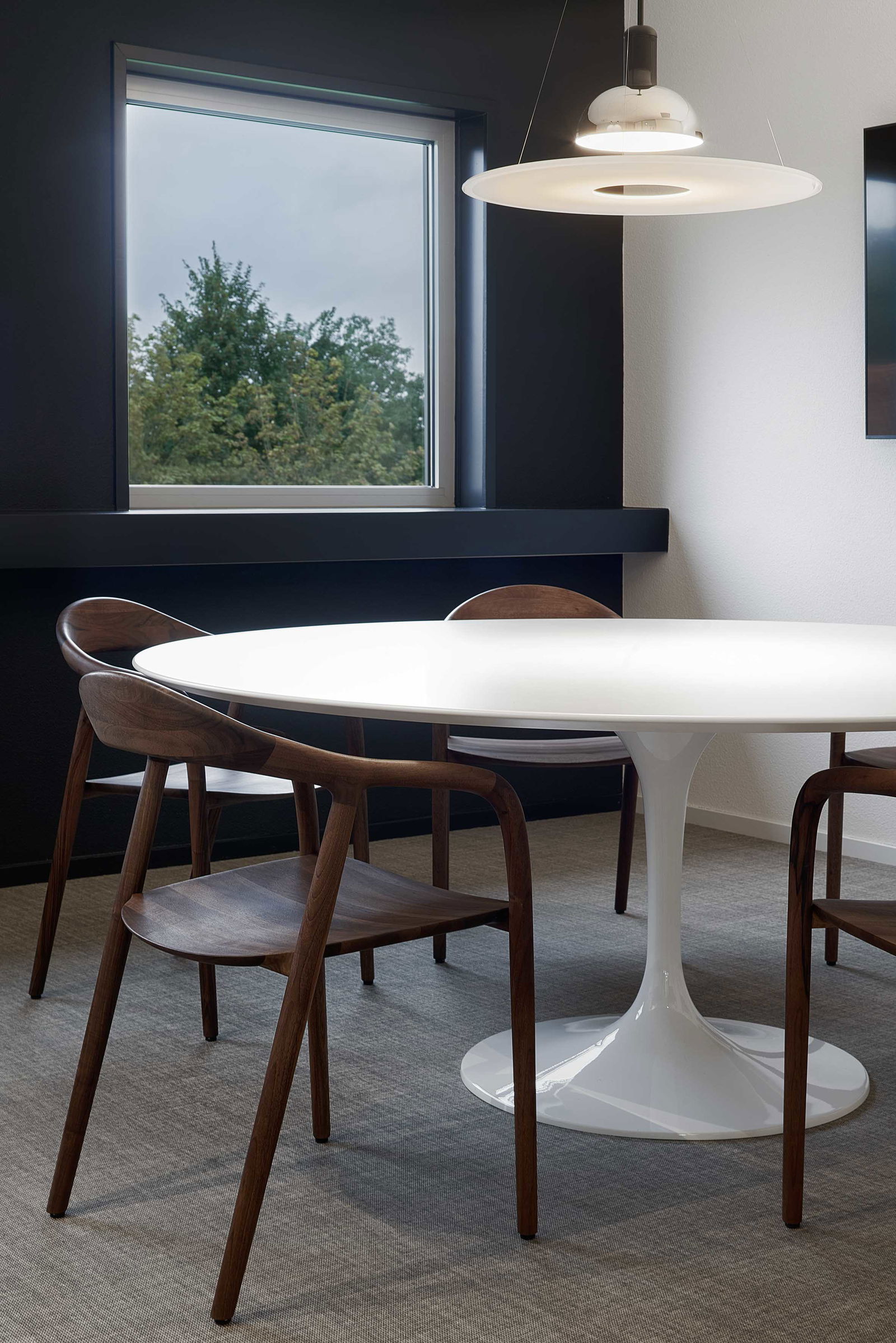 Return
At a young age, Eero designs various pieces of furniture, and in 1929 he leaves his parents to study sculpture in Paris. He then studies architecture at Yale and returns to Michigan to teach at Cranbrook, work on his designs, and work with his father.
Launch
Eero's career takes off when, in 1940, he and his friend Charles Eames, later known for the Eames Lounge and Ottoman, win a design competition sponsored by the MoMA. They win first prize in all categories and are launched to the top of American modern furniture designers.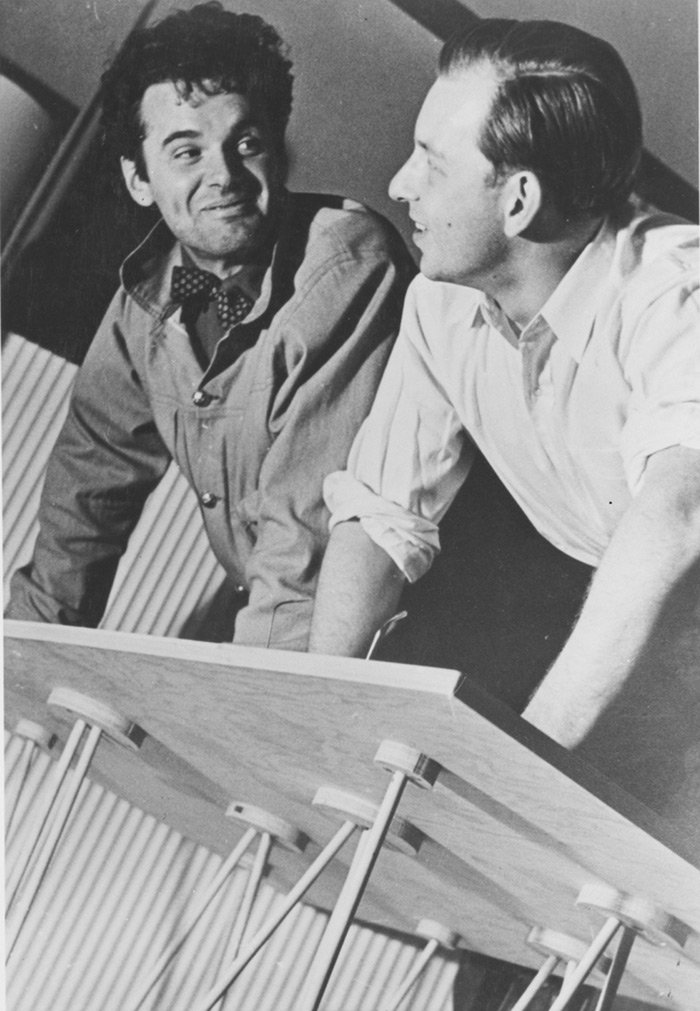 Charles Eames and Eero Saarinen with a lightweight tensile structure designed for the 1939 faculty exhibition at the Cranbrook Academy of Art Architecture Studio. Cranbrook Academy Archives. 5624-2
© Richard G. Askew – source: Knoll
From friendship to design classics
Another special friendship of Eero is that with his father's protégé, Florence Schust. They soon spend a lot of time together, and a close, honest friendship develops.
When Florence joins Knoll, a producer of modern furniture, she asks Eero to join Knoll as well. Here he designs various pieces of furniture that later develop into design classics.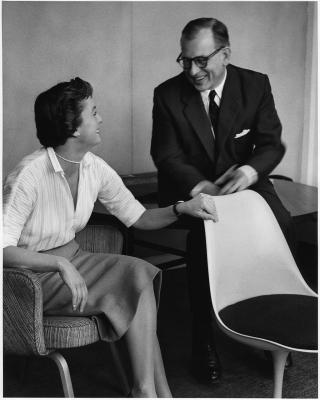 Florence Schust and Eero Saarinen
Scale models
Eero was known for his way of working – continuously rebuilding prototypes in a manner similar to sculpting. He created endless scale models from a single design, always looking for the perfect ratio.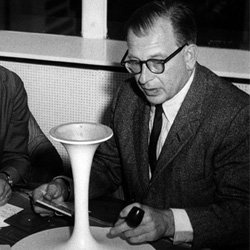 Eero Saarinen with a scale model from the Pedestal Collection
Sculptor's Choices
Eero: "What interests me is when and where to use these structural plastic shapes. Probing even more deeply into different possibilities, one finds many different shapes are equally logical—some ugly, some exciting, some earthbound, some soaring. The choices really become a sculptor's choice."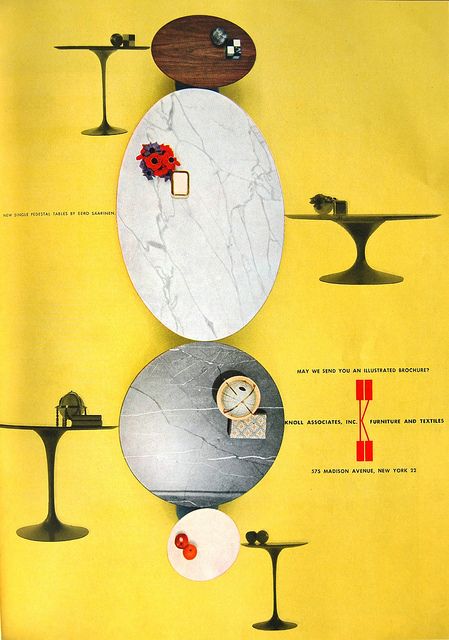 Advertisement for Knoll - Eero Saarinen tables in Progressive Architecture July 1958
The Pedestal Collection
The Tulip table that you can find in one of the meeting rooms on the first floor of the FritsJurgens head office is part of the Pedestal Collection.
Form follows function with an elegant base initially designed to provide more legroom and less visual noise. Eero vowed to eliminate the "slum of legs" under four-legged chairs and tables with the Pedestal Collection. All in all, the furniture collection is a signature achievement of modern design.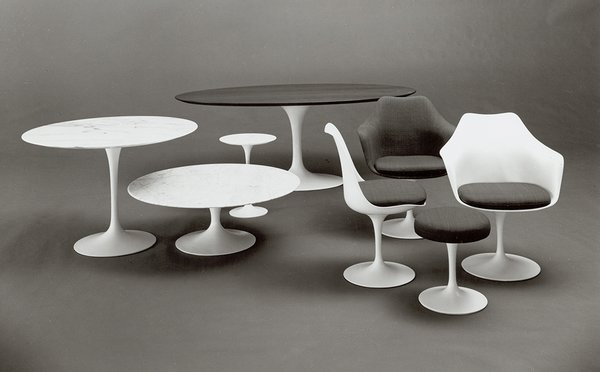 Original publicity photograph for Eero Saarinen's Pedestal Collection, 1958.
© Image from the Knoll Archive
Bar stools by Charlotte Perriand
Ski resort Les Arcs
The stools on the kitchen island were designed by Charlotte Perriand (1903 – 1999), a pioneer of French modernism, for one of her most famous architectural statements, Les Arcs ski resort in Savoie. She combines prefabrication, standardization, industrialization, and mountain architecture in a design that is considered one of the highlights of her career.
School work
Charlotte Perriand begins her career as a furniture designer at the École de L'Union Centrale des Arts Décoratifs in Paris, the city in which she was also born. In 1925 her projects are picked up and selected for exhibitions, including in Galeries Lafayette.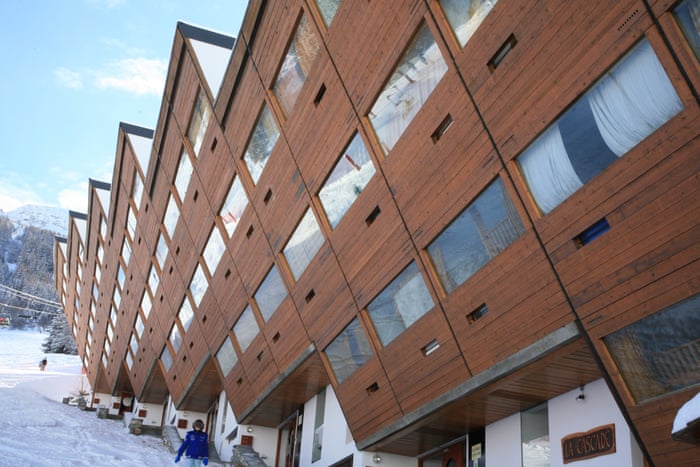 Perriand's Les Arcs 1600 ski resort, built in the late 1960s.
© AChP
Bar sous le Toit
Two years after graduating, Perriand renovated her apartment into a room with a built-in aluminum, glass, and chrome wall bar and a card table with built-in pool cup holders.
She recreated this design as the Bar sous le Toit (Bar "in the attic") at the Salon d'Automne in 1927. This is well received, and Perriand is hailed as an emerging talent. However, there is one specific person she would like to impress.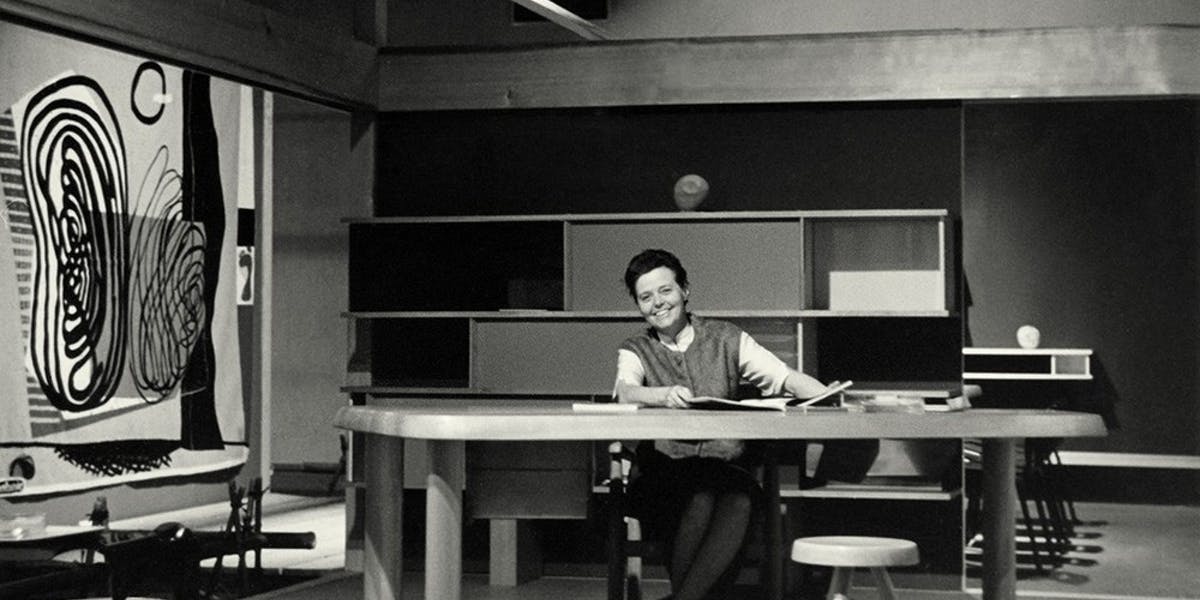 Charlotte Perriand in her studio
© photo by Barnebys
Le Corbusier
Inspired by his books and way of working, Perriand decides she wants to work for Le Corbusier. He firmly rejects her: "We don't embroider cushions here."
A month later, Le Corbusier visits her at the Salon d'Automne, where he immediately hires her after seeing her work. It is the beginning of a unique collaboration between two visionaries in the field of architecture and design.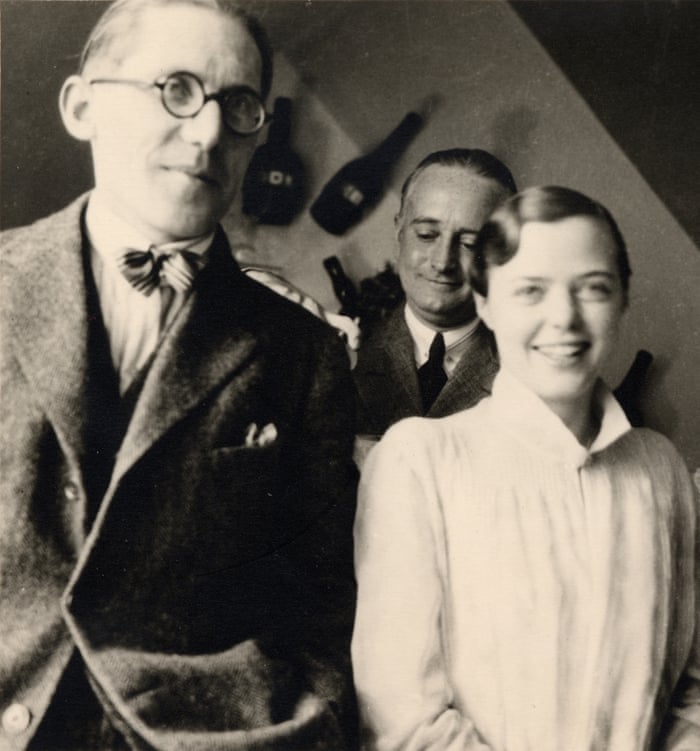 Perriand with Le Corbusier in 1928.
© Pierre Jeanneret/AChp
Grand oeuvre
Perriand's oeuvre is large and filled with famous names and buildings, such as Fernand Léger and Jean Prouvé. She designs the interiors of buildings such as Unité d'Habitation, but unfortunately, her name does not end on all her work. For example, the Grand Confort chair was sold under the name of LC Collection moniker, while Perriand had designed the furniture.
Fortunately, it has not stopped her from working and designing into old age – in her nineties.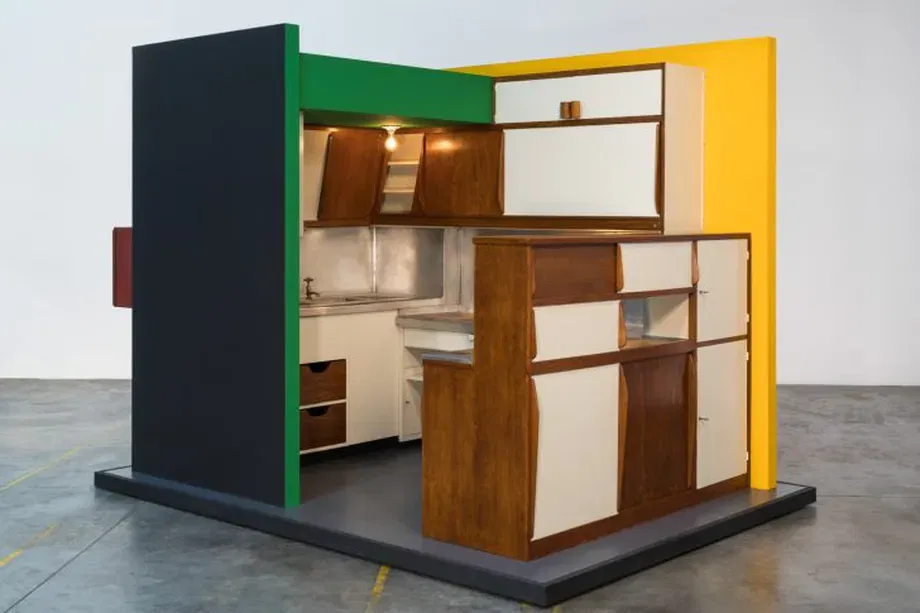 Cuisine-bar Marseille, 1952, designed with Le Corbusier. Courtesy Venus Over Manhattan, New York, and Laffanour/Galerie Downtown, Paris