The 5 best places for a pivot door in your home
A pivot door offers endless design possibilities – from dimensions to applications to materials. But the location of the pivot door in the house can also vary endlessly. FritsJurgens has selected the 5 best places in the house for a pivot door, with the most beautiful pivot door projects.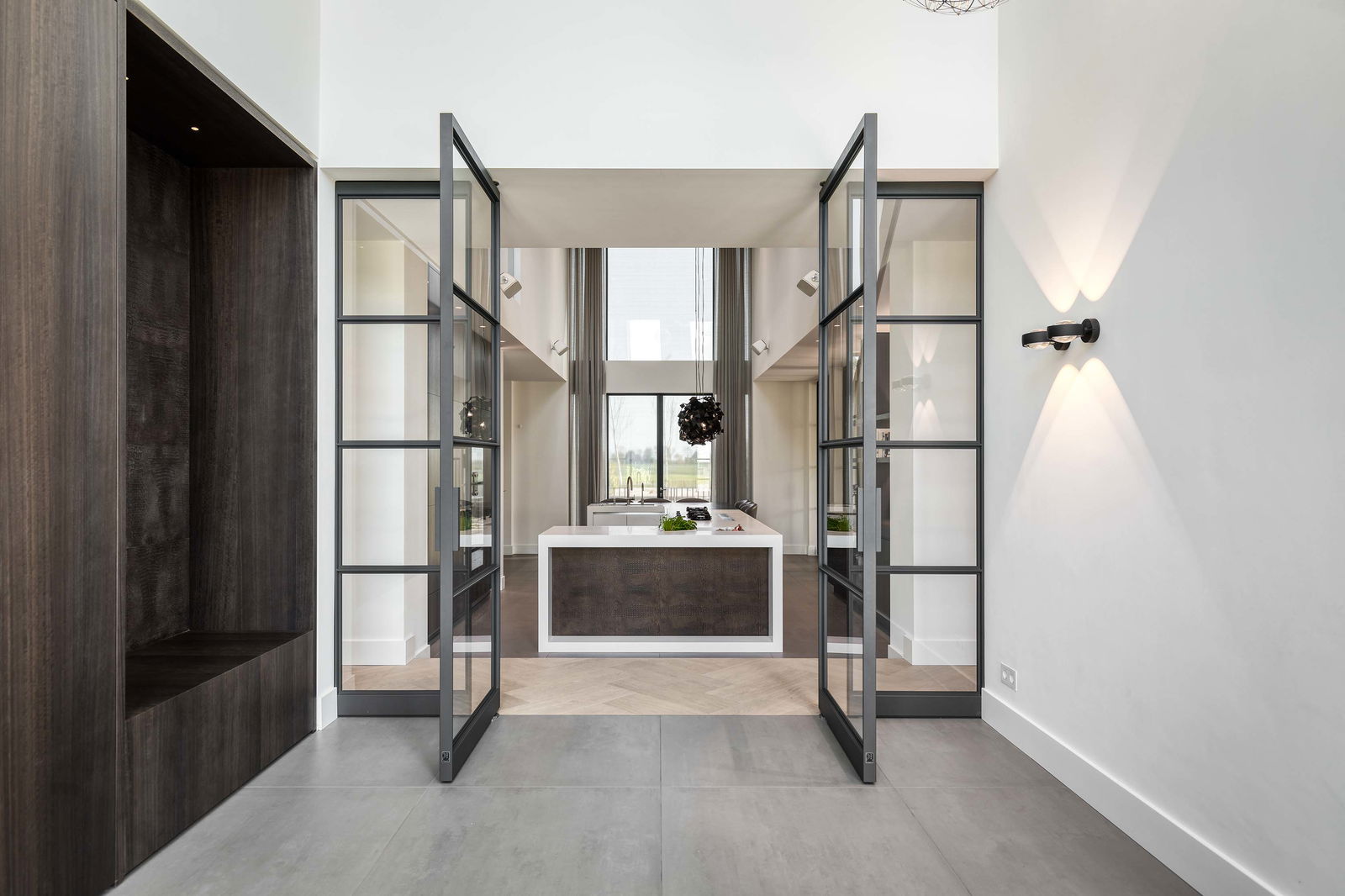 In the hallway
The hall is a perfect place for a pivot door. The entrance hall door is often the first door you encounter after you step inside. This door sets the tone for the rest of the interior and, thanks to its walk-through location, offers many possibilities.
Moving through
A hall is a space through which you move to another space. That is why you could opt for a distinct style here – you can go all out with color and materials or make it a calm, sleek space. This also applies to your pivot door. You can choose all kinds of materials for an interior pivot door, from glass and steel – be sure to check out the option for colored steel – to wood, a door with a print or photo, a concrete look, et cetera.
Door movement
A pivot hinge creates a fantastic door movement that is completely different from that of a normal hinged door. If you include a smooth, controlled door movement in the design of your hall door, a simple passage suddenly turns into a warm welcome.
In the living room
Many modern homes have an open kitchen that the living room is directly connected to. This gives a feeling of openness and space, but can also have disadvantages such as cooking smells, less privacy, and a less cozy atmosphere.
Light and openness
With a pivot door – or two pivot doors next to each other – you can retain the openness and light of an open space but eliminate the disadvantages of such an open space. By choosing a pivot door with glass, the light continues to flow from one room to the other while you hold back cooking smells and noise. It also makes it easier to keep heat in the room.
Control and flexibility
One minute you want to create more privacy or coziness in your living room, the next you want to keep the room open and spacious. A pivot door is the ideal solution to maintain flexibility. Not only do you have an influence on the atmosphere of the room, you also determine in which hold position the door is standing. This way you also have control over the spatial influence of the pivot door itself on the living room.
In the pantry
The pantry is an excellent place for a pivot door in your home. The pantry or cupboard is often not a place you want to emphasize in your interior. With a pivot door you can easily hide these spaces in the style of the interior.
Really hidden
Because a pivot hinge is hidden in the top and bottom of the door, no hinges are visible as with a normal door hinge. All that is visible are a small floor and ceiling plate, available in all kinds of designs. Pivot doors without frames are double-acting and therefore open to both sides without handles. That way the door will no longer be visible.
Just like the wall
You can make a pivot door in all possible materials. That is why you could also opt for the same color or material as the surrounding wall. Because a pivot door only needs a minimum of space around the door and is perfectly in line with the wall, the door falls away completely in that case.
Would you like to see more beautiful pivot door projects?
Subscribe to FritsJurgens' Monthly Featured Project and The Blog Channel and stay up to date on all pivot door trends.
In the office
More than ever, we are working from home. We have also known for a long time that the office does not have to be a boring room in a corner of the house. With a pivot door, you give the room in which you work a more interesting look that suits the style of the office.
Double function
Besides being a beautiful addition to the interior of the office, a pivot door can also have a functional application. For example, the passage does not have to be just a passage – it can also function as a bookcase, TV, or storage unit.
As a room divider
Indoor pivot doors can also be used perfectly in large or high interiors. A pivoting wall with several doors is a flexible solution.
Glass wall
In some cases, a single or double pivot door is not sufficient and a door in a wall is not a fitting solution. Pivot doors in a glass wall can then be a solution that fits into practically any interior and creates a room that is light and open. Glass and steel are ideal materials for making large, high, and heavy pivot doors and walls.
360° rotation
The advantage of a pivoting wall is that it can be used with or without frames. Without frames, the panels of the wall can rotate 360°. This way you are not only flexible when it comes to the impact of the wall on the room, but also in the design of both sides. You could give one side of the wall a different design than the other, allowing you to play with colors and materials in the room.
Looking for a pivot door?
Are you looking for a pivot door for in your project or home? Let us help you. FritsJurgens works with a worldwide network of dealers and door manufacturers who can help you with the purchase of your pivot door or pivot hinge.