Home
›
Blink briefly: 12 meters long, mirror-coated pivoting wall
Blink briefly
12 meters long, mirror-coated pivoting wall
When you step into this visitor center just outside Lucerne, Switzerland, you may have to blink briefly to make sure your eyes are all right – you see your reflection, but at the same time, you don't. Six soundproof pivot doors in a row are finished on both sides with a sandblasted mirror. You see yourself, but not completely. It is an example of exceptional craftsmanship from the designer, Kepenek GmbH, the door manufacturer, Jos. Berchtold AG, and the glass artist, Atelier Weidmann. The pivot doors are unique and tailor-made for this project. They make it possible to seal off the spaces in a fully soundproof way so that both dining and meeting clients can be done in a calm, private environment.
Photography by Beat Bühler & Hannes Henz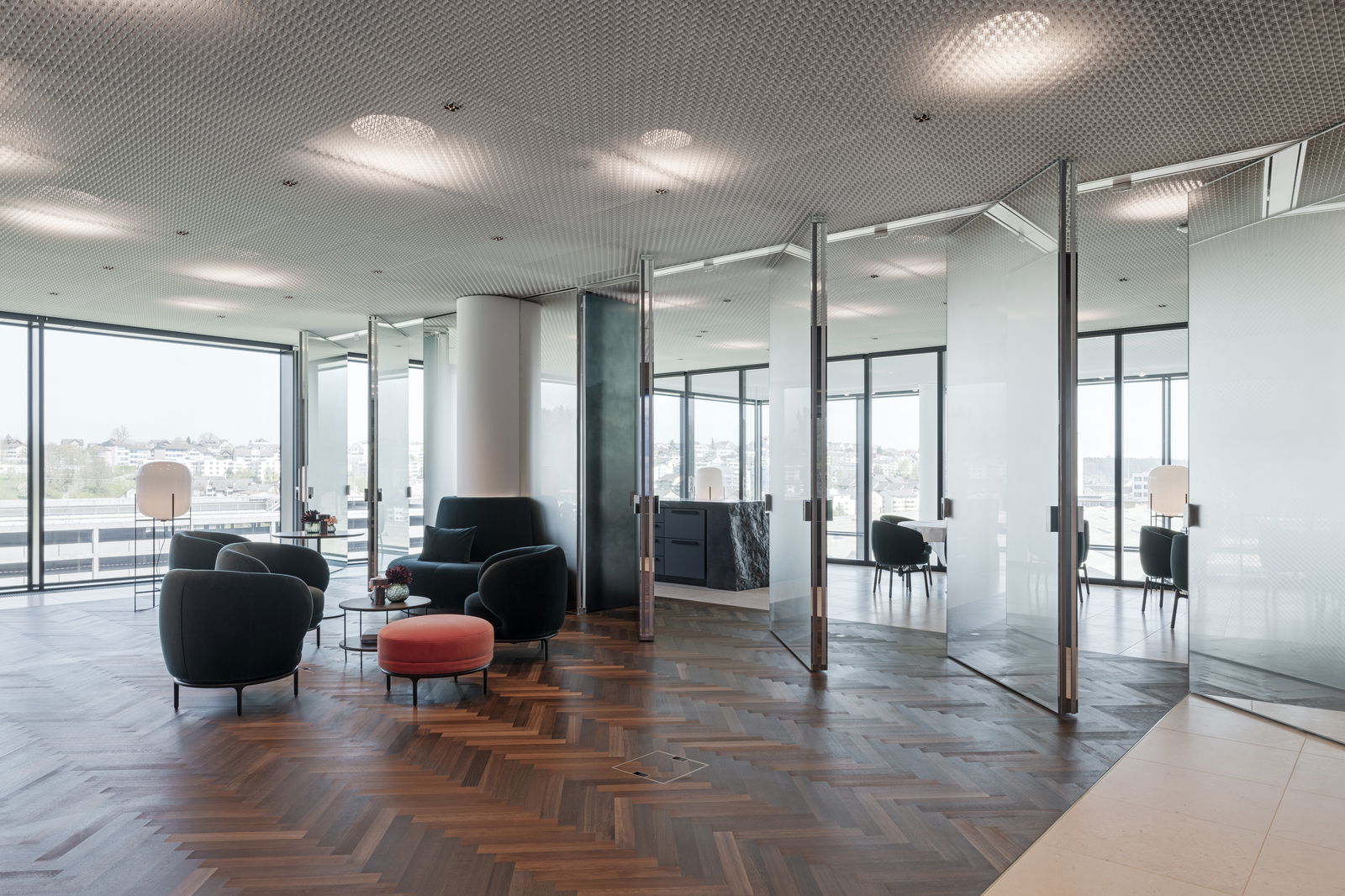 Innovative, unique wall solutions
The project required a flexible solution to separate the dining room from the meeting room. Mia Kepenek, the interior architect, contacted Jos. Berchtold AG for this project. Jos. Berchtold AG is a Swiss company that is an expert in the field of special solutions for doors and walls of all shapes and sizes and will soon celebrate its 100th anniversary.
A quick look at the collection of projects that Jos. Berchtold AG has carried out in recent years says it all: anything is possible in the world of doors and walls. At no point does this company slacken its attention to detail. The doors and walls are innovative and unique and always fit perfectly within the design. Both aesthetically and technically.
An exceptional request
The brief was to create a comfortable and versatile space where the company could receive potential customers and enjoy excellent hospitality in addition to doing business. That's why the space had to be flexible: business, entertainment, and digital technologies that fit the problem-solving nature of the company had to coexist.
Thilo Möschter, project manager at Jos. Berchtold AG explains how this project came about: "We are known for our special constructions, and this project was very special. Kepenek contacted us because they wanted to make a wall with special art on the mirrors. The wall had to be flexible in opening and closing the spaces and be soundproof." There were not many possible options for the wall in this case. "There was no other option than pivot doors because of the architecture of the spaces. There is a bar on one side, and the space ends on the other. Pivot doors are flexible and, therefore, ideal at this location. They can be opened and closed at any time."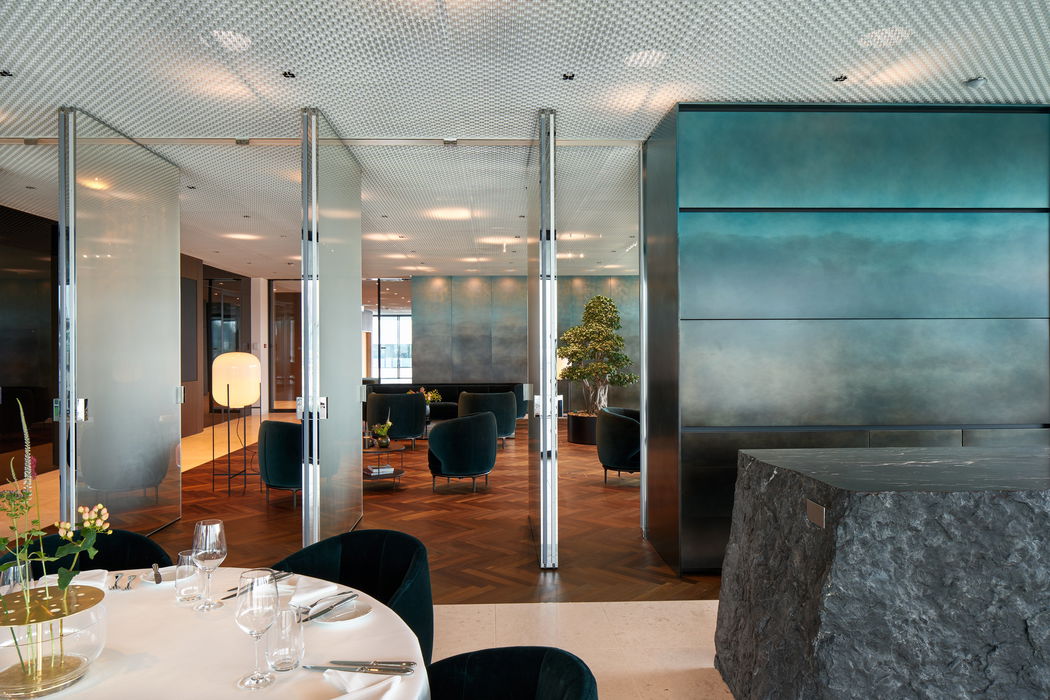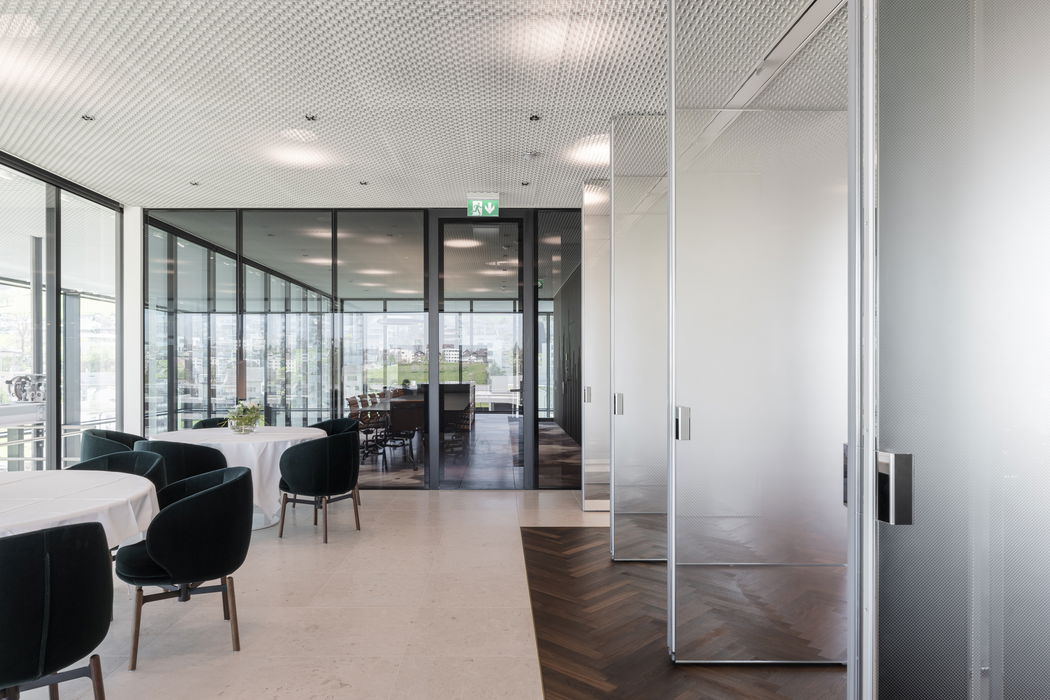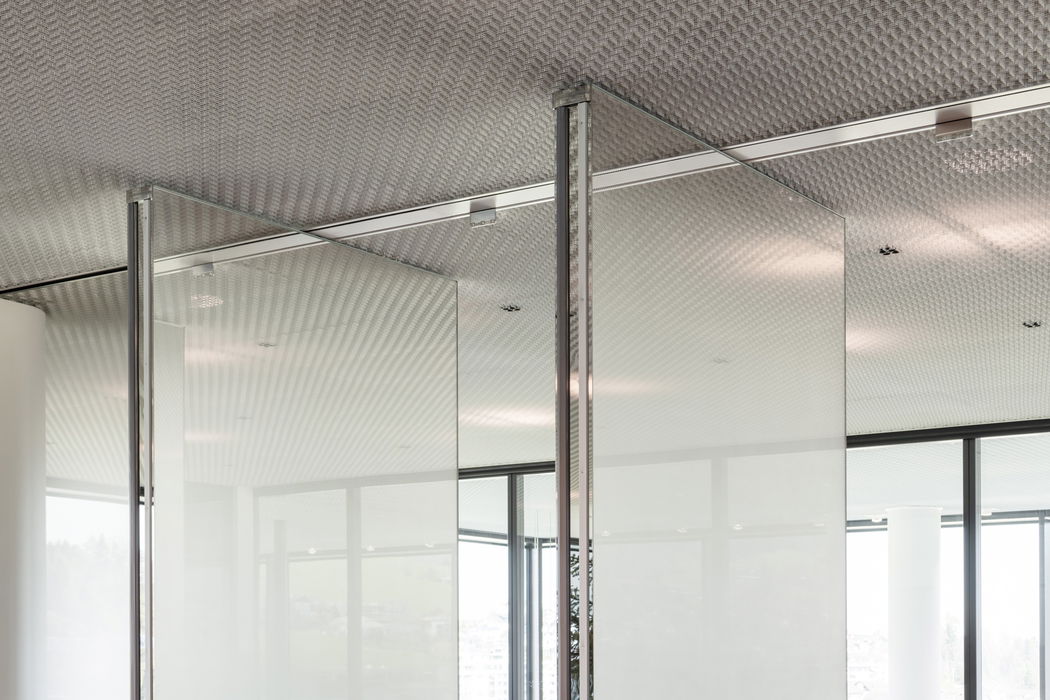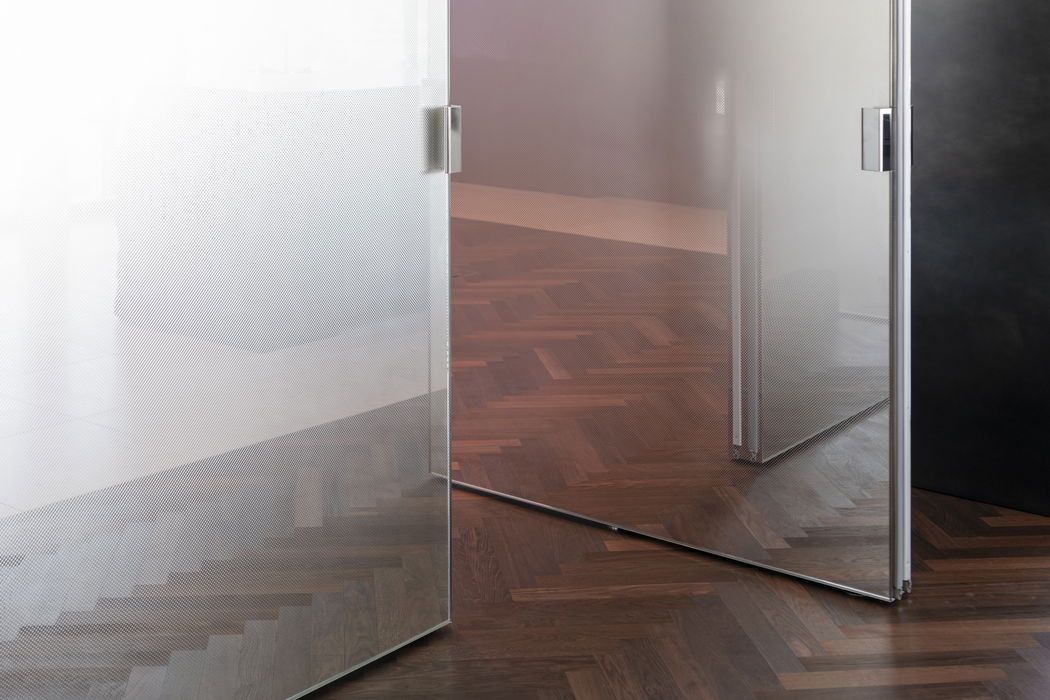 Drag over the photos for more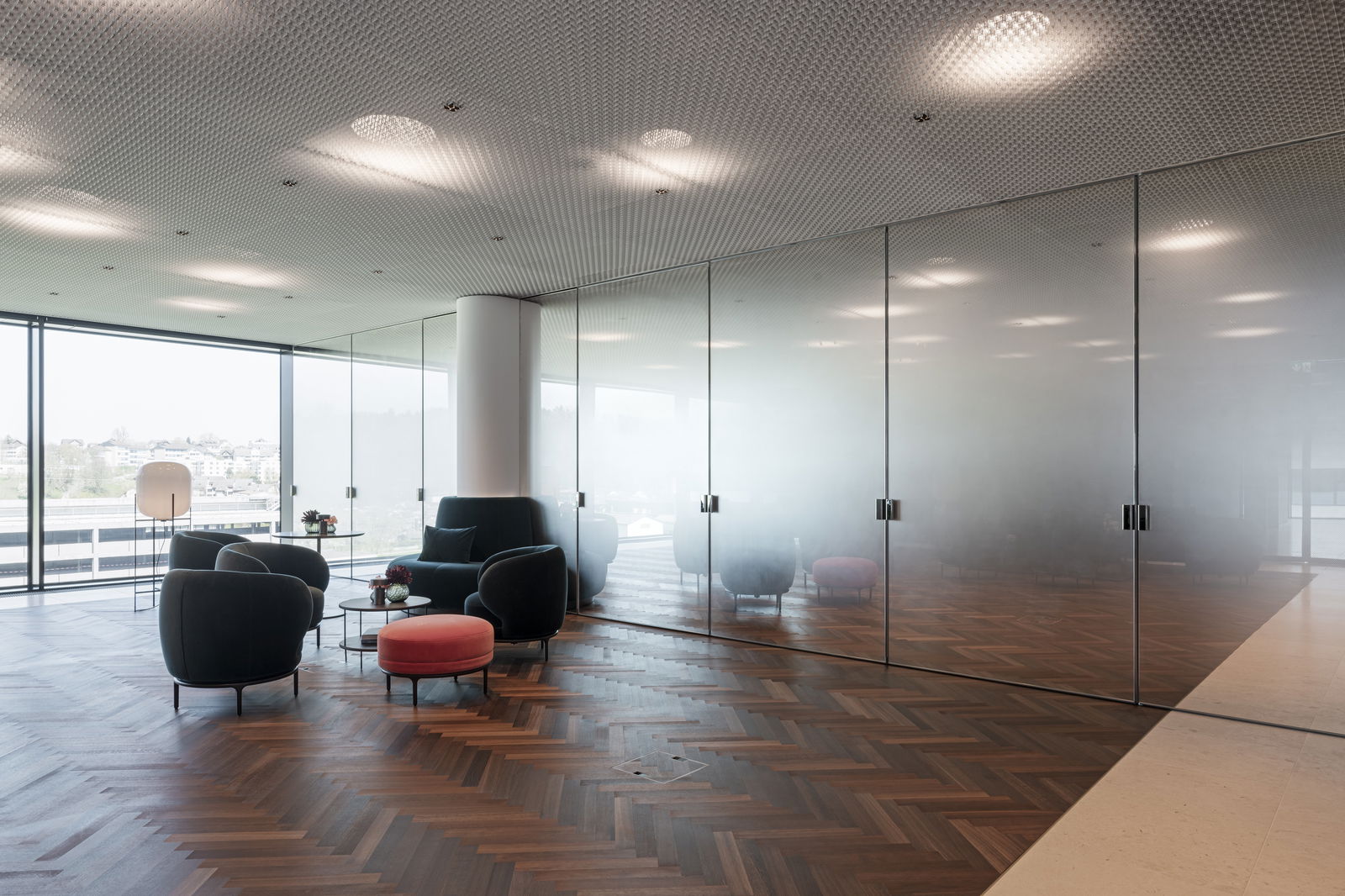 Glass artwork
The existing idea – to finish the doors with mirrors – was not so easy to implement. It was not the intention that the wall would reflect completely. A coating with paint, for example, was not an option, as it would not create the desired gradient. Fortunately, Thilo Möschter had collaborated in the past with an artist from Basel who is specialized in glass artwork.
Möschter: "The mirrors were eventually sandblasted, a technique that allows you to work deep into the mirror. We worked for the first time in this combination with pivot doors and mirrors. We knew the artist. It is a friend of ours. We have worked together in the past, and that is how he ended up on this project. So, it is not a standard production. These doors are unique and handmade for this project."
Soundproof
In this project, it was important that the doors were soundproof. That is why all doors are 110 mm thick and made up of various soundproof layers. Finally comes the layer with the mirror on both sides. All in all, each door weighs around 250 kg. The sides of the doors are covered with polished stainless steel so they don't lose their mirroring look when they are open. Once more, there is a strong focus on all the details on and around the door.
To complete the soundproofing, magnetic seals from Athmer and double drop seals from Planet were used. Thilo Möschter: "The sound travels straight through these large spaces, so we decided to use magnetic seals. We have fitted double drop seals at the bottom as well as at the top of the door to close everything off."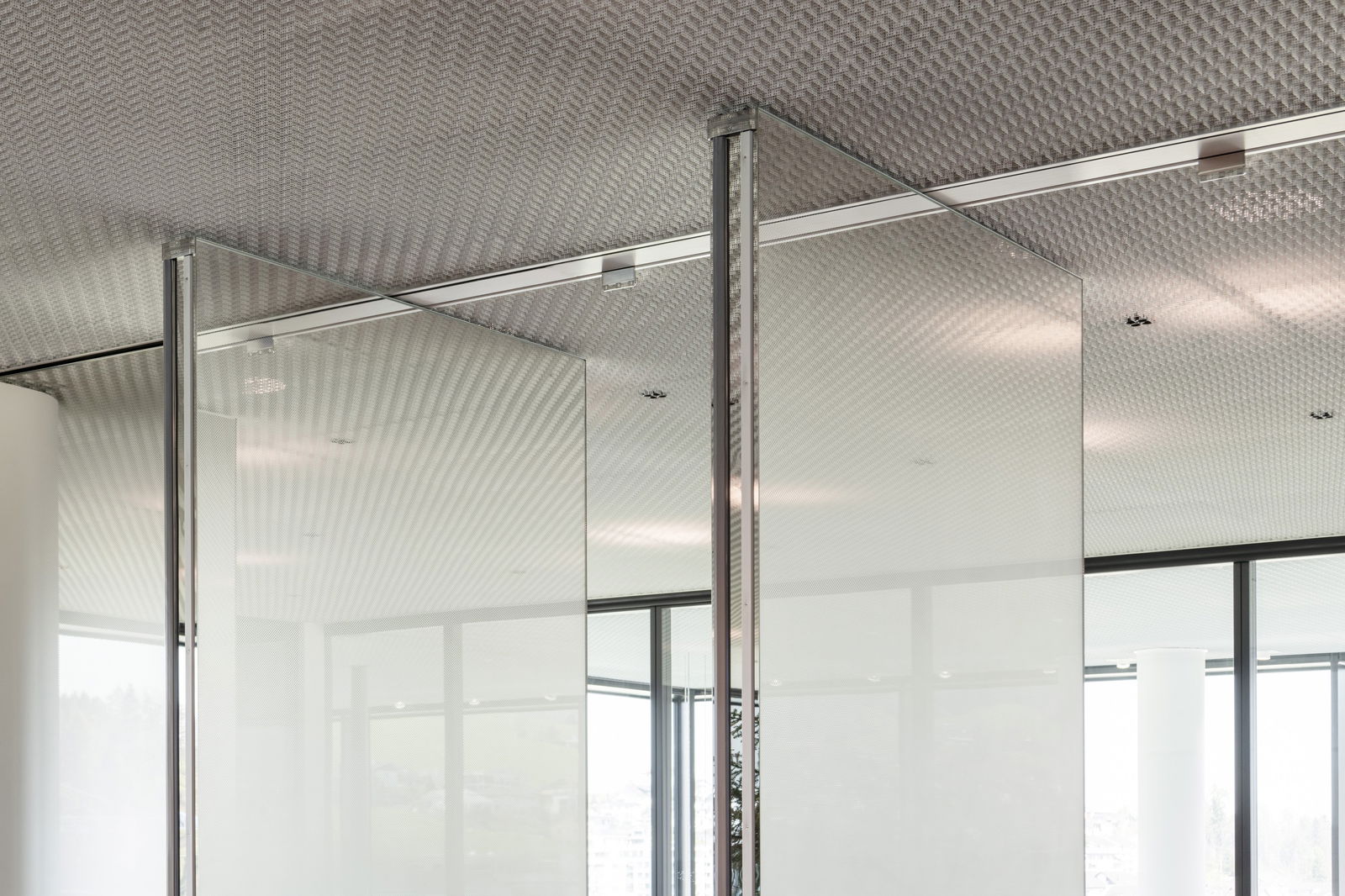 Glass or mirrored wall – a pivotal solution par excellence
The contrast in the room is fantastic. Warm materials such as the herringbone floor are reflected by the cold-looking mirror glass. Mia Kepenek, Kepenek GmbH: "I wanted to define the area, make it a zone if you like. The wooden floor functions as a 'soft' surface as opposed to the polished stone surface around it, as a large textile carpet would. But of course, it provides much more robustness and a long service life."
Glass in a room will always make it seem optically larger. Pivot doors are ideally suited to be made of glass or, as in this project, to be transformed into a mirrored wall. It is also possible to combine glass and mirrors with other door materials. Think of wood, steel, or aluminum.
System One
All six mirrored doors are fitted with System One pivot hinges from FritsJurgens. This system is compact, offers free rotation, and is suitable for both single and double-acting doors.
System One acts as a single pivot with no hold positions or self-locking features. It is a simple, small, but widely applicable pivot hinge. The simplicity of System One allows freely pivoting pivot doors that are easy to combine with door frames. Due to the free rotation of System One, this pivot hinge can be used in both single and double-acting pivot doors.